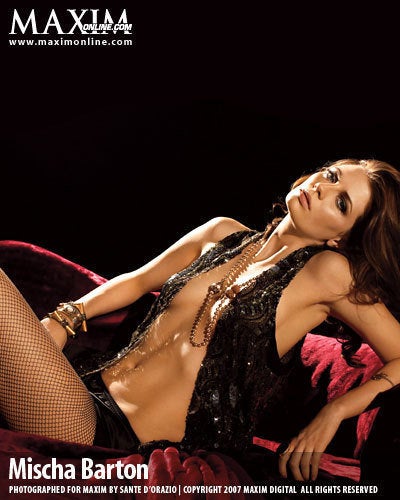 Former "O.C." starlet Mischa Barton graces the January cover of Maxim magazine, and she shares her thoughts on fame, nudity and her bare behind with the lad mag.

You've got three big movies coming out this year. Are you excited to be back in the limelight, or is it daunting?
"I'm happy that I've been working constantly since The O.C., and that my career has been going the way I want it. As an actor, all I wanted was creative freedom--to be able to pick and choose movies. I couldn't be happier."

Is it true you were discovered when you performed a monologue about turtles at summer camp?
"That's how it happened. I remember going to camp with my older sister, who completely ditched me because she was 16 and I was eight and I was uncool to have around. I ended up doing all these monologues, and it paid off, because some agent came up to my mom and said I should try acting."

On nudity:
"I did let (director) Richard Attenborough get a brief behind shot in 'Closing the Ring.'
"I don't mind nudity; I just don't do it often. You do see me topless, but I would never do full nudity. But there are many more reasons to see that movie than whether I'm naked in it. You know, sometimes that's all people talk about..."
On future nudity:
"It depends on the film and if I trust the director and if the context is emotional or just sexual," she said.

On her "The O.C." character Marissa, who dabbled in lesbianism:
"She was a multitude of people and that opened me up as an actor, even though it was hard for me at the time to handle that character. But it worked in the end because I got to do so many emotionally gutsy things."
Calling all HuffPost superfans!
Sign up for membership to become a founding member and help shape HuffPost's next chapter