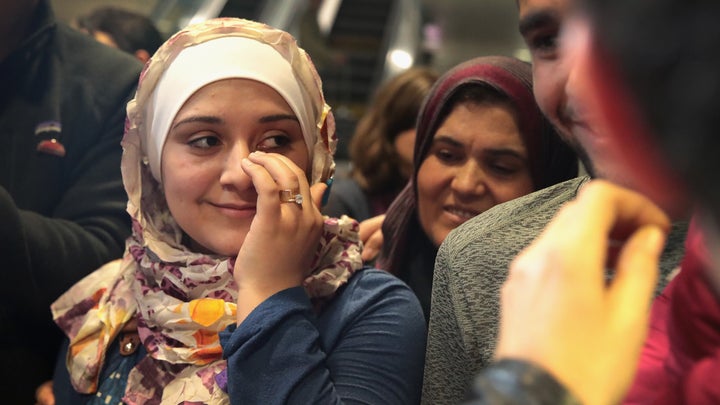 "Every night a man approaches me and screams in my left ear," the man* says with an unchanging expression. "I wake up covered in sweat and can't fall back asleep." His nightmares date back ten years to when he was kidnapped from his hometown, shortly after burying his brother who was killed in the war.
The scar on his cheek is a relic of the torture he endured in captivity. Poorly controlled health issues like diabetes forced him to seek help from the UN. He struggled to get medication, and at one point was in a coma for a week. He woke up tethered to a hospital bed by wrist restraints. "They told me I had been shouting and thrashing in my sleep."
This true story is not an outlier at the Yale Refugee Clinic. It is crucial that physicians, politicians, and laypeople alike hear these narratives because the American debate over President Trump's refugee bans fundamentally rests on a question of identity: who, exactly, are these refugees?
President Trump has cast refugees in a shadow of suspicion and fear. With each new version of his immigration ban, he continues to denounce the vetting process as unable to weed out terrorists. Although his bans have been overturned in court twice, this issue is not going away anytime soon: President Trump has promised to continue working towards a ban on refugees from Muslim-majority nations. Despite not being able to present evidence in court that refugees from banned countries have ever been involved in terrorism, the Trump administration continues to paint refugees as foreigners who are threats to American security.
"As a country, we will determine how, years from today, we will be remembered."
We feel strongly that this is a dangerous misdiagnosis of refugees arriving in America. As health care providers, we gain crucial insight about our patients from their stories. We see their illnesses in a broader social, psychological and political context. As part of our commitment to all our patients, we feel a responsibility to correct a false and deeply harmful depiction of our patients.
So, who are the refugees we see in clinic?
Our patients wait many years in refugee camps after being displaced from their homes. Some have risked their lives doing invaluable work for the American military. As part of their admissions process, they have undergone extensive overseas medical and security screenings. Under the Obama administration, an extremely high threshold was used to identify candidates for resettlement, with less than 1 percent of refugees worldwide meeting standards set by security agencies.
Our patients have already begun the process of integrating into American society within days of getting off the plane. Soon after arrival, most refugees start working in unskilled jobs, despite often having advanced degrees in accounting, engineering, business or medicine. With help from local resettlement agencies, they are taught English through intensive instruction and provided job search support, all designed to make them self-sufficient and financially independent within six months of arrival in the U.S. They become productive members of American society who actually increase average income for their fellow Americans. In short, they represent the "good immigrants" that President Trump has at times acknowledged are worth admitting.
At the Yale Refugee Clinic, we witness our patients adapt to a new life as we help manage the mental and physical conditions that continue to afflict them years after being victims of violence, torture, and persecution. For our refugee, who has lost his home, his family, and his livelihood, working on his English keeps him moving forward. His long hours at the library poring over English books offer him hope for laying the foundations of a new life. He believes in his new country and its people. When asked to choose between treatments for his health conditions, he simply says to us, "I trust you." Despite years of suffering and betrayal, he has maintained his innate sense of goodness and faith in humanity.
* Patient name has been withheld to due to concerns for confidentiality and sensitivity of material
Dr. Annamalai is the director of the Yale Adult Refugee Clinic. Shivani Bhatt and Erik Levinsohn are students at the Yale School of Medicine who have volunteered at the clinic.
Popular in the Community