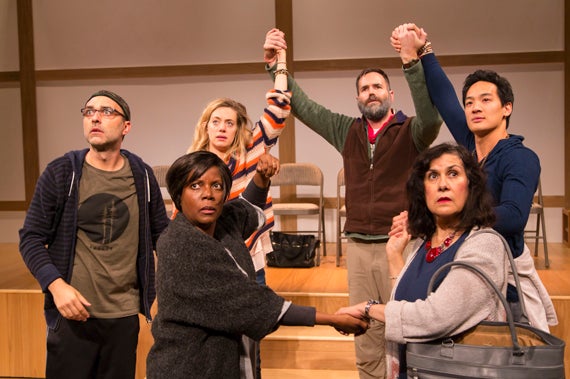 Misery loves parody. That's been true as long as writers and directors and actors have used the stage to generate laughter. With which runs through Dec. 10 in American Conservatory Theater's Strand Theater, playwright Bess Wohl, director Rachel Chavkin and seven performers reveal most of their miseries through an uncommon device: silence. It works beautifully.
The play does contain a few seconds of dialogue and a few minutes of monologue, but most of its revelations and insights come through gestures, facial expressions and body language: a raised eyebrow, a scowl, a shrug, a soundless howl and much, much more. That's all it needs to generate roars and giggles and smiles, and more than a smidgen of empathy.
Six of the characters remain on stage for almost the entire length of the 100-minute drama-comedy. The seventh never appears, but makes his presence known through a resonant voice from above, setting rules of behavior for the three men and three women that we see. They are participants in a five-day silent retreat that all have joined in apparent hope that it will relieve the angst that life has brought. The disembodied voice comes from the guru who leads them.
Although playwright Wohl assigns names to each of the personalities, connecting those names to performers is difficult without checking the photos in ACT's program. But it hardly matters.
Jan, Ned, Rodney, Alicia, Joan and Judy hardly qualify as individuals. (The fine performers, in sequence, are Connor Barrett, Ben Beckley, Edward Chin-Lyn, Brenna Palughi, Socorro Santiago and Cherene Snow; their unseen leader is Orville Mendoza) Each personifies some form of emotional struggle, and the quest for a quick fix through silence and meditation. Whether any of them achieves or even approaches that cleansing nirvana is doubtful. The same is true for their leader, whose status allows him to verbalize his own agonies.
Only one of the seekers gets a similar opportunity, and makes the most of it through a cascade of disasters that would produce despair in an incorrigible optimist. Among his catastrophes, for starters, are a tumble that lands him in a hospital for two years with skull fractures and a wife who takes up with his brother. Woe piles upon woe, inspiring laugh after laugh.
Others among the group are a young woman who obsessively takes notes and makes frantic cell phone calls to a number than never answers; a lithe yoga master who has no inhibitions about taking off all his clothes, with no erotic intent; two middle-aged women who are struggling with some strain in their relationship, and a bearded man who reveals the source of his pain by displaying a photo of a child who has died.
Individually, all hurt, and most communicate their hurt through broad-brush gambits that amuse, at least for the moment. But the deeper parody rests with the retreat itself and similar institutions that attempt to offer solace and renewal to disturbed minds. They're worthless, Wohl's play seems to say; life is essentially tragic and we have no choice but to endure it. That's a dour philosophy, of course, but we'll rarely find such negativity expressed with comparable hilarity and theatrical craftsmanship.
Small Mouth Sounds runs through Dec. 10 in ACT's Strand Theater, 1127 Market St., San Francisco. Tickets are $14-$90. from 415-749-2228 or act-sf.org/sounds
REAL LIFE. REAL NEWS. REAL VOICES.
Help us tell more of the stories that matter from voices that too often remain unheard.
This post was published on the now-closed HuffPost Contributor platform. Contributors control their own work and posted freely to our site. If you need to flag this entry as abusive,
send us an email
.