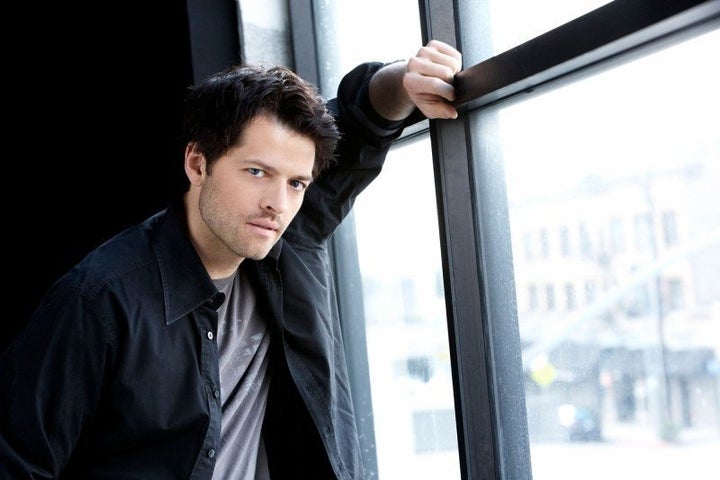 When "Supernatural" star Misha Collins isn't gracing our screens as the angel Castiel or organizing philanthropic endeavors via his charity, Random Acts, you probably assume that he's sleeping or attempting to have a social life -- but you'd be mistaken.
Apparently, Collins is aspiring to be the world's busiest man, because in his current downtime, the actor is organizing the second staging of GISHWHES: the Greatest International Scavenger Hunt the World Has Ever Seen, after Collins and his self-proclaimed minions broke a Guinness World Record for the largest scavenger hunt in 2011.
After the overwhelming response from participants who found their lives changed by the surreal team-building exercise last year, Collins decided to tackle two Guinness World Records this time around, aiming to raise more money for Random Acts in the process. I spoke to him about what inspired him to tackle such a herculean task, as well as Random Acts' current charitable projects and what's coming up for Castiel on "Supernatural." SPOILERS AHEAD.
Tell us a little more about GISHWHES and how it came about?
Collins: We're having a lot of fun setting it up, I can tell you that much. I just hope it doesn't go too horribly wrong when it finally gets underway. But thus far, I think we have like ten thousand people signed up already, which shatters our previous world record, which is very exciting. And Guinness has also approved us for a very strange category for a second Guinness World Record of the most pledges to complete Random Acts of Kindness.
It's funny, last year it was just sort of on a lark that the whole thing happened in the first place. I went to the University of Chicago, which has an amazing annual scavenger hunt. In fact I think they hold another Guinness World Record for a scavenger hunt. The New Yorker, a couple of months ago, ran a feature on their scavenger hunt and that's where I developed my passion for them. The University of Chicago was an incredibly academic and incredibly depressing institution when I was there, and it was the one spot of sunshine on the annual calendar, and I have to say it seemed to serve that same function last year when we did GISHWHES for the first time -- people just seemed to love it. And I cannot tell you how many times people have given me letters or come up to me and said something like, "You know, I found my best friend doing GISHWHES." Or, "I've been having trouble with depression and somehow it helped get me out of it." It's really kind of phenomenal, the pleasure people got from it. And then on the other end of that, I just get great pleasure from watching people humiliate themselves. So it sort of works for everyone.
Can you give us some examples of items on the list that people would be encouraged to create or find?
I won't spoil any of the items on the list this year because people will start cheating and start looking before the actual hunt starts, but I can tell you some of my favorites from last year: I really liked the fully decorated Christmas tree floating away on helium balloons. I think that was a visually arresting image. It also, actually, even nearly got some people actually arrested because apparently, some of the items I didn't really think through all the way to their logical conclusion of that being enacted. The Christmas tree being a prime example, where they actually had to close a couple of municipal airports because there were Christmas trees in the airspace, which I thought was a great line. [Laughs.] But yeah, I guess that would be a hazard if you really think things through. There were some amazing items. I was actually really surprised you could make a pretty compelling flock of seagulls from tampons and maxi pads as well. I was pretty impressed with that.
And some of the proceeds will be going to Random Acts?
Yes, as much as we can. We're giving a really extravagant grand prize to the winning team. So the 15 winning team members will be flown to Scotland and put up in a haunted castle there. And you know, we have no idea how much this is actually going to cost in the end, and if the winning team happens to be residing primarily in Australia or Fiji, the airfare could really run up, but we're going to give as much as we can to Random Acts. And Cinde, our director of Random Acts is actually back down in Haiti at the moment and sent me some photos today of the projects on the children's center that we're building there and it is amazing. They're putting the finishing touches on the roof.
Have you got any other Random Acts projects currently going on? I know the last time we talked, you mentioned that you hoped to buy a permanent place for the Art Creation Foundation For Children in Haiti.
Yeah, it looks like we're probably going to be able to buy the building for the ACFFC, and we are putting on the finishing touches -- I mean, there's still work to be done, but we are finishing up the children's center. And then part of the reason that Cinde is down there right now is sort of putting feelers out and trying to figure out what other projects we should be supporting in the community there, because we've been able to bring a lot of resources to there and get a lot done so far, and we've got a lot of great relationships down there.
So we're developing that further, and we just launched "E4K: Endure for Kindness," which is an endurance event that we are going to be doing in late November to raise money for the general fund for Random Acts. And Random Acts was just awarded 30 thousand dollars from the Celebrity Charity Challenge. I didn't even know this had been going on, but apparently we collected the most votes, and so next weekend, they are going to be presenting us with a check for ... it's not really 30 thousand dollars but it's 25 thousand euros, which I don't even know if that's real money, it may just be Monopoly money. And we're continuing our little partnership with NASCAR, which is completely unforeseen. [Laughs.] So yeah, things are cookin' along, there.
Let's talk a little about "Supernatural," since the last time we saw Castiel [in Episode 2], he was in kind of a rough spot and things ended on an ominous note with him calling for Dean. Can you preview what we might see for Cas from there?
Well, we're going to see exactly what was going on there. Episode 2 was kind of a teaser and we're going to get into the meat of what was going on in Purgatory after that. Cas is going to get out of Purgatory, but there's going to be a question as to how and why.
Can you reveal anything about why Dean's being so cagey about what might have happened to Castiel, especially with Sam?
I think that Dean doesn't know the full story. So I think it's more than that Dean is being cagey; he doesn't know the whole story, and I think that he also feels some guilt about what happened. And Dean deals with guilt in a very childish manner. [Laughs.]
Benny was somewhat antagonistic to Castiel in their first meeting, how does their relationship progress from there?
Basically Benny and Cas ... Frankly, the way I see it, although it hasn't really been directly addressed in the scripts, I think that Cas is a little jealous that Dean has another friend. I think he doesn't like that. And [Dean and Benny's relationship] certainly does evolve into something of a friendship, although it's always fraught with a lot of tension.