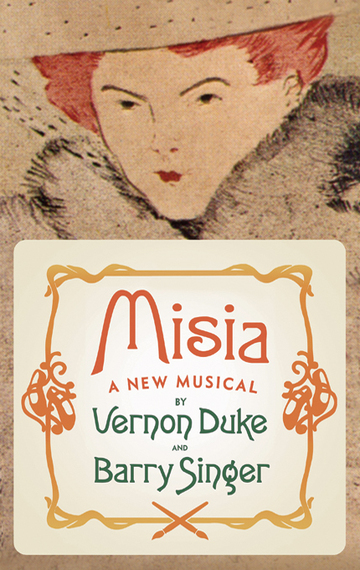 I never knew Vernon Duke but I have been working with him for fifteen years now and I'm delighted to report that we are finally, finally, getting someplace. This past week, his spirit and I spent two thrilling days in a Manhattan recording studio, witnessing our "new" musical, Misia, recorded for posterity -- and for imminent commercial release.
Before his death in 1969, Vernon Duke wrote some of the great standards of the American songbook: "April in Paris," "Autumn in New York," "I Can't Get Started," "Taking a Chance on Love," as well as symphonies, concertos, ballet scores and sonatas under his original, un-Americanized Russian name, Vladimir Dukelsky. (It was his pal, George Gershwin, who convinced him to change it.) Along with numerous Broadway musicals and revues, Duke also composed one full-length book musical in Paris in 1949 that never got produced. This is where I come in.
In January 1999, I wrote an essay about Vernon Duke for the New York Times Arts & Leisure section, under the headline: "A Neglected Master's Haunting Consolations." The great diva, Dawn Upshaw, had just released an all-Vernon Duke album that reminded me how much I loved the exquisitely wrought, eloquently moving songs this "neglected master" had written. I said as much in my story: "Vernon Duke wrote music for grownups. His songs sang most majestically about ambivalence, not the uplift that Tin Pan Alley consumers overwhelmingly preferred. His probing melodies brought out wonderfully melancholic resonances in lyricists who were by nature, if only on the page, rather jolly -- Ira Gershwin, Ogden Nash and even Yip Harburg. As a result, these songs perhaps speak more directly to our own self-doubts and longings in 1999 than they did in a 1930s culture that looked to its songwriters for escape."
Right after the piece ran, I got an approving phone call from Duke's widow, Kay Duke Ingalls, who told me I had captured her late husband, "as if I'd known him." This led to our meeting for tea the next time Kay visited New York (from her home in Santa Fe, New Mexico) and, finally, to Kay sharing with me "The French Score," the very expansive pile of songs Duke had written for that unproduced musical in Paris.
Kay loved this music deeply, and desperately wanted to see something "done with it." She also had an idea for what that something could be. Duke's score had been composed for a French libretto entitled Milord l'Arsouille ["Lord Rogue," about the eccentric, early-19th Century British nobleman, Lord Henry Seymour] with lyrics in French by a lyricist named Francis Claude. Over the years, efforts had been made to translate the work into English but they had all failed. Kay now proposed tossing everything out but the music and creating an entirely new show based on the life of Misia Sert, the celebrated muse of fin de siècle Paris. The roll call of painters, writers and composers Misia had inspired, championed and, in some cases, discovered, was a who's-who of modernist geniuses, from Lautrec to Picasso, Proust to Coctueau, Debussy to Stravinsky and Ravel. Moreover, Misia had been Diaghilev's guiding light and partner in building the Ballet Russes.
What a neat idea, Kay! With a word of recommendation from my operatic friend, the effusive Lauren Flanigan, Kay turned the project over to me. Over the next year, I immersed myself in Vernon Duke's score and in books about Misia and her circle. (Did I mention that Coco Chanel was Misia's discovery and, thereafter, her closest friend?) Though I had tried my hand at lyric writing before mostly for my own pleasure, Duke's music sang to me in such a powerful way, new lyrics for the complete score and a new libretto really did come quickly. I finished a first draft in December 2001.
And that is where ease ended, insofar as Misia: The Musical was concerned. Vernon Duke's music in this case was very French and very plush but bore not a shadow of resemblance to anything people were listening to, on or off Broadway, in the new millennium. Misia's story sprawled; the geniuses I was forced to leave out proved more numerous by far than those fortunate enough to make the cut. All were "names" for the ages. None, however, were instantly recognizable to most Broadway audiences, nor even to many Broadway producers.
It took nearly three years for Misia to receive its world premiere as a semi-staged reading at the Ravinia Festival outside Chicago on September 13, 2004, with the divine opera star Sylvia McNair as Misia. That production, performed twice over two nights, was very warmly embraced. The songs sounded great and I learned a lot about the intricacies of my story, and about Misia as a stage character.
The following January 2005, the Broadway producer Rocco Landesman very graciously mounted a staged reading of Misia under the auspices of his Jujamcyn Theaters organization, at Playwrights Horizons' Peter Jay Sharp Theater. Everybody from the Chicago cast, including Ms. McNair, performed. A number of Broadway bigwigs attended. Nobody really seemed to get it.
I spent the next four years rewriting Misia and doing other things, like raising my two daughters, Lea and Sara. Kay, too, immersed herself in other matters, including bringing more of Vladimir Dukelsky's extraordinary classical catalogue back to the public ear in recordings and concerts. By 2009, however (after a brief workshop reading at the York Theatre in 2008), I had a very solid new draft of the script, supplemented by new songs drawn from Vernon Duke's very ample tune trunk. We also had a new director, the estimable Mark Lamos, and (in the wake of Sylvia McNair's illness - from which she has now happily recovered), a new star -- again from the world of opera, the remarkable Patricia Racette.
On June 11, 2009, we returned to the Peter Jay Sharp Theater, again under Rocco Landesman's Jujamcyn auspices. A few days later, we reprised our reading for an invited audience up at Westport Country Playhouse, where Mark Lamos was (and is) artistic director. My biggest thrill? The sight of a beaming Joanne Woodward, Playhouse board member, hurrying toward me to shake my hand and tell me, with seeming sincerity, how much she had loved what she had just heard, and why!
After that, nothing happened. In fact, years went by. I continually tightened the script and fussed with the songs, focusing on expressing as forcefully as possible what made Misia Sert a muse and what it cost her personally to be the definitive one of her age. Of course, we lost Ms. Racette -- opera stars are booked years in advance. I ultimately asked Kay for more goodies from the trunk and she obliged by also sending me Scott Dunn, a pianist, conductor and musical archivist who had aided her immeasurably in her Vladimir Dukelsky resuscitations. Scott and I met whenever he hit New York from his home in Los Angeles, trimming, cutting, pasting and in every way improving the ever-majestic Vernon Duke score. Last year, abetted by the generosity of Disney Theatrical chieftain, Thomas Schumacher, I convened a table reading of my latest script at Disney's New Amsterdam Theatre (in Florenz Ziegfeld's old office space, according to Tom). I confess, I was really pleased with what I heard, but so what?
After years and years of talking about it, Tommy Krasker, the virtuoso record producer and co-founder of the PS Classics label, signed Misia up for a studio recording. Tommy next enlisted Marin Mazzie to star as Misia (another brilliant Kay Duke idea), Judy Kuhn to sing Coco Chanel, Jonathan Freeman to play Diaghilev (I actually wrote the role for Jonathan from the very first day); Jason Danieley as Jose Maria Sert, Misia's third and last husband; Marc Kudisch as Alfred Edwards, husband number two; Bobby Steggert as number one husband, Thadee Natanson; Lauren Worsham as the notorious Parisian actress and seductress Geneviève Lantelme; Eddie Korbich as Pierre-Auguste Renoir, Telly Leung as Pierre Bonnard, Philip Chaffin as Edouard Vuillard and fabulous Stephen DeRosa as Henri de Toulouse-Lautrec, a role he had superbly inhabited in many of our earlier readings.
As if that cast wasn't enough, Tommy then approached the legendary Jonathan Tunick about orchestrating Misia. I actually have a letter dated March 19, 2009, that I sent to Mr. Tunick asking if he would consider doing this very thing. His response then had been affirmative but we needed a reason, a production of some kind. Now we had one.
It just doesn't get any better than the aforementioned crew singing Vernon Duke music orchestrated by Jonathan Tunick. Those two days in Avatar Studios last week were as musically gratifying as anything I have ever experienced. What sounds! Scott conducted the twelve-piece orchestra. I just sat there, with Kay at my side and Vernon very close by. We all tried not to lose it.
The results will be released May 12, I believe. What can I say? Misia lives.
REAL LIFE. REAL NEWS. REAL VOICES.
Help us tell more of the stories that matter from voices that too often remain unheard.