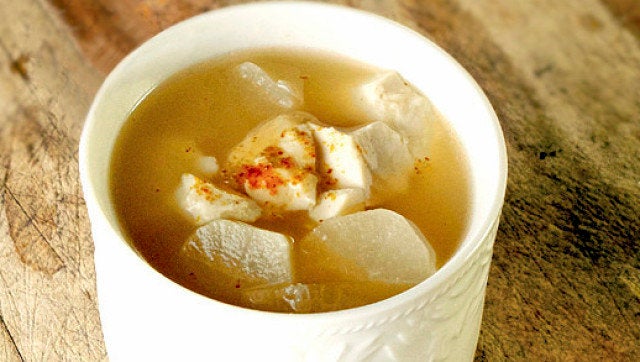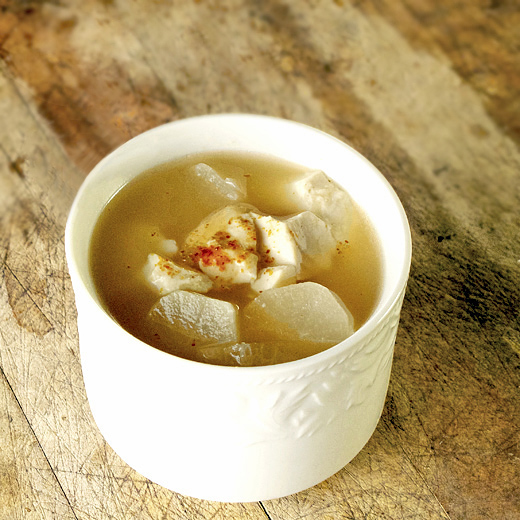 I love making a big pot of miso soup and add extra ingredients to keep it interesting. The taste of the sesame paste and oil cuts the saltiness of the soup, making the flavors more delicate yet still irresistibly fragrant. It's great as a side dish or a mid afternoon snack. It's a feel good, guilt-free recipe that's quick and easy to make.
Miso Soup (with Daikon and Sesame)
(6-8 servings)
Ingredients
1 small daikon (about 1 1/2 cup), chopped bite size
1/2 medium size onion, thinly sliced
8 cups dashi
7 - 8 tbsp white miso paste (subjective to how salty you like it)
1 block (16oz / 1lb) silken tofu
1 tbsp sesame seeds
1 tsp sesame oil
black pepper
Cooking Directions
In a medium/large pot, add the dashi, onion and daikon, and bring to boil. Meanwhile roast the sesame seeds in a small pan.
Take off the heat as soon as the seeds begin to pop. Using a pestle and mortar, grind the seeds until they are paste like. Add to the soup with the miso paste and stir. Cook for about 30 minutes until the daikon has cooked through and is tender.
Add tofu (break it with yours fingers). Season with black pepper.
Serve miso soup with Japanese rice (optional).