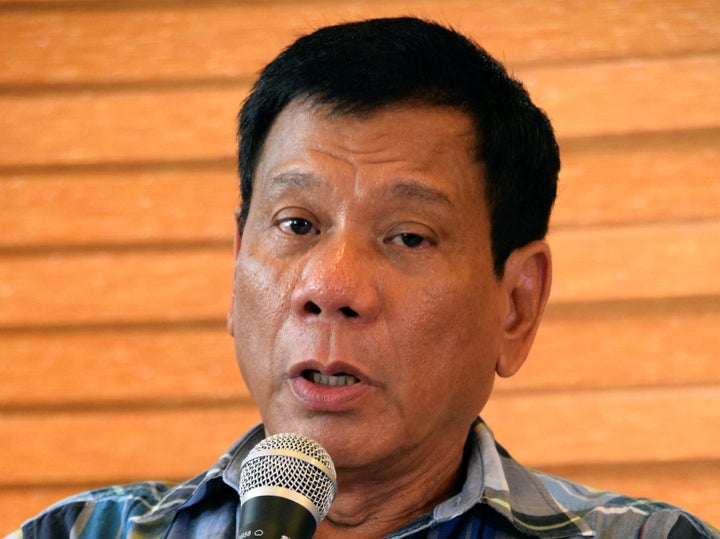 The current mayor of Davao City, on the southern Philippine island of Mindanao, has continued to stun many with his offensive remarks -- including gruesome comments about rape, advocating extrajudicial killings and calling Pope Francis "a son of a whore."
Now, Filipino journalist Raffy Tima has accused the 71-year-old leader of catcalling his wife, fellow journalist Mariz Umali, at a press conference in the city on Tuesday.
A YouTube video from the Philippines-based news agency Rappler appears to show Umali asking Duterte a question about Cabinet secretaries. He responds with a high-pitched whistle, the footage indicates. The room then fills with laughter and applause.
GMA News anchor and reporter Umali said later in an interview with her organization that the advance "may have been improper," but she was not expecting an apology from the future president.
"I know his reputation well enough not to be shocked by it, but that does not make it right," Tima wrote of Duterte. "Some jokes are funny and should be laughed at... but disrespecting women is definitely not one of them."
"What appalled me even more was how some people in the room reacted," Tima continued. "When you see or hear anyone say something wrong you do not encourage it, you do the opposite."
Whistling at a woman in Davao City actually breaks a municipal law Duterte himself signed into effect as mayor in 1994, local media noted. The Women Development Code of Davao City states that "cursing, whistling or calling a woman in public with words having dirty connotations or implications" is considered sexual harassment.
Duterte, who will officially become president of the Philippines on June 30, was elected despite a series of offensive remarks during his election campaign. These included joking with supporters in April about the 1989 gang rape and murder of an Australian missionary during a prison riot in the island nation.
The WorldPost has reached out to Tima and Umali for comment.
Related
Popular in the Community