CLEVELAND ― At the corner of West 6th Street and St. Clair Avenue, there's a kiosk selling T-shirts and knickknacks celebrating the 2016 Republican National Convention, where Donald Trump is slated to accept his party's nomination for president this week.
So what's the big seller today?
"Actually, that one's doing pretty well," says the vendor, pointing to one of roughly a dozen different commemorative pins. The hot item reads "Life's A Bitch ― Don't Vote For One." It features an unflattering photo of Hillary Clinton, the presumptive Democratic nominee.
The pin costs $5, but there's a three-for-$10 special. You know, in case you've got kids.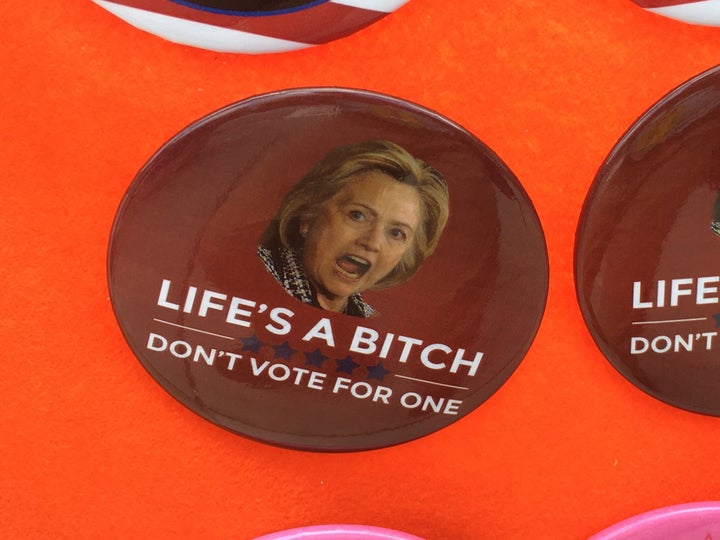 It's no secret that some Trump supporters at the Republican's boisterous rallies use the word "bitch" as shorthand for the former secretary of state. But a dose of that misogyny has made its way to the party's official confab here in Cleveland as well. While the convention itself has no control over what's sold outside the arena, vendors wouldn't be selling the stuff if a contingent of convention-goers weren't buying it.
And for some, the trademark red "Make America Great Again" cap just won't suffice.
Take this T-shirt, which is a staple at kiosks outside the Quicken Loans Arena. It shows a grinning Trump riding a motorcycle, with a panicked-looking Clinton falling off the back, presumably to grievous injury or death. The back of Trump's shirt says, "If you can read this, the bitch fell off." (The shirt itself is a riff on a biker's shirt that already exists.)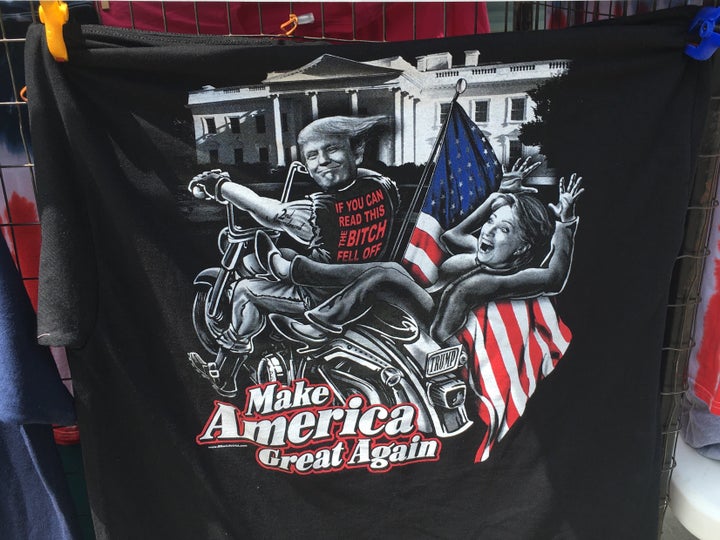 If that's too much for you, perhaps you'd prefer a T-shirt that shows Clinton suffering slightly less physical harm. This one is a play on the most famous photograph in sports, of Muhammad Ali standing triumphantly over Sonny Liston after his first-round knockout. In the parody, Trump looms over a knocked-out Clinton, who's on her back.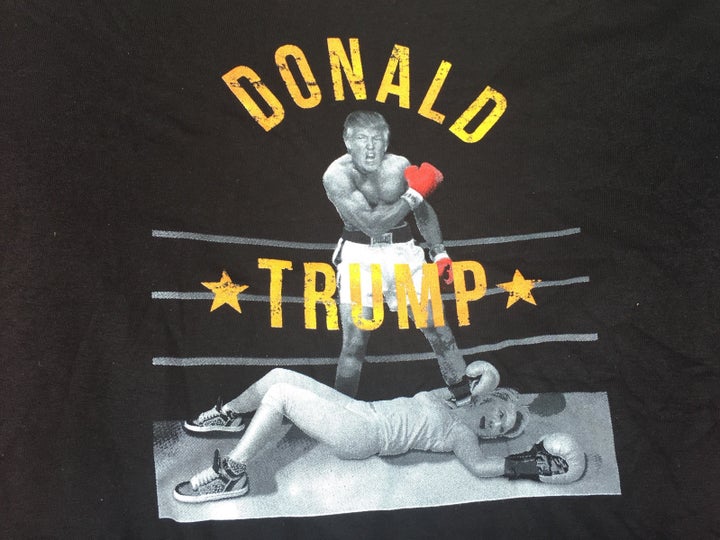 For those who'd like to declare Clinton a "bitch" but would rather not curse, this restrained t-shirt may be the perfect solution. It conveys the pro-Trump message of "Trump That Bitch," a common phrase on Trump rally paraphernalia. But for the sake of primmer souls, the "b" in "bitch" is replaced with a dash, making it family-friendly by Trump rally standards.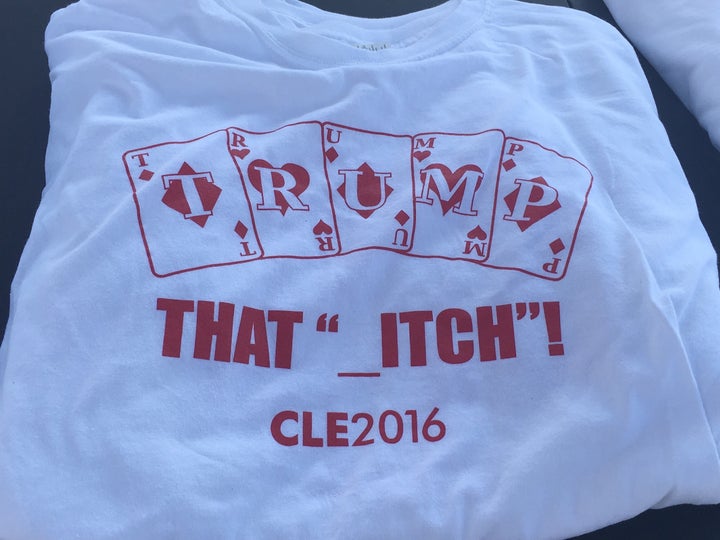 If you'd rather attack Clinton's looks and body, there's a pin for that, too. It purports to advertise a KFC "Hillary special": "2 Fat Thighs. 2 Small Breasts… Left Wing."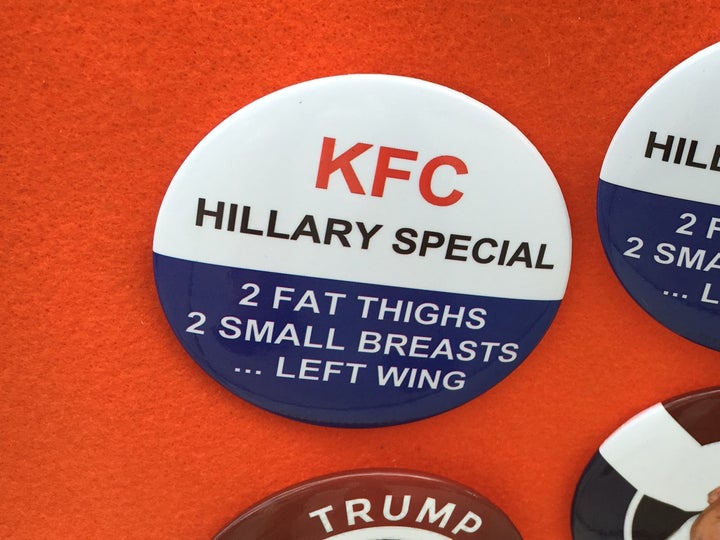 Tony Ensminger, a vendor from Cleveland Heights who's been selling merch at Trump rallies for weeks, said the viciously anti-Clinton goods tend to do well, because "nobody likes Hillary." That includes the "Life's A Bitch ― Don't Vote For One" pin.
"Even older women snicker at that," said Ensminger. "They may not buy it, but they'll laugh."
Popular in the Community