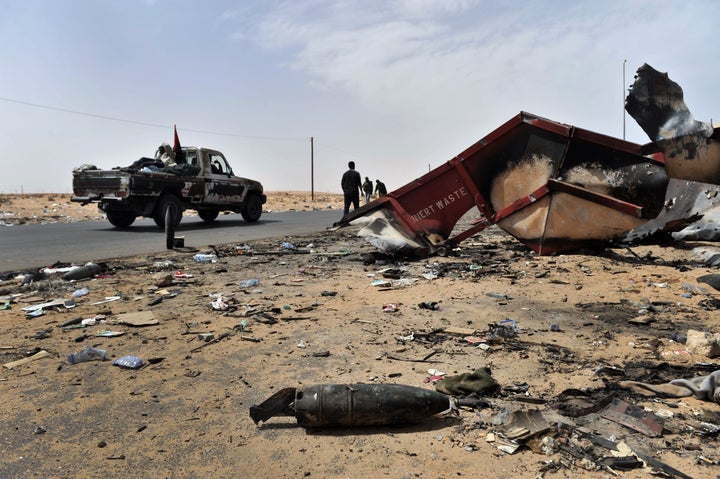 (Reuters) - Rebels in the Libyan city of Misrata said they were under intense attack on Tuesday by forces loyal to leader Muammar Gaddafi, and they appealed to governments meeting in London to help them.
(SCROLL DOWN FOR LIVE UPDATES)
"Gaddafi's forces are launching intensive and vicious military campaigns against us in Misrata," rebel spokesman Mohamed said by satellite telephone. "They are determined to capture the city. Today was tough for the rebels."
Misrata, under siege for several weeks, is the last big rebel stronghold in western Libya. Some Western leaders cite it as proof that foreign military intervention must carry on if it is to protect civilian lives in the Libyan conflict.
"The coalition hit Gaddafi vessels in the port area (in Misrata) after they tried yesterday night to carry out landing operations," Mohamed said.
Another spokesman, Sami, told Reuters earlier that eight civilians were killed and several others wounded last night.
"They (Gaddafi's troops) tried an hour ago to get into the town through the eastern gate. The youths are trying to push them back," he said. "Random bombardment is continuing."
CNN quoted a witness in the city as saying: "The carnage and the destruction and the human suffering from both the evictions and ... terrorizing the city -- it's beyond imagination," said the witness, an opposition councilman in Misrata, in western Libya. "It's incredible."
In London, where more than 40 governments and international bodies were meeting to discuss Libya's future, British Prime Minister David Cameron said: "As I speak, people in Misrata continue to suffer murderous attacks from the regime."
Reports from Misrata, a port city about 200 km (130 miles) east of the Libyan capital Tripoli, could not be independently verified because Libyan officials have not allowed journalists to work freely there.
Authorities in Tripoli say the insurgents are Islamist militants holding the population hostage.
Cut off from the main rebel area in the east of Libya, accounts from Misrata speak of bombardments killing dozens of people, sniper fire and food and water running out.
"The humanitarian situation is catastrophic. There is a shortage of food and medicine. The hospital is no longer able to deal with the situation," the rebel spokesman Sami said.
Rebels in the eastern city of Benghazi said earlier on Tuesday that 124 civilians had been killed in Misrata in the past nine days.
A Libyan doctor based in Britain, who said he was in contact with people in Misrata, urged Western governments to do more to protect the city's civilians from attack.
"Gaddafi's troops are moving on to Misrata again, shelling residential areas with tanks and mortars," said the doctor, who did not want to be named because he feared reprisals against family members inside Libya.
"The coalition force should stop this ongoing massacre. Either they are fully committed to protecting these civilians or should leave them to their destiny."
A Misrata resident who spoke to Reuters from the city said Western governments were being too slow in providing help.
"The best solution to save our people is to arm us," said the resident, called Mohamed. "Now we need weapons to protect ourselves."
Western air strikes have targeted an air base near Misrata and some positions held by pro-Gaddafi forces. But rebels say government troops have driven their armor into the city, making it difficult to hit them from the air.
(Additional reporting by Michael Georgy in Tripoli and Joseph Nasr in Berlin; Writing by Adam Tanner; editing by Elizabeth Piper)
Related
Popular in the Community