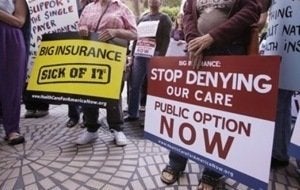 Jean Chaude from Belgrade, Maine, has health insurance. As a small business entrepreneur, Jean used to sell antiques and volunteer with her church until she developed chronic arthritis and pulmonary problems. She buys private insurance, for which her premiums have risen 80 percent in the last four years and she has a $5,000 deductible. She quickly meets her deductible because just one of her medicines costs $1,800 a month--with insurance.
In Maine where, like many heavily rural states, private insurance companies enjoy little or no competition, it's no wonder that even with insurance, Jean has $12,000 in out-of-pocket medical expenses each year. Recently, Jean had to move out of her house and into an efficiency apartment. She took out her ever first credit card to cover medical costs. And still she regularly skips doses of medicine because she simply can't afford the care she needs.

There are millions of Jeans in rural communities across the United States. A recent report, "Sweet the Bitter Drought: Why Rural America Needs Health Care Reform," released by the Center for Community Change and the Center for Rural Affairs, documents that while our broken health care system is affecting all Americans, rural Americans are disproportionately impacted. Rural Americans are more likely to be uninsured or under-insured than their urban counterparts and 82 percent of rural counties are classified as medically underserved areas. The report leaves little question that rural Americans like Jean have perhaps the most to gain from health care reform.

And yet politicians from rural states and districts, including Blue Dog Democrats and moderates on the Senate Finance Committee, have argued that rural voters oppose health care reform. They suggest that the few vocal screamers at town halls on television represent the silent majority. Nothing could be further from the truth. Pollster John Anzalone found that the plurality of swing voters in these rural districts support reform, including a robust public option. And when the Center for Community Change talked with hundreds of rural voters at county fairs this summer, we confirmed the broad support for reform.

Politicians who claim that rural voters oppose health care reform, including a public health insurance option, are looking for any excuse to help insurance company donors, rather than their constituents. The sad thing is, if politicians succeed in misrepresenting rural voters to kill reform, the quality of health care for Jean and everyone like her will only decline.