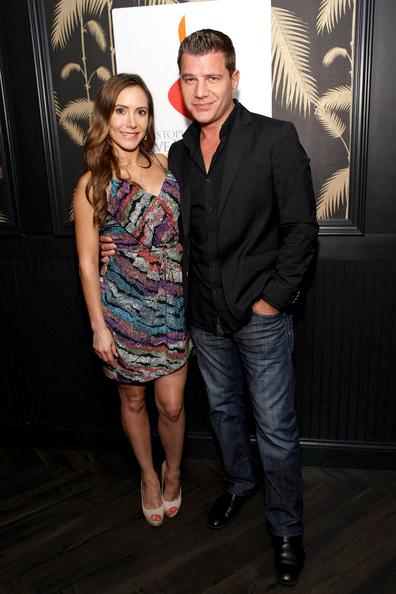 Photo credit: Neilson Barnard
Star and matchmaker on Bravo's hit show Miss Advised, Amy Laurent, certainly tells it like it is.
On August 21, I sat waiting patiently for Amy to show up at the Christopher and Dana Reeve Foundation Summer party in a nondescript building/club called No.8, I wondered, how is it that this professional matchmaker is still single? And why is she late despite the fact that lateness is one of her biggest pet-peeves? Well, Amy finally showed up for the event and, as it turns out, she had a valid reason. Obama was in town jamming up midtown traffic for his $20,000-a-head campaigning dinner/game of hoops with Michael Jordan, so I had to let her slide.
Speaking of sliding, I guess girls really do put themselves through more than us guys know just to keep themselves looking pretty. Being true to her reputation of being 'real,' within two seconds of meeting me Amy informed me that she may have moisturized a little too much before leaving her place, apologizing for being 'super shiny' as she laughed off her mistake by pretending to wipe her overly lubed arm on my jacket. Is this girl cool or what? I was initially expecting a super high maintenance pain in the neck, or one of those a fuddy-duddy yenta-esque matchmakers. Pleasantly, neither was the case. To be completely honest here, her super shiny tan legs didn't bother me much either -- We'll leave it at that.
Throughout the night Amy worked the room effortlessly, and with a front row seat I got to see this shiny woman in action. Basically, every girl sans a man approached her wanting to sign up for her services and to talk about her new book 8 Weeks To Everlasting, even some of the guys wanted in on the action.
During the event I also learned a few interesting things about this matchmaker:
•She has a real obsession with gourmet cupcakes.
•Likes to stay extra hydrated.
•Wishes she was a little bit taller, mostly for picture taking.
•Doesn't like stuffed mushroom hors d'oeuvres.
And as far as Amy's singleness, she seems to be all work and no play; ''I'm just too busy working on my business, my clients and my book to have a man'' she told an inquiring reporter from the NY Daily News who asked for an update on her dating life.
Amy may also have some sort of special power. I mean, this love broker doesn't miss a thing, or maybe she just has eyes in the back of her head (or reflective elbows). At the party, an older looking, well-dressed cocky type was checking out a 20-something-year-old girl crossing his path. Amy immediately chimed in with some free dating advice -- saying ''See that man over there? Don't ever be like him. He's way too old for her!" I quickly protested, as I see young girls with old dudes all the time -- to which Amy quipped "She would have to either be a gold digger or have major daddy issues to want a relationship with someone as old as her father.'' OUCH! Though a smokin' hot chick in her twenties may seem pretty great, Miss Amy was obviously right on the money. Maybe he should have read her book!
Related
Popular in the Community