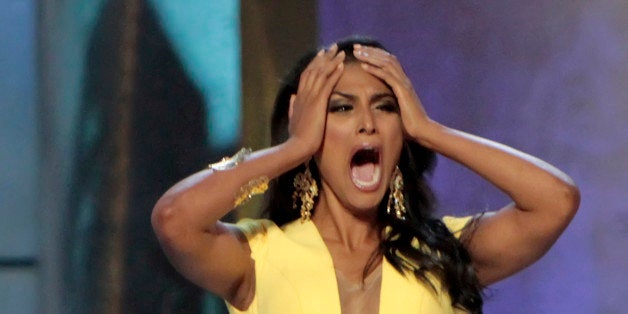 The risk paid off. While the usual suspects took to Twitter to wail about Davuluri's win, most tweets were peppered in happy exclamation marks.
But there was an unfortunate irony to the win, noted mostly by Indian and Indian-American writers. Davuluri is dark-skinned. In India, where skin color is a national obsession, you likely wouldn't see someone of her complexion in a pageant, much less winning one.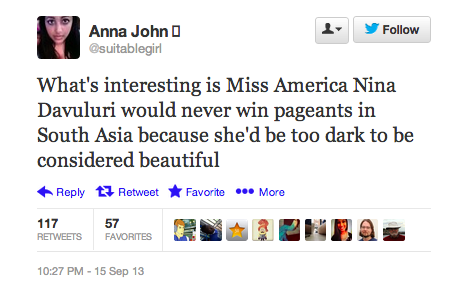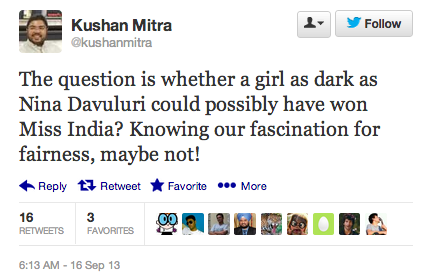 Writing at FirstPost, Lakshmi Chaudhury quipped that Indians prefer their beauty queens "vanilla, preferably accessorised with blue contact lenses."
She cites a stark fly-on-the-wall report from weekly training sessions for the 2003 Miss India contest. Every contestant was "taking some sort of medication to alter her skin, particularly in colour" according to the embedded writer, Susan Runkle. Indeed, the winner that year, Sonali Nagrani, looks more European than Indian.
Regimens were prescribed by the pageant's in-house doctor, a London-trained plastic surgeon named Jamuna Pai who had what Runkle called a "disturbingly casual" view to skin-lightening treatments concocted with acids and lasers.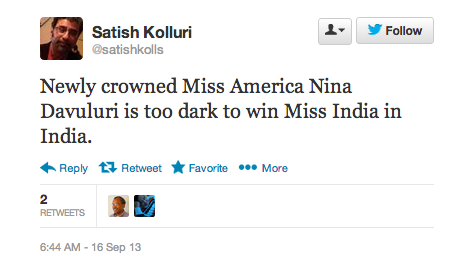 "'When an Indian man looks for a bride, he wants one who is tall, fair and slim, and fairer people always get jobs first,'" Runkle says Pai told her. While she quotes Pai admitting that the binary is "being disproved because of the success internationally of dark-skinned models," (see: supermodel Lakshmi Menon), the shift was apparently imperceptible at home. "'We still lighten their skin here because it gives the girls extra confidence when they go abroad,'" Pai reportedly told Runkle.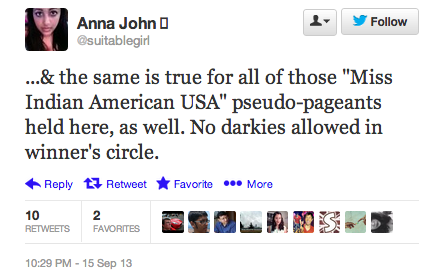 Some tweeters insisted a discussion of skin color is no longer relevant. They cited Eastern hemisphere analogs to Davuluri: actress Priyanka Chopra and Lara Dutta, Indian pageant winners of the last decade with darker skin tones than most of their peers.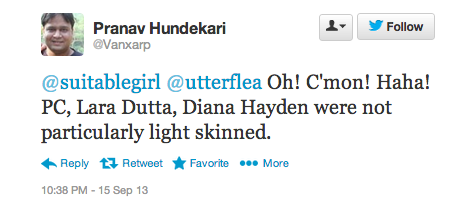 Others point out these women don't fall at the dark end of the dark-skinned spectrum. Nor are they necessarily poster girls for the cause. Here's Chopra hamming it up in a commercial for Garnier Light, a cream advertised as a "no oil, no sweat fairness moisturizer."
Related
Popular in the Community