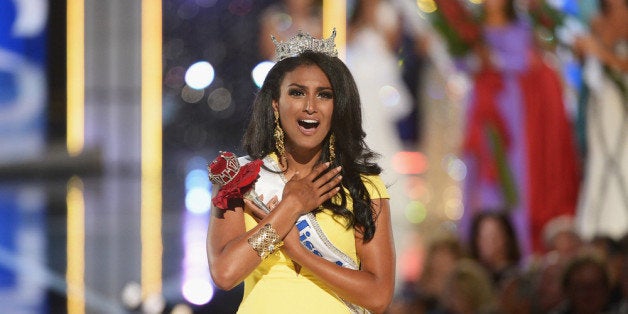 "Nina Davuluri named Miss America."
In spite of my indifference to beauty pageants, I couldn't suppress a smile when I heard the news that an Indian-American had won the coveted crown. In the 40 years that I have lived in the U.S., I have been proud of the growing array of outstanding Indian-Americans -- astronauts like Kalpana Chawla, CEOs like Indra Nooyi, television personalities like Sanjay Gupta, or politicians like Bobby Jindal. Besides, the U.S. census statistics now describe Indian-Americans as the best educated and most affluent ethnic group in the country. And we've all become accustomed to the Indian kid winning the National Spelling Bee.
But even against this record, Miss Davuluri's victory seemed extraordinary. It's one thing to see Indian-Americans succeed in academic terms or even business terms, but to be acknowledged for singular beauty in the most American of beauty pageants? In her gracious acceptance speech, this second-generation American from South Indian parents acknowledged the exceptional nature of her achievement: "I am so glad that this organization has embraced diversity by selecting me as the first Indian-American to achieve this distinction. I look forward to advancing this conversation in the coming year."
Suddenly the vicious side of America, so evident these days, unloaded on Miss Davuluri through tweets and blogs: "a 7/11 Queen," "a Muslim terrorist," "an Arab imposter." When the New York Post, the Daily News, The Daily Show with Jon Stewart, and the Colbert Report commented on the story, you know that the selection of an Indian-American as the paragon of female beauty touched a deep nerve in the American psyche.
The truth is that it's one thing to accept Indian-Americans or brown skin people in professional fields, like medicine, computer science, or finance. But when it come to ideas of beauty and national concepts of beauty, old habits die hard, if at all. Let's not forget that until 1970, African Americans were not allowed to compete in this "Miss America" contest, and only other Asian American to win the pageant was a Hawaii-born, Filipina-American in 2001. For all of us of Asian descent, we are used to being asked where we are "really" from or "why we speak English so well," even if we are second generation Americans. Inherent in these questions is always an implication that we are not American enough, or that we are really foreigners at heart. So, if the notion of an "authentic American" is still debatable in some minds, the notion of a "beautiful American" sets off fireworks akin to the clashes between gun control advocates and the NRA.
I am gratified that the hate tweets were soon matched by more enlightened retorts: "This is the New America. Get used to it!" "Nina is the new image of America at the right time." Underlying this clash of perceptions is an often messy, but ultimately positive American process: a contentious way of defining, and redefining, what it means to be an American. So I see the crowning of Nina Davuluri as a new marker in the ever-evolving multi-racial, multi-cultural identity of the United States.
Ironically, as some Indian commentators have pointed out, Nina Davuluri would not have made the cut were she to compete in India. Indians love beauty pageants and some Indian contestants have won Miss World titles, including the popular Bollywood actress Aishwarya Rai Bacchan. Obsessed with "fair-skinned" beauty, Indians generally would consider Ms. Daluvuri "too dark" to be considered worthy of the Miss India crown. In today's India, parents often fret about the marriage prospects of a dark-skinned daughter. Matrimonial ads in the Indian newspapers and online sites are full of references to young women being of "fair skin" or "wheat complexion." So the traditional idea of what constitutes beauty is equally entrenched in India and is evolving even less rapidly than in America.
Just as we lament the racist attitudes hurled at President Obama by people who question his "American-ness" we must fight against the ignorant hatred expressed against Nina Davuluri. But, as my European friends often remind me, only in America would we even consider electing an African-American president born of a white mother and an African father. Similarly, let's celebrate the fact that only in America, could a smart, dark-skinned, medical school-bound, Indian American could be crowned Miss America 2014.
Calling all HuffPost superfans!
Sign up for membership to become a founding member and help shape HuffPost's next chapter