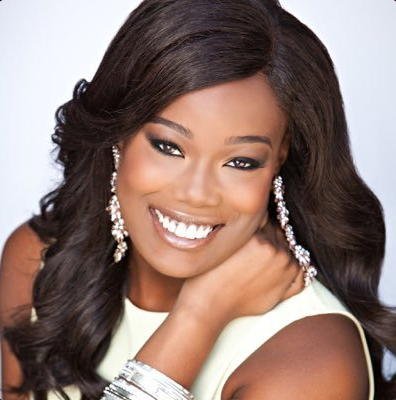 UPDATE: A North Texas police chief has been placed on administrative leave after he played a part in the arrest of the 2016 winner of Miss Black Texas in a local Wal-Mart parking lot.
Carmen Ponder and her attorney, Lee Merritt, claimed earlier this week that Kerry Crews, the police chief for Commerce, Texas, had called her a "black bitch" in a Wal-Mart parking lot before unlawfully arresting her.
Media reports now suggest a local elected school board official may have been the motorist who verbally harassed Ponder after she passed his 14-year-old daughter during a driving lesson, Merritt told HuffPost on Sunday. 
The City of Commerce said in a statement released on Thursday that Commerce Police Chief Kerry Crews, who was at Walmart as a customer, became involved in a disturbance between two motorists after being approached by one of the parties. Crews made contact with the other party, presumed to be Ponder, but she failed to comply with his requests, the statement adds.

The city says that the other party was then arrested by responding officers for evading arrest or detention as a result.

In a statement by Merritt on Friday, he says that Ponder believed that the man in the black truck was Crews due to her interaction with officers who arrived at the scene.
Merritt acknowledged in a Facebook post Friday that while "it is possible that Crews was not the man from the initial verbal assault, the actions of the Commerce Police Department in responding to the incident represent clear abuse of authority and violations of Ms. Ponder's civil rights." 
The elected school board official didn't immediately respond to HuffPost's requests for comment. Neither the City of Commerce nor the city's school board immediately responded to requests for comment. 
Miss Black Texas 2016 is calling for a North Texas police chief to be removed from his job after he allegedly called her a "black bitch" and unlawfully arrested her for passing his 14-year-old daughter on the road.
Carmen Ponder, an intern at the Hunt County district attorney's office and a recent graduate of Texas A&M University-Commerce, tweeted Tuesday that she experienced "road rage" from Kerry Crews, the police chief in Commerce, Texas.
Ponder says she was on her way to a local Walmart when a black truck cut in front of her and began driving erratically. She says she decided to pass the vehicle to avoid a potentially dangerous situation because she believed the driver to be drunk.
She had parked her car outside the Walmart before realizing the black truck had followed her, she says. Crews, who had not identified himself as a cop, apparently yelled at Ponder for passing his daughter, whom he had been teaching to drive at the time.
"Whatever, you black bitch," Crews allegedly told Ponder after she reminded him that it's "illegal" for a 14-year-old to drive.
It's just a reminder that our skin color ... is seen as something hostile, dangerous and illegal.

Lee Merritt, civil rights attorney
Ponder says she walked away from the confrontation and made her way into the store. She alleges that Crews, his daughter and at least one other man were waiting for her when she returned.
One of the men allegedly informed Ponder that Crews is a police chief and that she should apologize to him for being disrespectful. Ponder refused and began walking to her car, apparently prompting the man to grab her by the arm and tell her she was going to be detained.
When more police arrived on the scene, Ponder approached them for help. But she claims the man who initially grabbed her told the officers that she was resisting arrest and instructed them to detain her.
Ponder was handcuffed, put in the back of the a police car, and detained for roughly 24 hours. She was released but still faces a charge for evading arrest.
Read Ponder's description of the ordeal below.
The Commerce Police Department declined to comment on the incident. 
Ponder's attorney is Lee Merritt, a civil rights lawyer. He told HuffPost that a Walmart employee heard Crews swear at Ponder and apologized on his behalf. Walmart referred HuffPost to the Commerce Police Department when asked for a comment. 
Merritt said Ponder suffered bruising on her arms and is hesitant to leave her house because she's afraid of being threatened by Crews' supporters.
"If this is how [Crews] behaves when he feels someone disrespected him ... how does he handle people who he suspects of committing real crimes?" Merritt said. 
Ponder is calling for the charge against her to be dropped, for Crews to be fired and for the other involved officers to face disciplinary action.
"It's just a reminder that our skin color, speaking specifically about the African-American community, is seen as something hostile, dangerous and illegal," Merritt said. 
Merritt also represented Jacqueline Craig, the black mother from Fort Worth whose arrest went viral after being captured on a cellphone video. A white cop arrested Craig and her two daughters in December after they called the police to report a neighbor for attacking Craig's 5-year-old son.
CORRECTION: A previous version of this article stated that Ponder attended Texas A&M University. She attended Texas A&M University-Commerce. This story has also been updated to clarify comments made by Ponder's attorney, emphasizing that alleged verbal harasser still has not been identified.
Calling all HuffPost superfans!
Sign up for membership to become a founding member and help shape HuffPost's next chapter
BEFORE YOU GO
PHOTO GALLERY
6 Times Black TV Shows Tackled Racial Profiling and Police Brutality