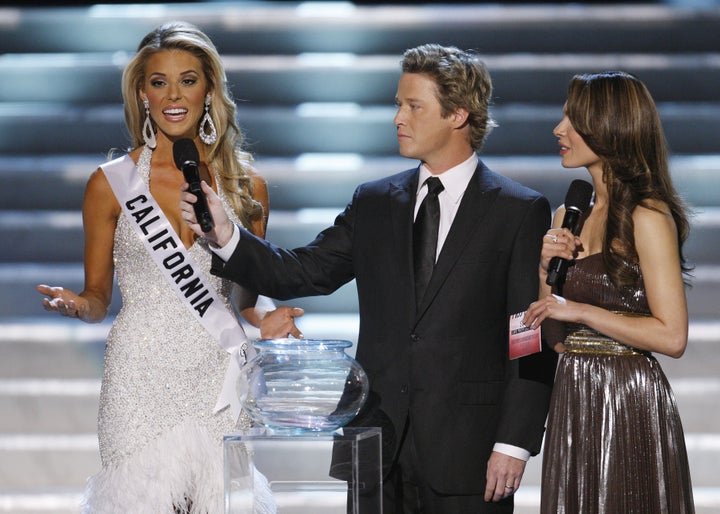 Carrie Prejean didn't lie to beauty pageant officials even though she'd appeared semi-nude in photos a few years back, so let's just get off that high Godiva horse right now.
Here's the thing: Since the old pictures were of her real breasts, she never actually exposed the new breasts she's now using for contests. Those were the old, God-given breasts, see? So, technically speaking, the world has never actually gotten a look at her current breasts. No exposure, no violation of pageant rules. Case closed.
I may not know this for a true fact because I'm not canonballing into the NSFW cesspool of sin and traceability that would be required to actually look at the photos closely. I'll take Trump's word for it that they're "lovely." But that's my theory and this is a blog and I'm sticking to it like adhesive. Also, while we may be slicing the silicone a little thin, this kind of parsing was used by Bill Clinton in his Lewinsky defense.
If it's good enough for presidents, it should be OK for Ms. Prejean. And that goes for public toplessness and personal beliefs about same-sex marriage, both of which she shares with Barack Obama. Only, unlike the President and his continuation to date of the Don't Ask/Don't Tell policy in the US military, the beauty queen is not firing anyone for being gay. In fact I think she said during the Miss USA contest that she respected gayness. Apparently the military is about to can Dan Choi, a gay armed services Arab linguist -- aren't we looking for more of those, at least the Arab linguist part? -- under the existing rules. He must have told someone.
In fact the only player in this expanding drama who's gotten really spanked so far is NPR, which removed from its review of the documentary the names of the politicians featured. "Enabling homophobia" charged Pam's House Blend blog. More digitally relevant may be NPR's impression that standing on the principle of respect for the privacy of public figures except in cases where publishing such information is "compelling" is becoming just a quaint notion in the ubiquitous information world where any peeping Tom(asina) can get private data and all phones make their owners potential paparazzi.
Blend in Donald Trump, who said he'd invite pageant judge Perez Hilton back next year even after keeping Ms. Prejean on her pedestal in the face of her claims that Mr. Hilton was unfairly biased and voted accordingly, and you have a big, entertaining cultural train wreck deep in the chemical folds of some enhanced cleavage.
The only full on winner here is Mr. Trump, for whom "pageant" is a life-encompassing verb, who can't possibly get out enough and who loves the spotlight more than a summer bug.
Calling all HuffPost superfans!
Sign up for membership to become a founding member and help shape HuffPost's next chapter