 Beauty comes in all sizes. And so do beauty pageants.
For more than two decades, the groundbreaking Miss Cicciona pageant has turned heads in Italy by celebrating a different kind of beauty. Open only to women who weigh more than 220 pounds, Miss Cicciona gives plus-size women an opportunity to take home a tiara.
This year's Miss Cicciona -- which translates roughly to Miss "Chubby" -- is Ornella Chiapperini, of Naples, who weighed in at 324.7 pounds in Forcoli, near Pisa, on July 23.
"The competition aims to recognize and give light to the beauty and simple and true affection [of] women [who] usually ... are excluded from the spotlight," wrote pageant founder Gianfranco Lazzereschi on the Miss Cicciona website (translated to English).
Lazzereschi said the goal of the beauty contest -- which also includes a field for men weighing more than 330 pounds -- is "not to ridicule fat people." He described the evening of singing, dancing, strutting and preening as "full of fun and friendliness."
After the competitors show their talents and personalities in an exhibition that's more far more boisterous than anything you'll see watching Miss America or Miss Universe, a team of journalists and officials award the participants with sashes and titles like Miss Congeniality, Miss Elegance and Miss Smile.
SEE PHOTOS FROM THE MISS CICCIONA CONTEST (STORY CONTINUES BELOW):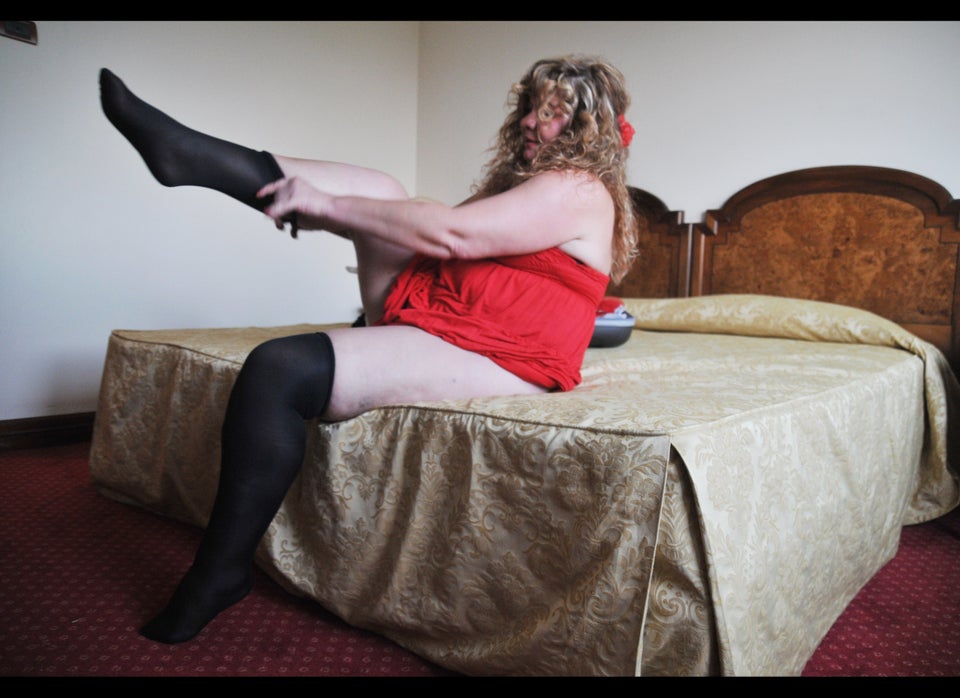 Miss Cicciona -- Italy's Beauty Pageant for "Chubby" Women
At the end of the night, in a scene that might remind fans of a bizarro version of TVs "Biggest Loser," the women hit the scales and the heaviest challenger is crowned Miss Cicciona.
The Italian contest gives larger women a unique platform -- but it's not alone.
Plus-sized beauty competitions are actually growing in popularity in America's pageant scene, especially over the past five years, according to pageant coach Rhonda Shappert.
"In Miss America, Miss USA, or Miss Universe, you would never find someone over 200 pounds -- or even over 170 pounds," Shappert, the owner of Winning Through Pageantry, told The Huffington Post. "But when you look demographically, especially in America, at how the average size of the women has been increasing, there are people who really believe that the positive aspects of these pageants can be beneficial."
In the United States, contests for larger women emerged as divisions in some traditional pageants.
That's how Melissa Stamper, the executive director of Miss Plus America, found her calling.
Stamper had participated in beauty contests as a child, but after she started gaining weight around age 13 and realized she wouldn't be Miss America, she cast her pageant dreams aside -- until she heard about a pageant with a plus-sized division.
She entered and won, and in the process realized there were other women like herself who were interested in pageants, but who were wary about competing against more slender challengers.
In 2002, Stamper launched the Miss Plus America circuit. Since then, the pageant has grown to boast 46 delegates competing in four divisions -- not to mention a number of imitators.
"There have been other pageants that are popping up here and there, but mine is the most prestigious," said Stamper. "We give away the big bucks."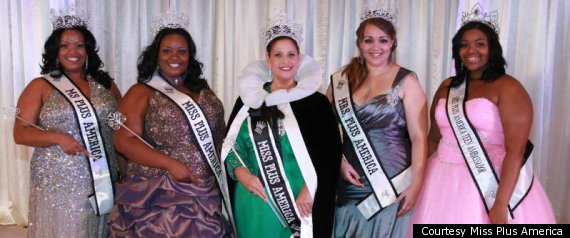 The reigning royalty of the Miss Plus America Pageant.
While the $1,000 cash prize and $1,000 shopping spree at plus-sized clothing store Catherine's might motivate some competitors, others find joy in feeling a sense of personal accomplishment or liberation.
"I think that my pageant is doing its part to make people feel better about themselves," Stamper said. "It's about losing inhibitions and coming to a place where you are happy about yourself and where you don't care what other people think."
Though Miss Cicciona and Miss Plus America share a similar mission in bringing beauty pageants to bigger audiences, Stamper said the contests couldn't be less alike.
"We're really nothing like that -- they come out on the stage in their little lingerie. We don't do that," she said. "Personally, I think that's tacky. My delegates compete in evening wear."
In fact, she believes the "more risque and liberal" Miss Cicciona pageant might scare away possible fans and participants.
"I just don't think it's appropriate for society today," she said. "It's kind of a turn-off, as much as we want to believe otherwise. You attract a bigger crowd [of participants] if you don't have to do bathing suits. A lot of plus-sized women are not comfortable in their skin and they would not enter a pageant that made them wear a bathing suit."
Critics of plus-sized pageants have complained that beauty contests for larger ladies encourage unhealthy lifestyles in an era of rising obesity rates.
But clinical psychologist Dr. Deb Burgard considered them "transgressive and wonderful" -- and she said that as someone who is no fan of beauty pageants.
"I'm a feminist, so looking at women's bodies as a sport or a competition is not my favorite thing," said Burgard, an expert in body image issues who runs the website BodyPositive.com. "But expanding our notions of what is beautiful, beyond the typical United States standards is very much something I'm interested in."
Burgard said she believes that most people can find a variety of body types beautiful, from slim to stout. But due to social norms, she said "people feel sort of closeted when they can see the beauty in a range of different beauties."
Plus-sized pageants like Miss Cicciona could help change that.
"It's a good thing because it reminds people that in most parts of the world and most times of human history, the standards of beauty have been extraordinarily different from what they are right now," she said.
Popular in the Community