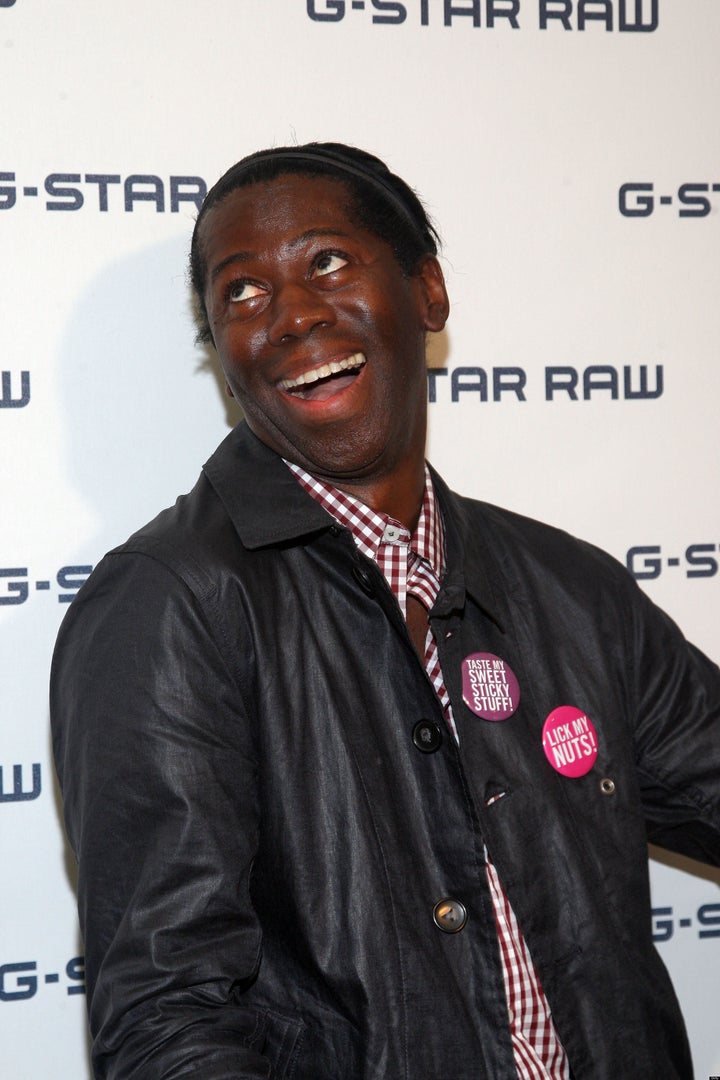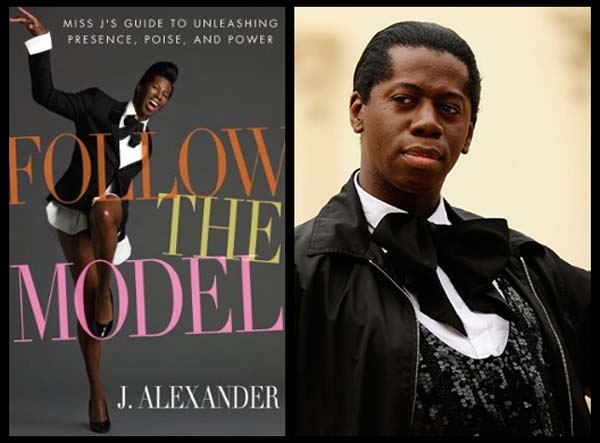 Miss J. Alexander formerly of America's Next Top Model
I woke up the other morning and the headlines read, "FIRED!!! Tyra Banks fires J. Manuel, Nigel Barker, and J. Alexander!" I, of course, immediately rushed to call my best friend of over 20 years and asked, "Jay, oh my God -- is it true?" This question was followed by a dramatic and pregnant pause -- and then we both began laughing hysterically...
Don't ask me why, but for as long as I can remember, we have always been able to laugh, joke, cry and eventually walk off the absolute worst problems or situations. And over the years, there have been many -- situations. One of the reasons I believe our friendship has lasted so long is the fact that our birthdays are a day apart and somehow this allows us to understand each other completely.
Alexander Jenkins, known to the world as Miss J., was born on April 12, 1958 and I on April 13, 19-not-on-your-life-will-I-ever-tell, under the astrological sign of Aries. I know some people don't put much stock into the hole astrology thing, but I am a firm believer it has been our Aries spirit, drive, passion and fire that has carried us both through the worst and best of times. So while the blogs and Internet were buzzing with the news of my dearest friends "firing", I had a pretty good idea that Jay would be tucked in his New York City hotel room going about his business as if nothing had happened. As we like to say to each other, It's an Aries thing...
But I also knew from a public relations standpoint that this perhaps was not a good time to be tucked away. Therefore, like any good friend would do, I suggested we get ourselves all dolled up and go to the one place that would make everything feel, or at least look better -- The Four Seasons.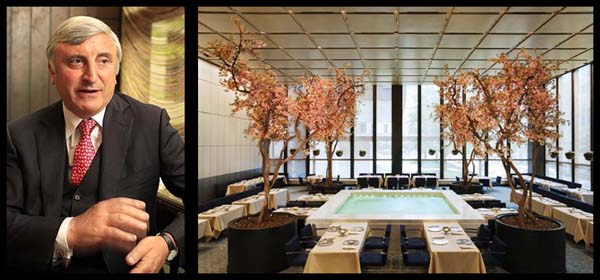 Co-owner and maestro of The Four Seasons Restaurant -- Julian Niccolini, The Pool Room
You see in Hollywood when celebrities resurface from a highly publicized scandal or salacious affair, they carefully choose the L.A. hot-spot The Ivy to herald their return to the fold. But in New York City any self-respecting starlet, power-broker or fashionista knows that one must bravely and gracefully glide through those iconic glass doors, saunter up the shiny steel staircase, and enter the glorious Four Season's Pool Room and declare to the world, "Here I am! Still standing!" End scene...
Now this may have been the original plan/script... But I must admit, by the time Miss J. finished fielding telephone calls from CNN, US Weekly, production companies and network producers -- we found ourselves almost an hour and a half late for our prime 1 p.m. lunch reservation. However, this may have been a blessing in disguise. By the time we made it to the restaurant it appeared the Internet gossip had taken a bizarre turn towards the Macabre. Fanatics of ANTM were now calling for the heads of all persons responsible for this sudden change in their beloved cast.
Now I know there are many people who might doubt the fact that Miss J. has become a bona fide celebrity. But I challenge you to spend just five minutes walking down a city street with him either here in New York City or his adopted hometown of Paris, France. Over the years I've seen adult women tremble and cry, schoolgirls screech and shout, and full-grown heterosexual men giggle and swoon from sheer excitement at an in-the-flesh sighting of Miss J.
Over the nine years that Jay has been a part ANTM, we have learned how to protect the sanctity of our long city walks by cutting and weaving down empty side streets, navigating uncongested avenues and sashaying briskly in order to avoid prolonged gazes from his many admirers. And trust me, its not because he doesn't love his adoring fans. It's because it would take us two hours to walk 10 blocks if he stopped for every photo request or over zealous stranger trying to hold their mobile to his ear asking, "Can you say hello to my wife on the phone? She really loves you!"
But as the Law of Mr. Murphy would have it, we arrived at The Four Seasons at that weird restaurant hour when the kitchen is changing from their lunch to its early dinner menu. I immediately thought to myself, "We're too late... " However, the magic of the Pool Room was shining brighter than ever. It was as if someone had sprinkled the entire room with fairy dust to herald our arrival. And just like that co-owner Julian Niccolini appeared, as lively and filled with joy as ever, and made all of our dreams come true...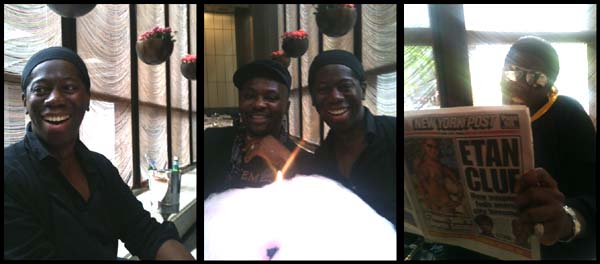 Miss J., Mister GoLightly & Miss J., Jay discovers he's been fired from Page Six (wink-wink)
For the next few hours, Jay and I proceeded to talk about everything under the sun. We discussed future plans, current dilemmas as well as past triumphs. We even had a mini belated birthday celebration complete with cotton candy and ice cream. To be honest, I think we completely forgot to talk about the fact that his contract was not renewed, and instead found it a bit humorous how people were behaving as if the world were on fire. If this was the attitude and demeanor of a man that had just been publicly fired, I hope the next time someone tells me, "Your services are no longer needed," I can find the grace, clarity and humor to handle it in this same manner.
As we took the short walk back to Jay's hotel from the restaurant, for expediency sake we broke our cardinal rule and walked through the hustle and bustle of Fifth Avenue. At first there were the whispers of passing tourists, then the close trailing and shuffling of Japanese schoolgirls, followed by the shocked faces of pedestrians looking up at him like a New York City skyscraper... Then it happened -- a red light. For the next 10 to 15 minutes we were forced to stand on the corner of 57th Street where I became de-facto publicist, bodyguard and photographer as a stream of fans begged for photos, autographs and hugs from Miss J. formerly of America's Next Top Model. Finally there was a small pause of fans, a shift in the air and a change of the street light. In less than 10.2 seconds, as we began to glide and stride across the avenue, Miss J. quickly disappeared. By the time we were safely on the other side, my dearest friend Alexander Jenkins resurfaced and we proceeded about our business and on to our next adventure.
Photos courtesy of @miss_jalexander and photos courtesy of @fourseasonsrestaurant.com
Related
Popular in the Community