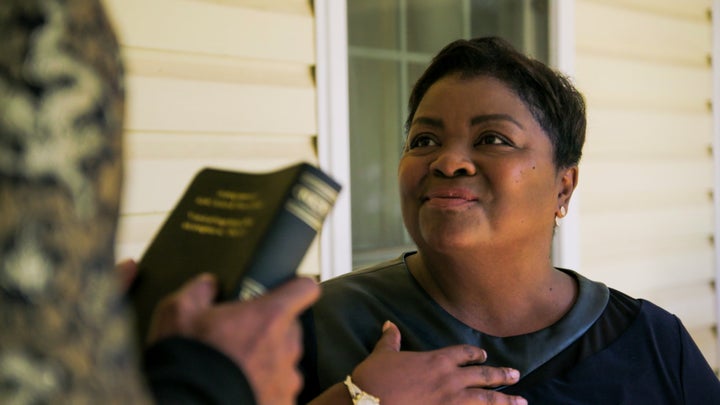 Netflix's "Queer Eye" returned with a vengeance for its second season over the weekend, likely sparking an uptick in tissue sales.
For the season's first episode, the notoriously touching hit reboot surprised viewers by deviating from its usual format and choosing a woman to make over.
Tammye Hicks ― or rather Miss Tammye or Mama, as she instructs the guys to call her ― was nominated by her neighbor Gene in her hometown of Gay, Georgia. Gene describes Tammye, a breast cancer survivor, as "more sweet, loving and caring for others than she is for herself" and in need of some love and care for herself.
Case in point: Whereas interior designer Bobby Berk typically makes over the nominee's home, Tammye requested he instead renovate her church's community center.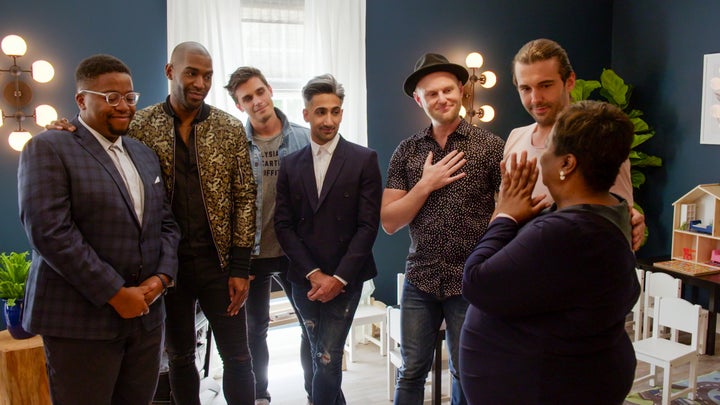 Tammye's son Myles, who recently moved back in with her, is gay ― and we find out over the course of the episode that it took her some time to accept it. There is an especially touching moment between Tammye and Berk about feeling rejected by the church because of sexuality, a truly sob-worthy speech given by Tammye herself in front of her entire congregation and, of course, plenty of tears and Jonathan Van Ness-isms to go around.
HuffPost chatted with Tammye to find out how her life has changed since the show, if Myles' room is still clean and who her favorite member of the Fab 5 is.
What were you expecting the experience of being on "Queer Eye" to be like?
I was expecting a week of fun, a week of eye-opening and most of all I was expecting a week of growth from myself, my son and my community. I told the guys when I first met them that my prayer for the week was that there would be growth all the way around. And you know what? That was achieved. It was one of those pivotal times in life that you go, "Oh, that's why I'm here."
Was there any moment in particular that made you feel that way?
There was the moment I had with Bobby, that was one where it was just one soul connecting to another. But the moment I stood up in church ― I never imagined standing up in front of a big gathering of people and saying, "My son is gay. I love my son. I'm so proud of my son." I couldn't imagine saying it even two, three years ago. When he first came out, it created a lot of friction in the house. You know when you get static in your skirt and it goes up in your skirt and you try to pull it down but it comes right back up? That happened. I didn't talk about it, I said I could just cover it up. But to stand up in church and look people right in the face? That right there was a moment, you know?
Your neighbor Gene mentions early in the episode that you don't see many gay people in Gay, Georgia. Was there any negativity from the community about you appearing on the show?
I haven't heard any negative comments. Sexuality is something we as humans deal with, you know? And a lot of people deal with things in private. I see a lot of people who are struggling and I think just seeing the show itself turned some minds. People say, "Thank God for what you did." I get phone calls from people asking how to handle their own children coming out and it has really become a teachable moment. That's not to say there isn't negativity out there, forces of love and hate and good and evil are ever present. But it's been all positive as far as the show goes.
What advice do you give to those people who are struggling with acceptance?
The main thing is to love your child. When God gave me the revelation not to judge and just to love, I tell them there is more to your child ― and everybody ― than what they do in the bedroom. Your child is someone you would die for. That relationship right there mirrors God's love more than anything.
And what's new with Myles now? Is his room still clean?
Yes, ma'am! I was just up there last night. Let me tell you, thanks to the Fab 5 working with him and just the love and acceptance, oh, my God. It shows on the day to day, the way he grooms himself. He is so proud of his room. He was just kind of floundering before, and since then he has so much confidence. He has the career he wants. It's just a total change. I should send you guys a picture. I think there was so much jumbled in his mind internally, now that it all came out it has freed him up to be the person that God designed Myles to be.
OK ― I have to ask. Who is your favorite Fab 5 member?
Girl, don't make me choose. Don't make me choose! Oh, my God. I feel like the Fab 5 wouldn't be the phenomenal group they are if even one of them were missing. They all have their equal purpose. I told them God knew they would wind up together even before they were formed in the womb ― it was their purpose to wind up as this team. Oh my gosh, girl, don't make me choose. Ummmm. Well. Oh, God ― it's a five-way tie.
Very diplomatic, I'll let it go. But will you at least share your fried green tomato recipe with us?
Oh, yes yes yes. It is so simple. The only things you need are flour, salt, pepper and the green tomatoes, and make sure to slice them very thin. That's what makes them crispy. Make sure the tomatoes are green but turning red a little bit, where the inside is pinkish red and the outside is green. Girl, honey, it will set your taste buds on fire, girl! I use an air fryer since the Fab 5, but if you're going to use oil, I always like to use something like canola, something lighter than vegetable. And don't forget to slice them very thin.
"Queer Eye" is available now for streaming on Netflix.
This interview has been condensed and edited for clarity.