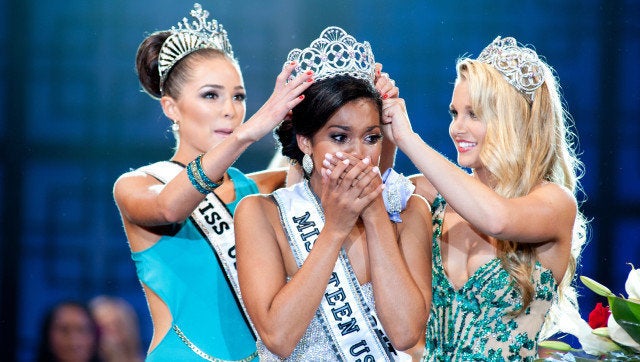 Striking a blow against bullies everywhere, an inspirational teen impressed the judges and bested 15 other finalists to take home the Miss Teen USA crown Saturday night in the Bahamas, the first-ever Miss Teen winner representing the state of Connecticut.
Logan West, the 18-year-old beauty queen, was named Connecticut's Outstanding Teen in 2010. Following her 2010 win, West made bullying a centerpiece of her charitable platform, revealing that she had been a victim of bullying in middle school.
West tried to ignore the bullies. Then she reported them to the school, only to be called a "snitch" as the tormenting intensified.
The situation boiled over a few months later when West finally fought back in a lunchtime incident that ended in suspensions for both West and one of the bullies. While suspended, West created her own anti-bullying initiative, Bully Proof, a five-step program that aims to empower student leaders to help prevent bullying.
In response to the efforts of West and other anti-bullying advocates, Connecticut Governor Dannel Malloy signed Public Act 11-232 in 2011, an act that strengthened the state's anti-bullying statute. According to the Governor's office, approximately 25 percent of Connecticut high school students -- and 35 percent of the state's ninth-graders -- report having been bullied or harassed on school property in 2010.
As the current Miss Teen USA, West will now have an even broader audience and increased publicity, along with an established network of resources to bolster her outreach.
"Being Miss Teen USA will give me the opportunity to educate students about bullying on a national level and share my story," West said in a statement published by MSNBC. "It wasn't always easy, but my parents made sure that I learned how to cope with it and ensure that I didn't stay introverted."
"I lost who Logan was when I was being bullied, but I found that participating in pageants helped me find 'her' again as well as gain the confidence to be a role model and voice for others," the statement continued. "During my reign, I hope to share with teens the importance of being true to yourself.''
According to her Twitter account, the new winner said she hopes to use the scholarship attached to her crown to earn a degree in dance or law from Pace University. On her official pageant profile, West also cites Aaliyah as an influence and admits a love for romantic comedies, Whitney Houston and anything "turtle-related."
Photo courtesy of Facebook.