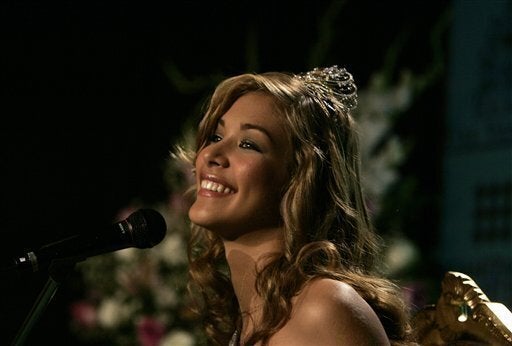 The current 'Miss Universe' Dayana Mendoza (formerly Miss Venezuela) and 'Miss America' Crystal Stewart visited US troops stationed in Guantanamo Bay on March 20th, the New York Times reports. Here's Mendoza's account of the visit from her pageant blog last Friday. She says the trip "was a loooot of fun!"
This week, Guantánamo!!! It was an incredible experience...All the guys from the Army were amazing with us. We visited the Detainees camps and we saw the jails, where they shower, how the recreate themselves with movies, classes of art, books. It was very interesting. We took a ride with the Marines around the land to see the division of Gitmo and Cuba while they were informed us with a little bit of history.

The water in Guantánamo Bay is soooo beautiful! It was unbelievable, we were able to enjoy it for at least an hour. We went to the glass beach, and realized the name of it comes from the little pieces of broken glass from hundred of years ago. It is pretty to see all the colors shining with the sun. That day we met a beautiful lady named Rebeca who does wonders with the glasses from the beach. She creates jewelry with it and of course I bought a necklace from her that will remind me of Guantánamo Bay :)

I didn't want to leave, it was such a relaxing place, so calm and beautiful.
The Miss Universe Organization will deploy Crystle Stewart, Miss USA®2008, and Dayana Mendoza, Miss Universe®2008, to Guantanamo Bay, Cuba, to visit troops as part of a USO/Armed Forces Entertainment tour Mar. 20-25. Traveling abroad to boost morale, the duo will talk with military families, dine with troops and pose for photos.

A longtime supporter of America's troops and the USO, the Miss Universe Organization has deployed more than 20 titleholders on USO tours since 1999. Among those to have traveled overseas include, Rachel Smith (Miss USA®2007), Hilary Cruz (Miss Teen USA®2007), Susie Castillo (Miss USA®2004), Shandi Finnessey (Miss USA®2003) and Justin Pasek (Miss Universe®2002).

"I am proud to carry on the Miss Universe Organization's legacy of titleholders participating in USO tours," said Stewart. "There's nothing more important or more honorable than the work our troops do everyday. Because of them we're free and have infinite opportunities."

Twenty-seven year old Stewart of Missouri City, TX, hit the jackpot on April 11th, 2008, winning the title of MISS USA®2008. After placing in runner-up positions at the Miss Texas USA® competition, Stewart took home the elusive title on her fifth attempt. A graduate of the University of Houston, she is an entrepreneur and the founder of Inside/Out, which she uses as a platform for public speaking appearances, character development and event planning.

On July 13, 2008, Mendoza's life changed forever when she was bestowed the Miss Universe®2008 crown in Nha Trang Vietnam. Crowned in front of one billion viewers worldwide, the 22-year-old former Miss Venezuela was born in Caracas and was discovered at the age of 13 at a local bus stop. Taking a break from a successful modeling career, Mendoza enrolled in school to become an interior designer and an advertising executive.

In times of peace and war, the USO consistently delivers its special brand of entertainment and comfort to military families around the world. In 2008, celebrity volunteers traveled to 27 countries and 23 states, entertaining more than 236,000 troops and family members.

For a list of USO tours, visit www.uso.org/whatwedo/entertainment. To learn more about the USO or to find out how to support the troops, visit www.uso.org.
Related
Popular in the Community