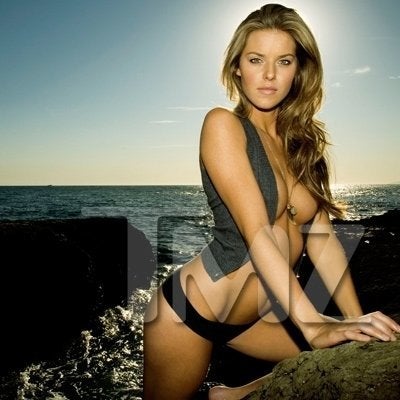 Just moments after being told she could retain her beauty pageant crown, Miss California Carrie Prejean renewed her commitment to her mission, telling reporters, "From this day forward I promise I will use my naked breasts for good."
Ms. Prejean blasted the critics whom she claimed tried to silence her for her views on gay marriage, saying, "I intend to fight back with the two greatest weapons I have: my naked boobies."
The embattled pageant winner said she would be both "tireless and topless" in her efforts to fight same-sex unions.
She added that she plans to tour the country to speak out against gay marriage and hopes to draw attention to the issue by displaying her naked torso wherever possible.
"I will go anywhere, anytime, anyway to make my case," she said. "These breasts are made for walking."
Ms. Prejean refused to answer questions about another controversial topic, enhanced interrogation techniques, but she did remark, "I have always been in favor of enhancement."
Donald Trump, who owns the Miss USA pageant, praised Ms. Prejean for her fearlessness in the face of harsh criticism, adding, "I like what I've seen of Carrie and I hope to see much more of her."
For a free subscription to the Borowitz Report, click here.

Calling all HuffPost superfans!
Sign up for membership to become a founding member and help shape HuffPost's next chapter