Mimi Imfurst is not only one of the leading queens in Philadelphia, but she is extending her reach from the City of Brotherly Love into Atlantic City, as she snatched the crown of Miss'd America last month at the Borgata Hotel Casino & Spa. Not only is Imfurst part of a Philadelphia sisterhood, including such gals as Brittany Lynn (another former Miss'd America), but she know joins an illustrious group of ladies that have held the crown of Miss'd America, an organization that primarily raises money for worthy organizations such as the Mazzoni Center in Philadelphia and the William Way Community Center. Ms. Imfurst took a break from the post winning insanity to chat with me about her experience winning the MIss'd America crown, why the Borgata Hotel Casino and Spa was the best place for the community for her to do it, what she wants to bring to the community and the crown during her reign, and her special connection to the Pulse nightclub tragedy this past summer.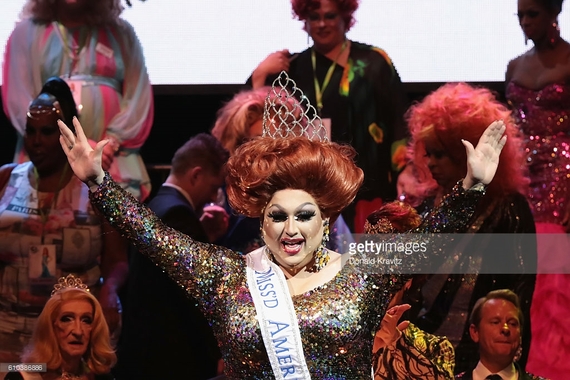 What was it like winning a pageant that is so close to your home of Philadelphia and has such a local connection to the community?
Pageants are an incredible experience- you try your hardest to put together a well-rounded package for each of the different categories. You do everything you can to try and do your best and hope that the judges understand your vision, and that you've executed it to the best of your abilities. Miss'D America is a very special pageant not only for its national recognition as a national title- but it is also very much a local event and to be able to bring the crown back to Philly and create change in the greater Atlantic City area is going to be really an incredibly rewarding experience.

The Borgata is arguably the best spot in Atlantic City to showcase your talents during a pageant of this caliber. Was it as glamorous hitting the stage @ the Borgata with all of the other ladies as it looked from the audience?
The Borgata is an incredible ally to the LGBT community. They're a prime example of not only how businesses can create events especially for the LGBT community, but also continue to be a leader in entertainment in Atlantic City. As drag artists, we don't always get to perform in the best venues; so it is incredibly special to know that the people who are creating and setting up all the technical elements want the show to be as good as you do. Their hard work is often unseen, but I can tell you personally, never ever unnoticed by entertainers.

What does winning Miss'D America mean to you?
The tradition of excellence associated with winning this crown is humbling in and of itself. I don't usually win these kinds of things- but I really pushed my boundaries and the skills of my craft to enter and compete. To win is a validation that you don't always get as an entertainer- that what you did and what your artistic vision is was successful. It means that I did something that in the past I would never have believed that I could. It inspires me to continue to push myself to follow more of my dreams. I can only hope that it inspires others to do the same.

Take us back for a minute; how did Mimi Imfurst get her start in drag?
Believe it or not the first time I ever did drag was for church. The theme at Vacation Bible School was "under cover agents for Christ." I was eight years old or so, and my brother and I dressed in drag as former, elderly, beauty pageant queens. Of course, back then I don't know if I really knew that what I was doing was "drag", but that was my first experience doing it.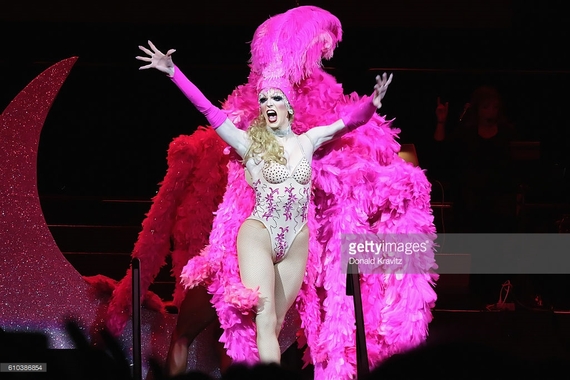 My true earnest start in drag wasn't until I was sixteen or seventeen when I got interested in it as a theatrical medium. I got hooked- and then eventually someone offered to pay me to do it- and well the rest is "herstory"!

You are a prominent name in the Philadelphia drag scene. What has it been like making your name in Philadelphia? What are some of your more favorite accomplishments?
Well It was a complete accident to be honest. I was doing a show at a bar and started poking fun at someone in the audience. After the show we started chatting and he told me his friend was opening a bar in Philly and that I should be hosting the opening night. I did, which turned into a weekly show- and then I got on "RuPaul's Drag Race" and EVERYTHING blew up! It has been an accidental, but very rewarding journey. I'm very proud of the "Dollhouse Revue" and now, "Drag Wars". Getting to foster new talent and help them grow not only themselves, but the drag scene as a whole. It's been really inspiring to see so many fierce queens finding their way in the world. I feel like I'm running a drag queen orphanage sometimes. Call me "Miss Hannigan"!

You were personally affected when one of your close friends, Eddie Sotomayor was one of the victims in the Pulse Nightclub tragedy. What are some of your best memories of Eddie and what do you want people to remember about him?
Eddie was just one of those people that made everyone around have a good time- no matter what. He was one of the most special people in my life- we have a very special connection; we shared a "just do it" mentality on life and a very sarcastic sense of humor. I'll miss just talking to him more than anything else in the world. We were supposed to be friends forever; sadly, the world had other plans. I'm just thankful to have known him at all. He changed my life- as he had a way of doing with so many.

You were a popular and polarizing cast member on "RuPaul's Drag Race". What are your thoughts on how the show has progressed since your time on the show? The "editing" controversy has certainly been a topic of conversation during this season of "All Stars". What are you thoughts on editing, not just with PhiPhi O'Hara, but on the show in general?
The experience that is "RuPaul's Drag Race" is truly not understood unless you've been through it. There's a lot of elements at play. The producers are telling a story- and that story has got to have heroes and villains. That story has got to have drama, laughter and tears. What you see is reality, but a very manipulated version of reality. I don't use the word " anipulation" with any negative connotation, but that's the best way I can describe it. Nothing about the situation is realistic/natural in relation to the rest of the world The rules, the circumstances, the people present are all purposefully put in place to create one hell of a show. To blame the editing is to say that a cookie tastes good because it has chocolate chips in it. A cookie is made of up many ingredients, much like the show. The producers are life a chef, and they're purposefully putting the right ingredients together to create the perfect meal for you to enjoy.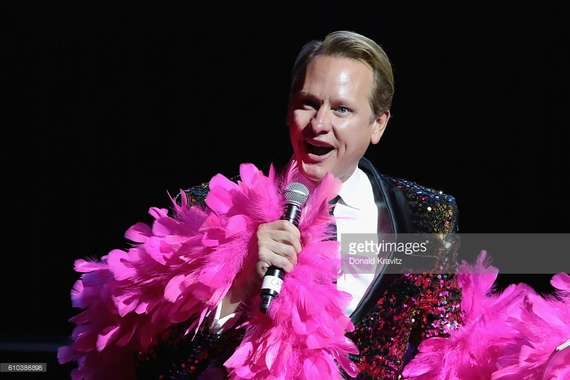 You can blame it or hem, but that's just doing an incredible disservice to the experience you signed up for and the benefits you've received from it. Only a very small handful of people get a golden ticket from the experience, and they're very lucky. But for the rest of us- the winners are the ones who learn how to take what is given to them- make it work and make it last. Its up to you say "YES and..." or "No." The difference is the world.

You work as the Chief Innovation Officer for Al & Chuck.Travel and work closely helping coordinate the "Drag Race" cruises. What has it been like to work with both this company and your sisters from "Drag Race" in such a different way?
I've always had my hand is so many different pieces of the puzzle. I enjoy using different parts of my brain to accomplish different things. I've been doing drag as my primary career for the last fifteen years and it is refreshing to do something different right now.

What do you want to accomplish in your year as Miss'D America?
I hope to inspire others to create real tangible change in their own world. It doesn't have to be huge- it can be very small. But when we all collectively do that- big change happens. We've got to start to unlock our own ability to make our own world better- and we can in turn help others make theirs. We've got to start unlocking our minds to the possibilities in front of you when you choose to live in a place of positivity and optimism.

What does "pride" mean to you?
Pride is more than just a day, a week, a month. Its more than just a rainbow or being a part of a community. Pride is fundamentally about embracing- celebrating WHO YOU ARE- including your flaws because that is what makes you unique. When you learn to come to love yourself, you can do the most incredible things. I say let your light shine bright because no one will see how fabulous you are in the dark.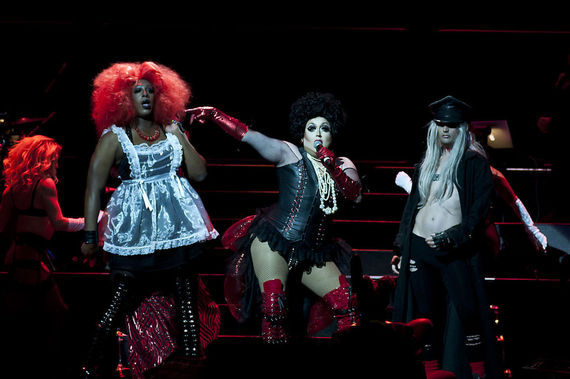 There have been recent accusations in the Gayborhood about racism within the community. At a time when we should all be truly banding together, it seems that at times, we are being pulled apart. What are your thoughts on the issue as a whole? What do you feel your part is in bringing the community together?
The accusations may be more vocal as of recent but the accusations are not new. Nor is the problem. I think the bigger issue is twofold- the gay community only started to get itself together as a movement in the 60's and 70's- then the HIV epidemic hit- wiping out a generation of activists. We spent the 90's recovering from that trauma, and for the next twenty years that followed, we were laser focused on marriage equality. All the other issues did not get the funding nor the time needed to actively resolve those issues. Racism, Homelessness, Ageism, Sexism, Ableism, Transphobia- very much do exist within our community Much in the way that homophobia exists in other marginalized communities. When you've tabled all of those issues for twenty years, the tensions have only built- and we're seeing the result of the pot boiling over. It's time we realize that these issues need our attention. The question is- can we collectively say "OK,what's next" for our community and do the good- and hard work- to begin to resolve these much harder and often institutionalized forms of oppression. I hope I can use my microphone to begin the conversation- and push others out of their comfort zones to do the very important work we need to all collectively do.


So post "Drag Race" you released your own album & have worked closely with gals like Latrice Royale on their music. Do you prefer behind the scenes or in front of the mic? -you're next track is very timely both with Miss'd America & the season. Tell me about it...
Is both an option? Ha! I like trying to understand how things work. I want to know how the machine is built- that's the part I like. I want to understand how the trick is done- not the act of magic itself.
I like to push myself. I've done pop, I've done comedy, I've just released an entire rock album- I also REALLY love musicals. "Rocky Horror" has always been a rock in my cultural being. I first saw it when I was twelve or thirteen and was hooked. The message "Don't Dream It, Be It" is a mantra we should all live with. Which is odd considering the context it comes from. I decided to put my own spin on something that has inspired me for so long. I love the character or Frank N Furter- he's reckless, fearless, insane and completely glamorous. Its fun, its campy. I decided to release this song certainly because of all the attention right now to the source material- but its certainly nothing new to me. I just hope people enjoy it.
Mimi Imfurst's cover of "The Rocky Horror Picture Show" soundtrack single "Sweet Transvestite"
https://youtu.be/QeIbRnOEGUM
All Photos Courtesy of Getty Images
REAL LIFE. REAL NEWS. REAL VOICES.
Help us tell more of the stories that matter from voices that too often remain unheard.