Profiling so many amazing queens this summer in my #PrideSeries has been a thrill, but Fifi DuBois is particularly special, as she's a hometown girl of sorts. She is the current reigning Miss'd America and has been making her way to Atlantic City many times this year to give them their own regular dose of Fifi's amazing talents and eye popping choreography. Fifi sat down with me to chat about what her year as MIss'd America has been like, how she got her start in New York City in front of some of the biggest names in the business, and what Fifi's pride really means to her.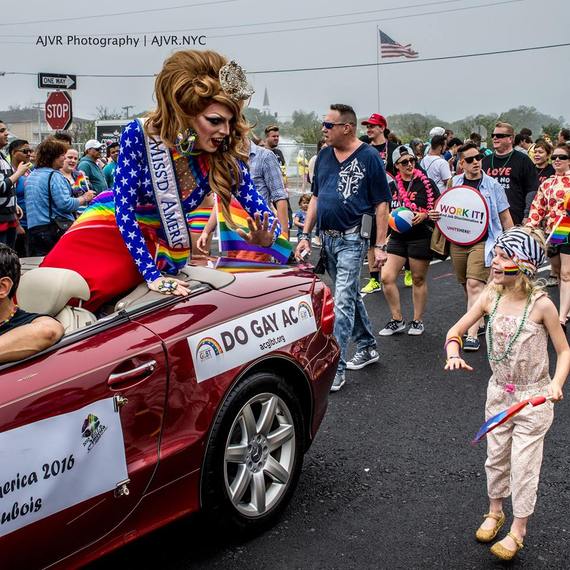 For those that have never seen Fifi DuBois on stage, how would you describe your performance style and "drag" as a whole?
I pride myself on being a classically trained dancer with a knack for comedy. So you're gonna get a lot of dancing, high energy, some great story telling, and a few giggles to boot.

How did Fifi DuBois get her start in the extremely competitive New York City drag scene?
I started drag in college in Westchester and a friend of mine suggested I tried Shequida's co-host contest at Bar-tini at the time. I get there end up performing in front of not only Shequida but also Pandora Boxx, Saharra Davenport, Alexis Arquette,and Manilla Luzon. Talk about being star struck! Beyond the nerves, it was extremely rewarding to perform for such legends. I also ended up winning the contest and booking the gig all by default because I was the only competitor... well and the rest is history.
You are the current reigning Miss'D America! How has your reign been, looking back over the past year? Favorite highlights?
It's been great I was extremely humbled to be crowned; Miss'd America is actually my first official pageant title/crown. I had a blast going to mixers and press events in Atlantic City. I got to travel to different pride parades/festivals and perform with some amazing people. My favorite highlight would have to be riding in my first ever NYC pride parade! it's just such a great thing to see miles of LGBTQ people and supporters stretched out cheering you on in one of the greatest cities in the world.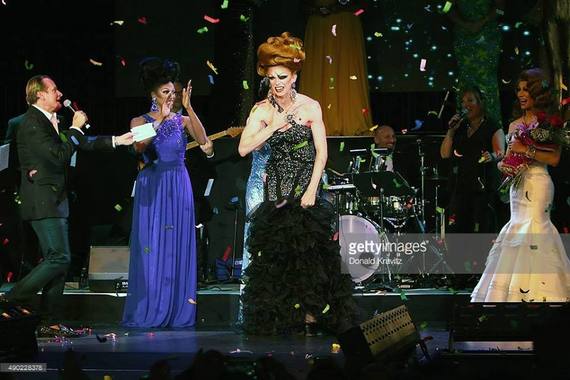 What are some of your career highlights so far?
Besides winning Miss'd America, I would say getting to just do what I love for a living, getting to travel and entertain people all over. I have one of the most fun jobs in the world.

What is left that you want to achieve as Fifi DuBois? Any aspirations to be on "RuPaul's Drag Race" perhaps?
One of my biggest goals is to headline my own show in Vegas. I would love to be a part of the "Drag Race" legacy its an incredible opportunity and you really get out of it what you put into it.
Speaking of "Drag Race" several NYC girls have won the crown. How do you think the show as a whole has been for the drag community?
Its exposed drag to an audience that may have never been exposed to it prior to the shows existence. A lot of queens like to harp on the negative aspects like an over saturation of queens, but one simply has to rise to the occasion, prove their worth and take the great with the slightly inconvenient obstacles. I love "Drag Race" and a lot of the queens that come out of it.
What does Fifi DuBois do when she's not on stage?
I sit at home and work on costumes, or set lists, learn new songs, and anything else I can to avoid cleaning/organizing my disaster area I call an apartment.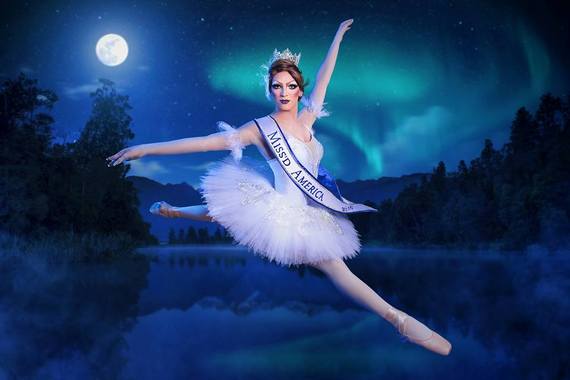 The gay community has had a very trying summer. What do you think are the biggest issues facing our community and what do you see as your part in helping to address them?
This is a tough question because I can honestly say I haven't done enough, My best suggestions is to raise awareness; be seen, don't turn a blind eye, and don't hide. Be the difference you want to see in the world and please go out and Vote!
What does "pride" mean to you?
Pride is knowing yourself as best you can and showing it to the world, not having to live in fear of what other's think. If someone else isn't proud of who you are, that's the least of your worries as long as you are.

Most importantly'-where can people see you perform?!
You can catch me every second and third Sunday of the month from 5-7pm at Boots and Saddle Drag Lounge 100A 7th ave south in New York. You can also follow me on social media @fifiduboisdq for updates on where else you can see me perform, and don't miss the Miss'd America Pageant September 24th at The Borgata in Atlantic City!
For tickets to the Miss'd America pageant (on September 24th at the Borgata in Atlantic City) visithttp://www.acglbt.org/
Calling all HuffPost superfans!
Sign up for membership to become a founding member and help shape HuffPost's next chapter