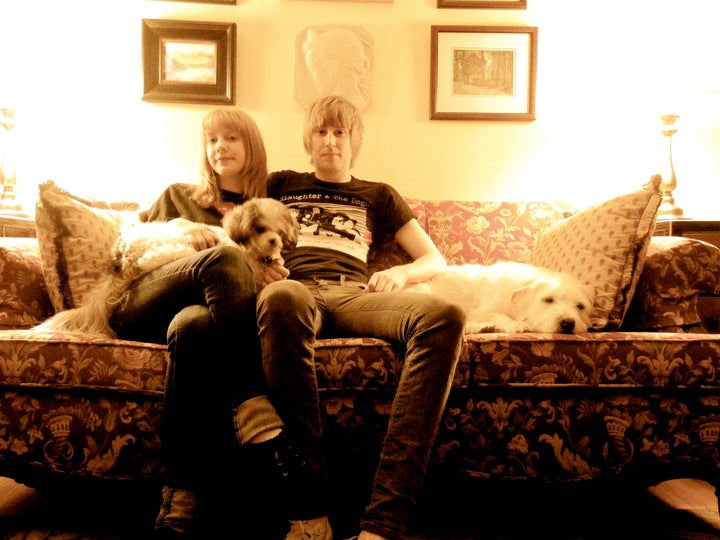 "I already had a crush on him before we actually met," Tillie told The Huffington Post.
Tillie and Jacob, who had never met, went to the Sept. 2011 F*ck Yeah Festival at the dusty state park in downtown Los Angeles to see the same two bands: Dead Milkmen and the Descendents. Tillie, 22, saw Jacob, 24, as soon as she walked into the park.
"I always feel so creepy when I tell this story," Tillie wrote in an email. "One of the first things I noticed about him (besides his handsome appearance, obviously) was his shirt. He was wearing a Johnny Thunders shirt, which I thought was pretty cool."
She saw him a couple times throughout the day and told her friends she wanted to tell him she liked his shirt. She even went looking for him a few times. Finally, during the last hour of the festival, her friends and she walked around looking for someone who was lost from the group. "The whole time we were walking around, watching everyone leave, I was looking for him," she said. But no luck.
Within hours of getting home, Tillie's friend talked her into putting a "missed connections" post on Craigslist. She opened the post with Johnny Thunders' "You Can't Put Your Arms Around A Memory" (listen in slideshow below) lyrics:
Cute blonde guy at FYF in Johnny Thunders t-shirt -- You can't put your arms around a memory, but I'd like [to] put my arms around you ... I'm pretty sure it was love at first sight, unless the dust in my eyes was worse than I thought.
"I'd never posted on there before. I thought it was funny more than anything," Tillie said.
Three days later, Jacob signed in Facebook to find Tillie's posting on his wall. His friend Mike had found the ad.
"I have to admit I was a little flattered but had no idea whatsoever if it was a Craigslist creep or what to think," Jacob recounted to HuffPost in an email. "I went with my gut though because of the Thunders reference."
Tillie was "totally freaked out" that he replied but after they began to chat online, she knew she was "on to something good when we started joking with each other. We have the same sense of humor."
Jacob commented that Tillie "turned out to be the perfect girl" who is "the perfect amount creepy for me."
A few days into hitting it off and realizing how much they had in common, they decided to meet at one of Jacob's friend's punk shows.
"I think it might have been the most nervous I have ever been in my life," Tillie recalled.
Jacob joked, "I thought she was even cuter in person, which, of course, was one of the first things I said. Romantic right?"
"We ended up spending the entire weekend together, and I think we have hung out every weekend since," Tillie recounted. "I knew I didn't want to be without him."
A month later, Jacob was living with Tillie and her mom in Hancock Park. Tillie described their duplex home as a kind of "mad house."
"My mom; two dogs, Hans and Cory; our two new turtles, Lucielle and Ravioli; and Jacob and I live downstairs, and a few of my cousins live upstairs," she explained.
Tillie works at a dog rescue and says it is her passion. "Jacob calls me a 'dogist,'" she said.
And, believe it or not, the two lovebirds actually work together at the shelter now too. "I love working together," Tillie commented. "He usually puts the dogs away for dinner while I make the food, or one of us will walk dogs while the other one cleans up, things like that."
When asked to describe their relationship, Jacob answered, "We are both intensely weird. The both of us share a lot of the same passions like anything to do with the 'Muppets,' sleeping in and eating terrible food."
He added about his girlfriend, "She helps me to be a halfway decent person. I owe her everything for how good she's been to me. I'll never be done repaying her."
Tillie's analysis of their roles: "I motivate him to brush his teeth sometimes, and he often talks me out of brushing mine."
In all seriousness, Tillie shared that Jacob "puts up with me when I'm at my worst and is always going out of his way to make me happy." She continued, "He helps me out whenever I need it, no matter what it is. He is my best friend."
Tillie and Jacob have been together now for four months and are saving up for a place of their own. "The animals will be joining us, and we will probably have more in the future," Tillie said. "I plan on starting my own dog business, but that is a few years down the road."
Tillie's advice regarding posting a missed connection? "DO IT! There is nothing to lose. At the very least you will have something to laugh about with your friends."
On the receiving end, Jacob advised, "Refresh refresh, refresh. The next one could be about you."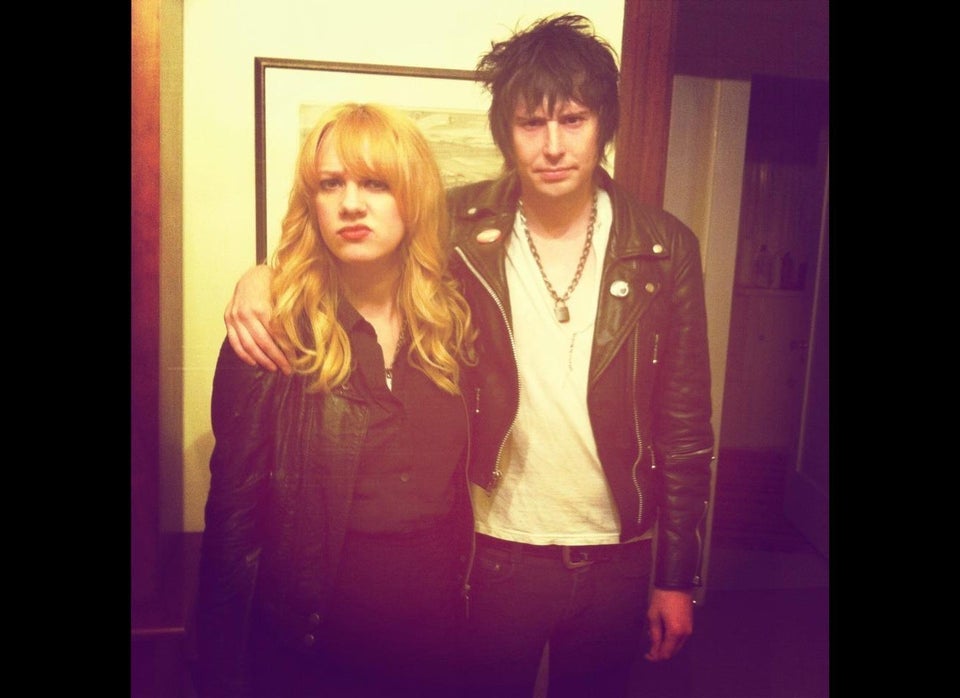 Related
Popular in the Community