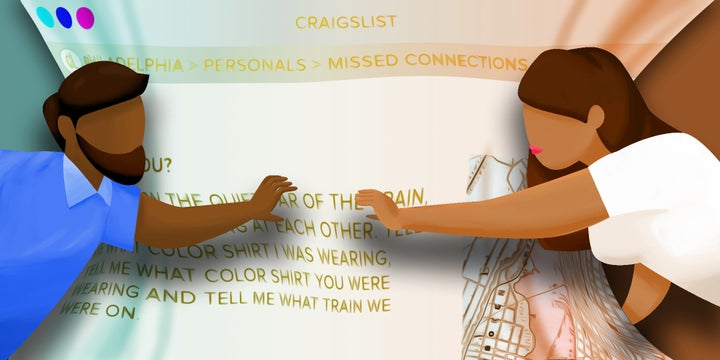 Sarah Greene had never heard of Craigslist Missed Connections, the forum that connects strangers who missed an opportunity to talk to each other, when a certain passenger ― or rather his sleeping habits ― caught her eye aboard a Philadelphia commuter train in 2011.
"I was staring at him because he was sleeping with his tongue hanging out of his mouth, and I just thought it was really funny," she told HuffPost. "He was doing this thing where he would sleep, and then if the train jostled him at all he would move a little bit and it was really funny."
That sleepy commuter was Pat Carroll. Much to her delight, she realized once the train pulled in to 30th Street Station that she was equally taken with him in an awake state, too.
"He stands up, and I was like, 'Oh no wait, that guy is cute!'" she said.

The two exchanged a series of smiles as Carroll got off at his stop and Greene continued on to the next. The couple, who have been together six years, both recall feeling a sense of regret over not saying hello.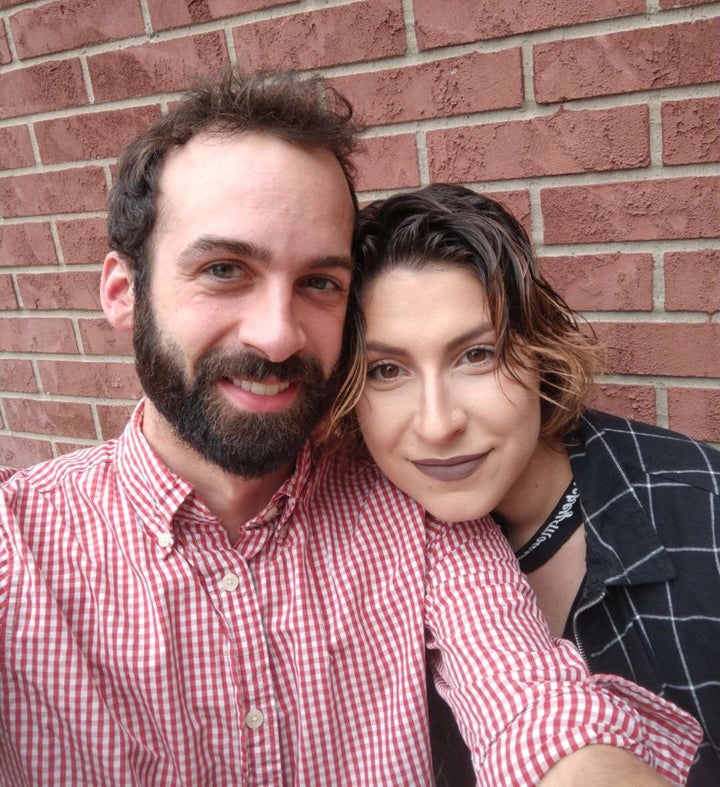 "I looked back at her and she was still smiling at me," Carroll said. "I was like, 'Man, I really should have talked to that girl.'"
Thinking there would be "probably a 5 percent chance" that anything would come of it, Carroll posted an ad to Missed Connections.
"I went home and it was all I could think about," Greene said. "I had a roommate at the time who was like, 'You should totally check out Missed Connections.' I was like, 'What is that?″
And there it was: Carroll wrote a post detailing their exchange. "He described what had happened, what we did on the train," Greene recalled.
To Carroll's shock, someone responded right away. Carroll was even more surprised it had come from the right person "and not some random weirdo," he said.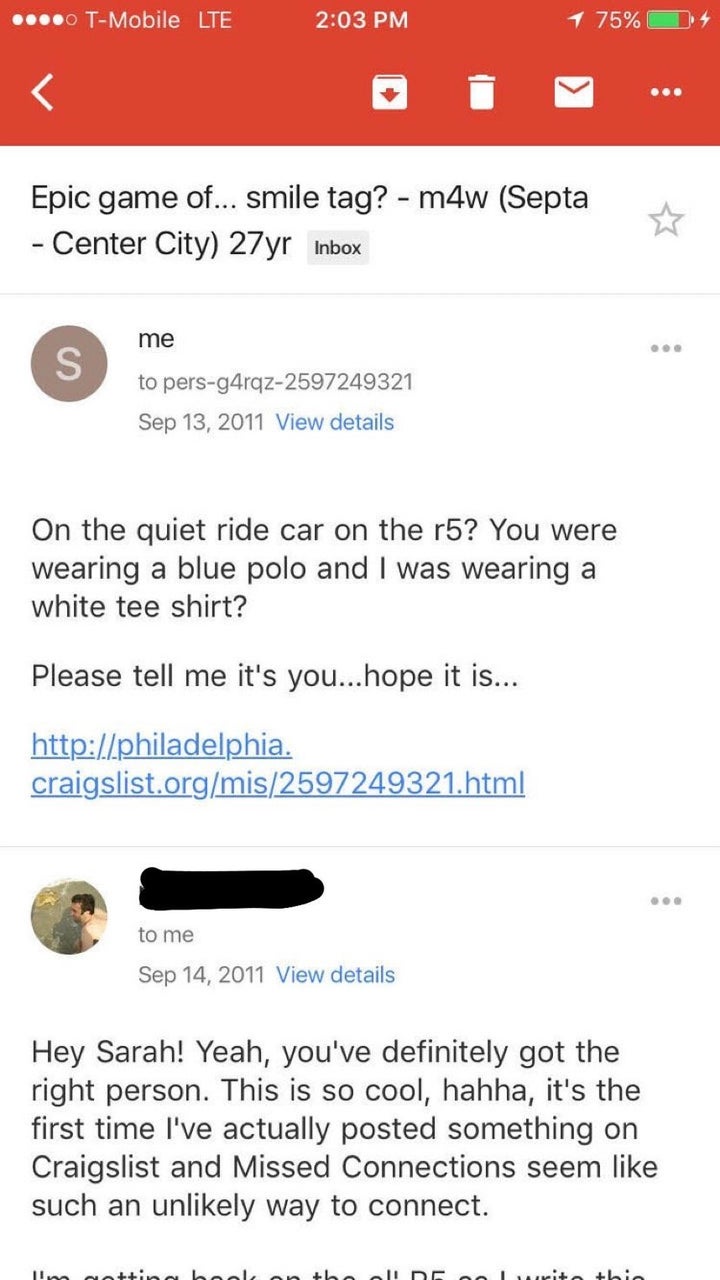 Missed Connections is responsible for some of the 50 billion page views Craigslist rakes in each month. It's one of the forum-filled site's most well-known entities, and with good reason. Users can post stories of chance encounters with people they wish they'd chatted with ― but either didn't have the opportunity to, or chickened out at the last minute ― in hopes of making a connection with that person.
In recent years, some users have also used the platform to spell out sexual fantasies and proposition others for sexual encounters.
"Missed Connections give people that second chance," Jim Buckmaster, Craiglist's CEO and creator of the forum, told The New York Times in 2010. "They represent persistence in the face of long odds, which definitely adds to their artistic appeal."
They also could be called the precursor to online dating, depending on who you ask. Molly Fischer, who met her now-husband Sam MacLaughlin on the forum, calls the suggestion a former point of contention in her relationship.
"We used to in a sort of joking way argue about whether we had met online or not," she told HuffPost. "Sam claims that we met online, I claim we did not meet online because in fact we saw each other in person first, even if the mechanism was internet-based."
MacLaughlin and Fischer "met" for the first time in New York City's St. Marks Bookstore, where they exchanged extended glances but did not speak. In a 2013 article for The Cut, Fischer explained that she lingered outside waiting for him with "an agenda but no plan," and he later revealed he purchased one of the books to impress her.
She found a posting from him the following night, which her article recounts:
Girl with a Granta bag - m4w (East Village)

Yesterday at almost ten we were in the bookstore, each carrying a bag from a literary magazine. Then we rode the L train together. We made a lot of eye contact, which was nice. Craigslist remains weird; who are you?

"Hi!" I wrote. "I'm Molly. Who are you?"
As it turned out, the two had acquaintances in common and even had previously interned in the same place. "We could have met under much more normal circumstances," she told HuffPost.
Fischer told HuffPost why she actually felt like meeting on the forum was a good place to start a potential romantic relationship, "normal circumstances" be damned.
"I think the nice thing about Missed Connections is that you are both equally complicit in the weirdness in it," she said. "It's weird to post one, but it's also weird to check. So by the time you've done that and decided you want to see this person, you are already sort of both equally out on a limb, which is nice."
The two got married on Sept. 2, 2017.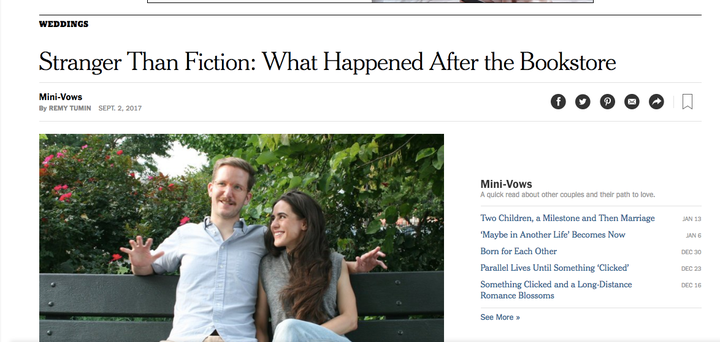 A 2013 map of the United States commissioned by Psychology Today showed the most common places for these chance encounters. Walmart came up in 15 states as a common meeting place for people on the forum, while California almost comically skewed toward locations devoted to fitness, like gyms. New Yorkers, like Hanna Berman, most commonly missed people on the subway.
Berman was new in town when she began a yearlong involvement with a guy. She said she wouldn't exactly call him her boyfriend, but the two "were a nice complement to each other at that time in our lives."
They chatted on a long subway ride downtown one evening in 2014. In true New York fashion, he asked for her number as she was getting off at her stop. "I shouted my number and I see this look on his face like he definitely doesn't remember," she said. "The doors closed and I was like, oh wow I'll never see him again."
After some encouragement from her friend and roommate, she put up a Missed Connection posting looking for him. He found the ad, and told Berman he actually had planned to write one of his own before she beat him to it. After they exchanged some emails and Facebook messages, the two made a date.
While many people might worry about meeting up with a complete stranger ― much less one they ultimately connected with on a free website ― those HuffPost interviewed said they weren't worried about their safety and didn't have any trepidations about meeting their missed connection in person.
Berman said she was nervous about the date itself. "I told everyone he had contacted me, but I didn't tell anyone we were going on that date," she said. "Looking back on my safety that probably wasn't the best idea. But he wasn't someone I felt afraid of."
Of course, not every Missed Connection post results in a love connection. The site is also responsible for some short-lived, though perhaps still memorable, experiences. Hugh Ryan told HuffPost he had always told himself that if someone ever posted about him on Missed Connections, he would go.
Ryan was visiting Brooklyn "around 2008 or 2009" when he actually came across a posting about himself. He was in the habit of checking just for fun, but was shocked to find out someone had spotted him in line at the post office.
"The phrase that caught me was that I looked like a 'sleazy convict mofo,' but like in a good way," he said. "This was a compliment."
Their meeting, which Ryan said lasted all of 45 minutes, took a turn from exciting to uncomfortable. "Very quickly we discovered he was sort of dating my ex-boyfriend's ex," he said. "There was a lot of oversharing on his part really quickly about my ex's ex and their sex life. It was a lot all in the first 15 seconds we sat down."
He called the date a nice person (though too young for him) who helped fulfill Ryan's promise to himself of making good on a Missed Connection. But he told HuffPost he never looked at the forum again after that.
"That broke me," he said. "My interest in Missed Connections had been this idea that ... it would be an interesting story and I was really looking forward to that happening. Then it happened and I was like OK, it happened. It was a great ad, and I will never forget being called a 'sleazy convict mofo.' But I never need to go through this again."