Since it was founded 30 years ago, the National Center for Missing and Exploited Children (NCMEC) has helped reunite thousands of missing kids with their families.
I have had the privilege of serving on NCMEC's board for nearly two decades and, since that time, we have seen a dramatic increase in the recovery rate thanks to NCMEC's dedicated staff along with alert members of the public who report sightings of missing kids. From 1984 through December 2012, NCMEC has assisted law enforcement with more than 195,300 missing-child cases resulting in the recovery of more than 183,100 children, according to the organization. The recovery rate for missing children has grown from 62 percent in 1990 to 97 percent today.
I became involved with NCMEC in 1993 during the search for Polly Klass, a 12-year-old girl who was abducted from her Northern California home, about 80 miles north of where I live. During the search I helped post Polly's picture online. When Time magazine wrote about the effort, I was overwhelmed by requests from parents of other missing kids, which led me to contact NCMEC's then CEO Ernie Allen who quickly realized the potential for using online tools to help find children. Even though we couldn't save Polly, online tools such as MissingKids.com are now used routinely to help in the recovery of missing children.
Public-Private Partnership
NCMEC is a non-profit organization, not a government agency, though it was authorized by Congress to serve as the national clearinghouse for information about missing and exploited children. Congress has also designated NCMEC to run the national, toll-free, 24-hour missing children's hotline and operate the CyberTipline for online reporting of the sexual victimization of children and inappropriate sexual content.
NCMEC is a unique public-private partnership which receives funding from both the Federal government and numerous private donors ranging from large companies individual donors from all walks of life -- including young children who conduct fund-raisers or donate their pennies to help other kids.
As you can see from the key facts below, only a tiny percentage of missing children cases involve "stereotypical' abductions but even children who are abducted by members of their own family can be in extreme danger and deserve to be protected and returned to their lawful parent or guardian.
And it's not just missing children. NCMEC helps prevent and prosecute cases of child exploitation, including sexual exploitation of children as young as infants. The organization also works to rescue underage victims of prostitution, helping them recover from the trauma of what is often forced or coerced and extremely traumatic exploitation by adults who profit through human trafficking.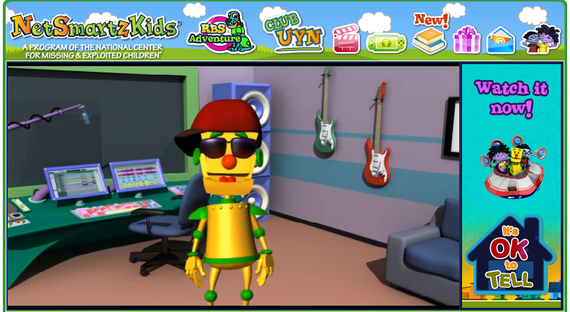 NetSmartz Workshop's "Clicky" teaches young children about Internet safety and digital citizenship.
NCMEC also operates the NetSmartz Workshop, which provides high-production value materials to help educate young people about how to stay safe on and offline.
Here are some "key facts" from NCMEC's website.
The most recent, comprehensive national study for the number of missing children estimated in 1999: [1]
Approximately 800,000 children younger than 18 were reported missing.
More than 200,000 children were abducted by family members.
More than 58,000 children were abducted by nonfamily members.
An estimated 115 children were the victims of "stereotypical" kidnapping. These "stereotypical" kidnappings involved someone the child did not know or was an acquaintance. The child was held overnight, transported 50 miles or more, killed, ransomed or held with the intent to keep the child permanently.
To find the number of children missing from a specific state or territory contact the state's Missing Child Clearinghouses.
The first three hours are the most critical when trying to locate a missing child. The murder of an abducted child is rare, and an estimated 100 cases in which an abducted child is murdered occur in the U.S. each year. A 2006 study indicated that 76.2 percent of abducted children who are killed are dead within three hours of the abduction. [2]
The National Center for Missing & Exploited Children® has assisted law enforcement in the recovery of more than 193,705 missing children since it was founded in 1984. Our recovery rate for missing children has grown from 62 percent in 1990 to 97 percent today.
The AMBER Alert program was created in 1996 and is operated by the U.S. Department of Justice. As of April 2, 2014, 688 childrenhave been successfully recovered as a result of the program. [3]
As of Dec. 2013, NCMEC's toll free, 24 hour call center has received more than 3,899,964 calls since it was created in 1984. Information about missing or exploited children can be reported to the call center by calling 1-800-THE-LOST (1-800-843-5678).
[1] Finkelhor D., Hammer H., Schultz D., Sedlak A. National Estimates of Missing Children: An Overview, U.S. Department of Justice, 2002.
[2] Brown K., Keppel R., McKenna R., Skeen M., Weis J. Case Management for Missing Children Homicides: Report II, National Center for Missing & Exploited Children and U.S. Department of Justice, 2006.
[3]AMBER Alert, U.S. Department of Justice.
Calling all HuffPost superfans!
Sign up for membership to become a founding member and help shape HuffPost's next chapter