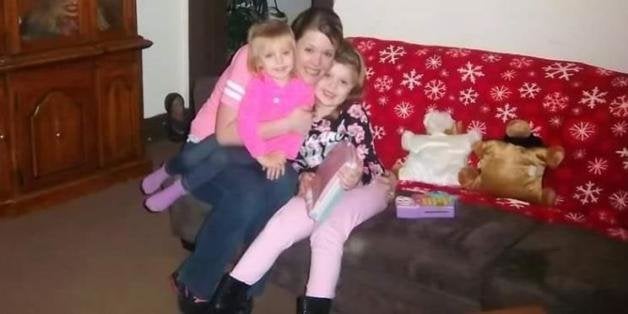 CHILLICOTHE, Ohio -- A small child's heartbreak brought mourners to tears Thursday at the funeral of 26-year-old Tiffany Sayre, the latest victim in a string of unsolved deaths and disappearances in this small southern Ohio city.
Fear and uncertainty were easily visible on 3-year-old Kayla Sayre's face as she listened to families and friends eulogize her mother. A mixture of poetry, memories and goodbyes had been spoken by distraught attendees when Kayla found herself unable to contain her own emotions, crying out, "Mommy, mommy, I want my mommy."
Kayla's outburst of emotion and the heartbreak it conveyed resonated in the packed funeral home. Tears streamed down the little girl's face as family members did their best to comfort her.
"It's not fair for them," Tiffany Sayre's sister, Jessica, told The Huffington Post. She was speaking of Kayla and her 5-year-old sister, Rylee. "How do we explain this to them? How do we tell them their mom was murdered and won't be coming home?"
Rylee had expressed her own heartbreak when she arrived at the funeral home earlier that morning. "She thought she was going to go there and see her mommy in the new dress we bought her," said Rylee's great-aunt, Sam Sayre. "She was bawling, and we had to sit her down and explain to her that she wouldn't be able to see Mommy in her new dress."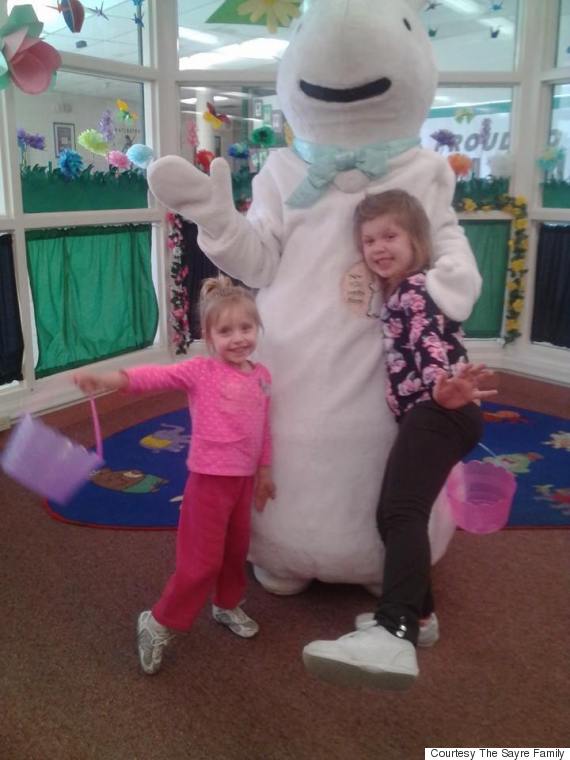 Kayla and Rylee in happier times.
No one was able to see the little girls' mommy in her new dress. The person responsible for Sayre's death had ensured that by hiding her body in a culvert last month, where it remained until it was found June 20. The passage of time and exposure to the elements necessitated a closed coffin, robbing friends and family of a final look at her.
Sayre's death has been ruled a homicide, but the manner of death has not yet been released.
"This is a living nightmare we'll have to live with for the rest of our lives," said Sam Sayre.
Sam Sayre's niece is one of six women from the Chillicothe area who have disappeared in the past 13 months. Three of the six have been found dead in or near different creeks and streams. Another was found shot to death and two are still missing.
All of the women are believed to have been involved in drugs or prostitution -- choices that more often than not cause such cases to be overlooked by the media and law enforcement. "People like to focus on that, but that does not define my sister," said Jessica Sayre. "They didn't get to see the true side of my sister."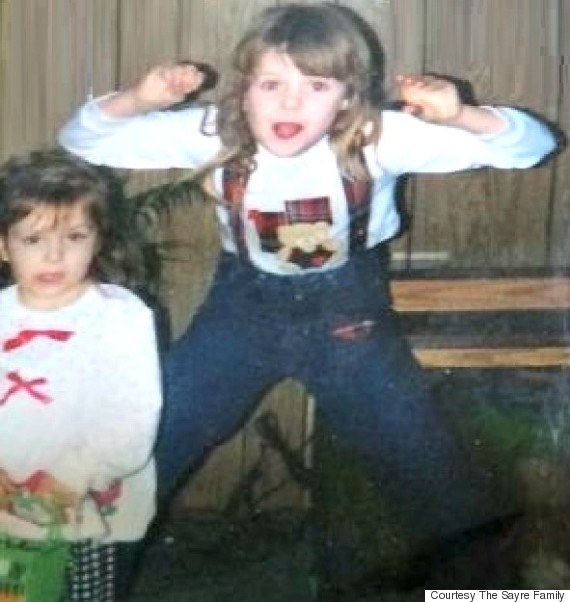 Jessica and Tiffany Sayre.
From the age of 3 months, Tiffany Sayre was raised by her grandparents, Clyde and Ruth Sayre, who doted on her from the moment she entered their lives. "Me and my husband had always wanted a little granddaughter," Ruth Sayre said. "She was our pride and joy. We always dressed her up in little dresses and slippers, and she'd go for rides with her grandpa on his riding mower. She was always happy and we always had fun with her."
When Tiffany Sayre was 16, her grandfather passed away during a surgery at a local hospital. She had been "grandpa's girl" and was shattered by his passing, according to her family. Later that year, she suffered another blow when doctors told her she had a medical condition that would prevent her from having children. "She was devastated because she had always dreamed of being a mother," said Jessica Sayre.
As she grew up, Sayre considered a career in law enforcement or nursing but fell into the wrong crowd and began using drugs to nurse her emotional wounds. She was 19 years old when the family discovered she was using heroin, according to Sam Sayre.
When she turned 21, Tiffany, still fighting her addiction, was shocked to discover she was pregnant. With the help of her grandmother, she raised Rylee, who was followed by her sister Kayla two years later.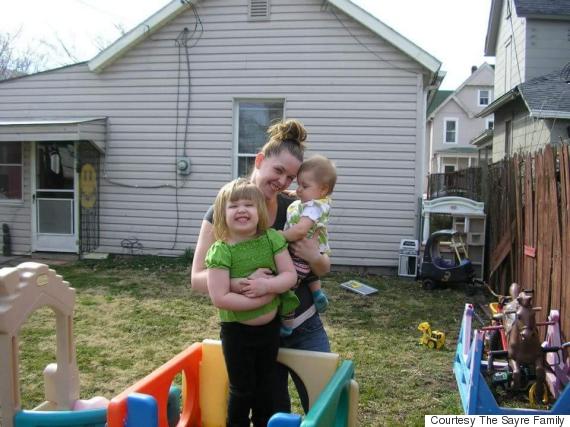 Tiffany Sayre and her children.
Sayre continued to battle her addiction to drugs. "She hated it, but it's not something you can get over in one day. It's a process," said Jessica Sayre. "But despite her addiction, she was very good with her kids. She always made sure they had stuff. It might not have always been everything they wanted, but she always made sure they had diapers, wipes and food."
Tiffany Sayre also acknowledged that her drug addiction stood between her and motherhood, so as a precaution, she signed over custody of her daughters to her grandmother. "When she started getting into this stuff, she knew she couldn't give the babies the type of life they needed," Sam Sayre said. Despite having legally relinquished custody, Tiffany remained involved in her daughters' lives.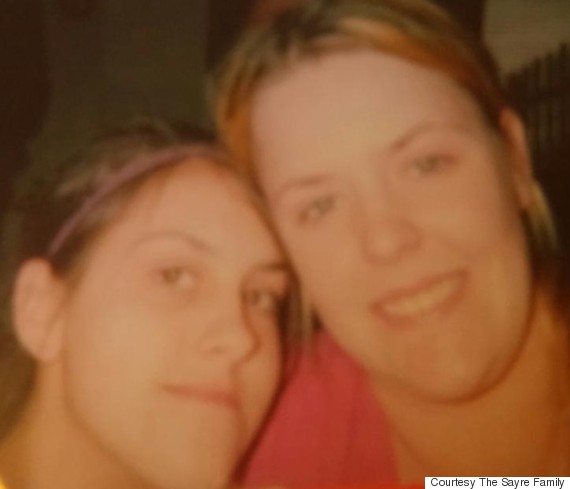 Jessica and Tiffany Sayre.
Things took a turn for the better in November 2014, when Tiffany Sayre started dating Garrett "Wally" Maynard, a 42-year-old coal miner and finance manager. Sayre had a newfound happiness and started to kick drugs and get her life back on track. For the first time in a long time, she was looking forward to the future.
Then, on April 28 of this year, the unthinkable happened: Maynard was transported to Adena Medical Center in Chillicothe, where he died as a result of a blood clot.
"This is the worst night of my entire life," Sayre wrote on her Facebook page in the hours following Maynard's death. "I lost the man I love … I don't know what to do."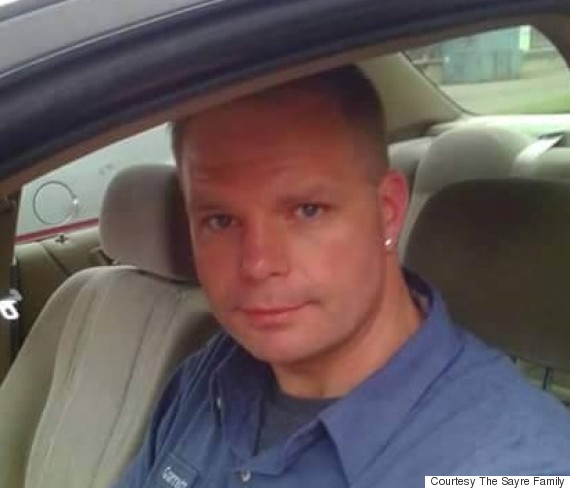 Garrett "Wally" Maynard.
Maynard's death devastated Sayre. It brought back the all too familiar pain of losing a loved one -- and she again turned to drugs to escape it.
"Her drug use was worse after that because she didn't want to be in a world he wasn't in," said Jessica Sayre.
It was Tiffany Sayre's drug addiction, her sister said, that led her to prostitution.
"It really breaks my heart," said Jessica Sayre. "She couldn't get a job because of her drug abuse, and so she did that. It was more of a thing where you didn't have to commit to it. If you needed money, you did your thing and you got money. No one understands that part of it. She was a different person when she was sober. She had a heart of gold and always tried to do the right thing, even when she knew she wasn't."
Ruth Sayre said her love for her granddaughter was and always will be unconditional. "My thoughts will always be on her," she said. "I don't care who she was or what she did. I will always love my granddaughter."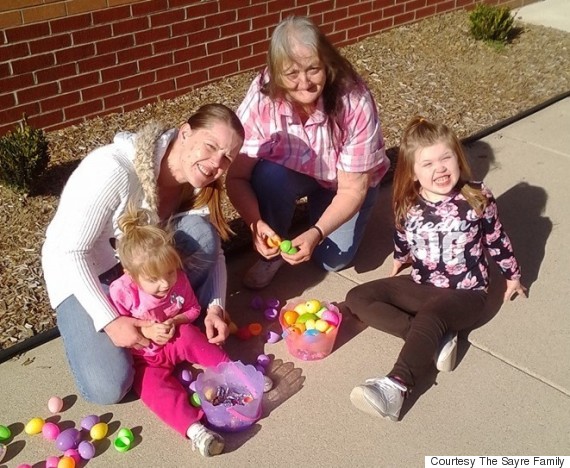 Tiffany Sayre, Ruth Sayre and the kids.
Sam Sayre believes there is too much focus on her niece's past and on the backgrounds of all the girls who have disappeared or turned up dead. "They are all human," she said. "Who cares what they did? They're just missing and they're gone. Their past does not justify that. We all make mistakes. Some of us bounce back right away and some of us take longer to heal."
It's unknown whether the person who took Tiffany Sayre's life knew anything of her background or gave a moment's thought to the devastation her death would bring her family. But that person is very much on the minds of her family and friends, who are anxious for the murderer to be captured or turn him- or herself in.
"I don't understand why you took her life," said Jessica Sayre. "You obviously had your reasons, which we don't know and will probably never understand, but you should know you've caused our life to be hell. Do you think about that? You didn't have to do this, and we hope you will stop before you hurt another family."
As the hunt for answers continues, the Sayre family members remain proactive by raising awareness about Tiffany Sayre and all the missing women. They are also doing everything they can to comfort her two children, who are still trying to understand why their mommy won't be coming home.
"After the funeral, we hung up pictures of their mommy in their bedroom, and I said, 'Mommy will be sleeping with you every night,'" Sam Sayre said. "'All you have to do is look up at those pictures and Mommy will be there.'"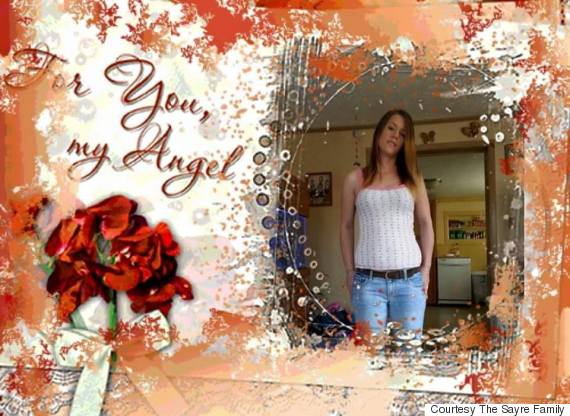 Tiffany Sayre's family has launched a GoFundMe page to help cover burial expenses. Anyone interested can donate by clicking here.
Read more HuffPost coverage of the Chillicothe murders:
Calling all HuffPost superfans!
Sign up for membership to become a founding member and help shape HuffPost's next chapter
BEFORE YOU GO