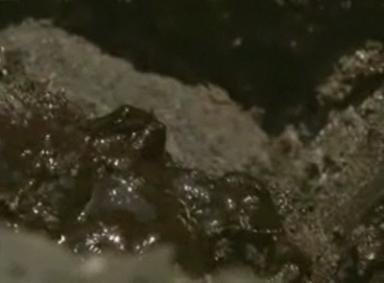 Over at The Upshot, Brett Michael Dykes highlights this report from WVUE in New Orleans, which confirms that the oil did not, in fact, fortuitously disappear into thin air:
According to WVUE correspondent John Snell, local officials dispatched a dive team to a barrier island off of southeastern Louisiana's Plaquemines parish to scan the sea floor for oil. The team, however, could barely see the sea floor, due to the current murky state of the area waters. But when the divers returned to shore, they made a rather remarkable discovery: tiny holes that burrowing Hermit crabs had dug into the ground effectively became oil-drilling holes. When the divers placed pressure on the ground near the holes, oil came oozing up.
@
So, basically, questioning where the oil has gone is the exact same thing as looking at the shoes attached to the ends of your legs and wondering if your feet have disappeared.
[Would you like to follow me on Twitter? Because why not? Also, please send tips to tv@huffingtonpost.com -- learn more about our media monitoring project here.]
Related
Popular in the Community