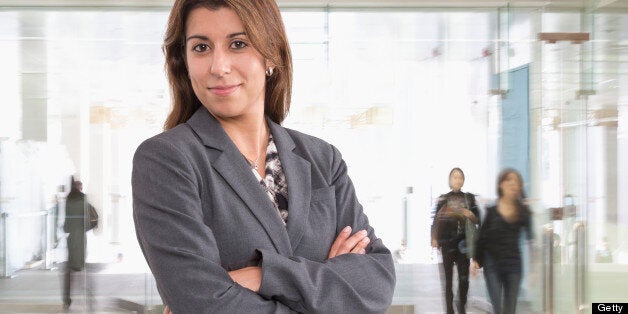 While Facebook COO Sheryl Sandberg and her critics argue over who's to blame for the glass ceiling -- women or society -- one potential equalizer getting short shrift in the conversation is education, in particular an MBA.
As background on the debate, Sandberg has become controversial for her book, Lean In: Women, Work, and the Will to Lead, which suggests women are partially responsible for their trailing in positions of leadership from Congress (18 percent) to Fortune 500 corporate boards (17 percent). Women, Sandberg suggests, suffer from a "leadership ambition gap," preemptively opting out of the quest for the top in anticipation of balancing work and family. She argues that women need to "lean in" to their careers instead of making accommodations for families they might not yet have.
Sandberg's critics, chief among them Anne-Marie Slaughter, a Princeton professor and former director of policy planning at the State Department under Hillary Clinton, argue that the problems lie with the prevailing business ethic. Slaughter suggests wholesale changes in the way we view work and family life, including eliminating the American "time macho" culture where working around the clock is seen as a virtue. A more family-friendly corporate culture would benefit both women and men, she says.
Some facts have largely been ignored in this debate that could help break barriers for advancing women in business. After all, "leaning in" should not be just about ambition and pushing yourself harder, but should focus on your education, work experience, and personal and professional goals.
While we have gender equity in pursuing undergraduate, law and medical degrees in the U.S., only about one-third of MBA students are women, which may impact women's ability to advance to the C-suite. In fact, executive search firm Spencer Stuart is widely cited for its research that notes roughly 40 percent of S&P 500 CEOs have MBAs.
Earning an MBA could also play a role in narrowing the gender pay gap. In Forté Foundation's analysis of the value of MBAs for women, it found an MBA could boost lifetime earning potential by $3 million. The Graduate Management Admission Council (GMAC), which administers the GMAT business school entrance exam, found in a survey of 2012 graduates who had accepted or received job offers at graduation, that women reported salary increases of 70 percent on average over their pre-degree salary -- comparable to men's increases. The survey also found that 85 percent of female graduates felt that their degree provided them with a competitive advantage.
While the debate will continue about whether women need to do more or companies need to step up to the plate, or both, let's encourage more women to choose an education path that will positively impact their advancement in business. Today, most MBA programs can't boast gender parity yet. Two schools that have made strides and lead the pack are Harvard Business School (41 percent women) and Wharton at the University of Pennsylvania (45 percent women). That's higher than the percentage of women taking the GMAT. In 2012, 43 percent of global GMAT test-takers were women -- this represented the highest number of women taking the test ever.
If an MBA can help level the playing field, when is the best time to get one? In general, earlier is better. For those who plan to work full-time after having children, the best time to pursue an MBA may be before having that first child. It's not impossible, but it is more difficult to earn an MBA while working full time and caring for children. We also need to encourage more women to pursue business majors at the undergraduate level to better prepare them for business careers and the next step of an MBA.
Why is it important to encourage more women to pursue an MBA? Gender parity in business is not simply the feel-good notion of fairness for all. It's also better for the bottom line.
•Forté Foundation's analysis showed that companies with female board directors saw an average 53 percent higher return on equity.•A 2012 study by the Credit Suisse Research Institute found that companies with women directors outperformed their counterparts without female board members, posting 14 percent net income growth in a six-year period vs. 10% percent. •Catalyst, a research group focused on women's advancement to senior leadership, found in this study that Fortune 500 companies with more women directors outperformed those with fewer women board members on a broad range of financial indicators. •Research has shown that women's impact on the global economy in the coming decade will be at least as significant as that of China or India, both with billion-plus populations, predicts the La Pietra Coalition's Third Billion Campaign. The phrase "third billion" refers to the idea that, properly harnessed, women's economic impact would be the same as having an additional one billion people in the global workforce.
This research shows that women are good for business. We need to let women -- particularly young women -- know that business can be a rewarding career option and guide them toward an education path that will help them succeed at the highest levels.
Related
Popular in the Community