Every week, we bring you one overlooked aspect of the stories that made news in recent days. You noticed the media forgot all about another story's basic facts? Tweet @TheWorldPost or let us know on our Facebook page.
"They took them alive, we want them back alive."
For nine months, this slogan (in Spanish "vivos se los llevaron, vivos los queremos") has been chanted at protests, painted on walls, written on banners and printed on T-shirts. It is the cry of 43 families for their student sons, who disappeared from a village in Mexico's Guerrero state last September. The Mexican government says it has all but solved the case, presenting a grim explanation of events in which local police turned the students over to a drug cartel, who killed them and incinerated their remains. Yet investigative journalists are increasingly poking holes in the government's account of events. And many of the students' families don't believe a word of it.
"I still don't understand why the government doesn't want to give us back our children," 46-year-old Clemente Rodriguez Moreno, whose 19-year-old son, Cristian Alfonso Rodriguez Telumbre, is among the missing students, told The WorldPost. "It's very clear to us that they never wanted to help us."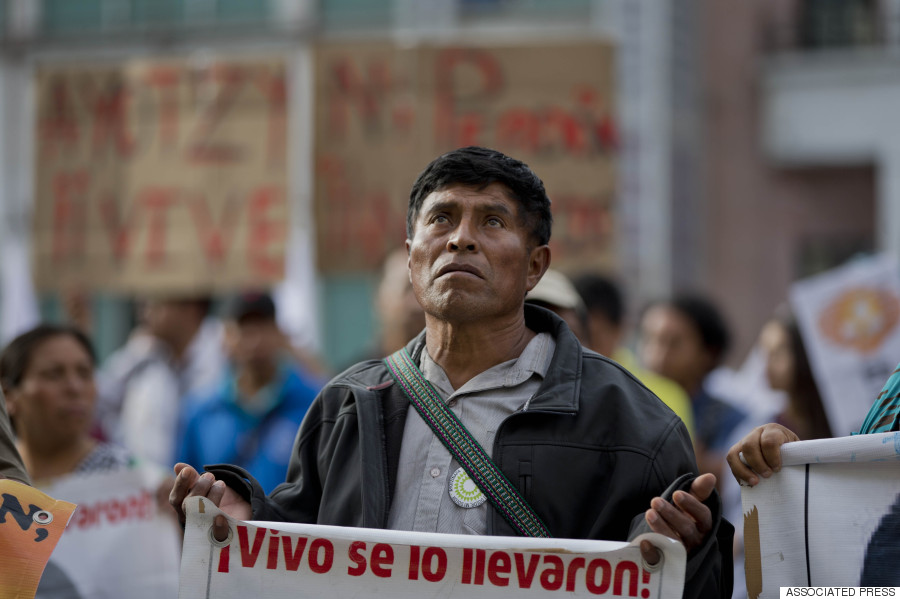 A demonstrator carries a sign that reads in Spanish "They took them alive, return them alive" at a march in Mexico City, March 10, 2015. (AP Photo/Eduardo Verdugo)
From the beginning, the missing students' families have been highly skeptical of the Mexican government's willingness and ability to investigate the events of the night of Sep. 26, 2014. What they do know is that their sons left their rural teachers' college, known as Ayotzinapa, that Friday evening in a group headed to the nearby town of Iguala to commandeer buses for an upcoming national protest.
According to survivors' testimony and cell phone footage, police and other unidentified armed men opened fire on the students in several separate attacks around Iguala that night. By the next morning, three students and three bystanders were dead. Amid the chaos and panic, 43 of the students disappeared.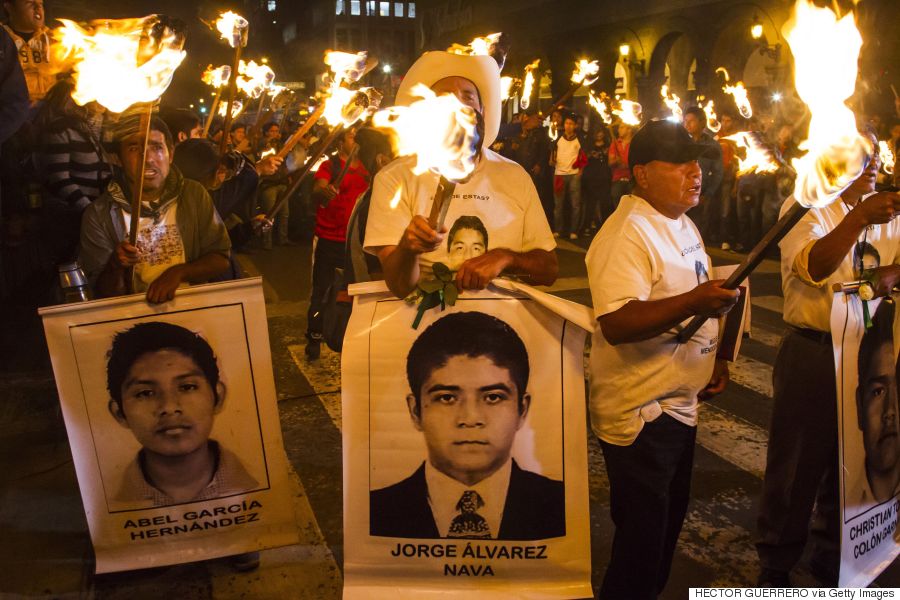 Students of the Ayotzinapa school and parents of the 43 missing students take part in a protest in Guadalajara City on Nov. 18, 2014. (HECTOR GUERRERO/AFP/Getty Images)
Mexico's federal government soon identified the municipal police force as the culprits, saying they had abducted the students at the behest of the town's cartel-connected Mayor Jose Abaraca and wife, Maria de los Angeles Pineda Villa. Federal investigators said there was no need to look into the potential role of the army or federal police. Members of the local drug cartel, called Guerreros Unidos, confessed they had killed the students after police gave them over, and then burned their bodies. After months of searching for their remains, investigators were able to match a bone fragment they retrieved from the area to the DNA of one of the students, 19-year-old Alexander Mora.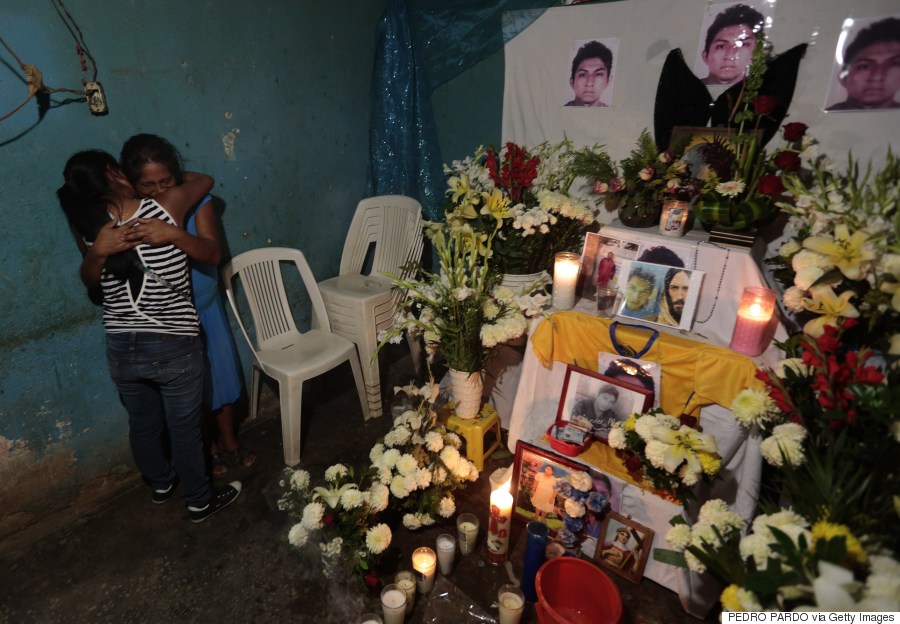 Joaquina Mora at a vigil for her nephew Alexander Mora in the Tecoanapa municipality, Guerrero State, Dec. 11, 2014. (Pedro PARDO/AFP/Getty Images)
Several of the families believe that the government's story does not check out -- they say it relies on coerced confessions and suspect forensic evidence, and ignores a swath of contradictory testimony. Many think the government is covering up the role of state forces in their sons' disappearance. And they refuse to believe their children are dead until they have solid proof.
"Right now their entire investigation is falling apart," Rodriguez Moreno told The WorldPost. "We are going to pursue the truth until we find our children."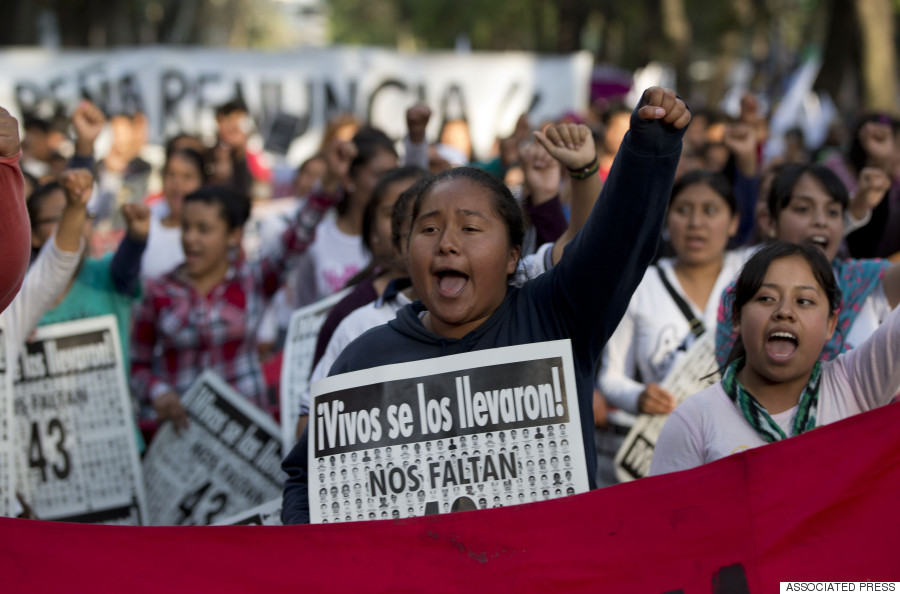 Demonstrators carry posters that read in Spanish "You took them alive, return them alive" during a march in Mexico City, Feb. 26, 2015.(AP Photo/Eduardo Verdugo)
In the weeks and months after the students went missing, their families conducted their own searches in the hills surrounding Iguala and handed out flyers appealing for any information about their sons. They sought protection and help not from government authorities, but from community police volunteers and armed civilian patrols that have sprung up across violence-ravaged Mexico amid deep distrust of the authorities.
Mexico did launch a federal investigation into the Ayotzinapa case after growing protests over the students' disappearance. The families insisted that independent experts be brought into the case, and Mexico allowed a team of 30 forensic experts from Argentina to join the investigation. But after Mexico's attorney general at the time, Jesús Murillo Karam, presented the findings of the official investigation in January, the Argentine experts released their own report strongly criticizing the government's handling of the case and claiming that the attorney general's conclusions were not supported by the evidence. The students' families said the experts' report confirmed their fears that the government's investigation was disingenuous.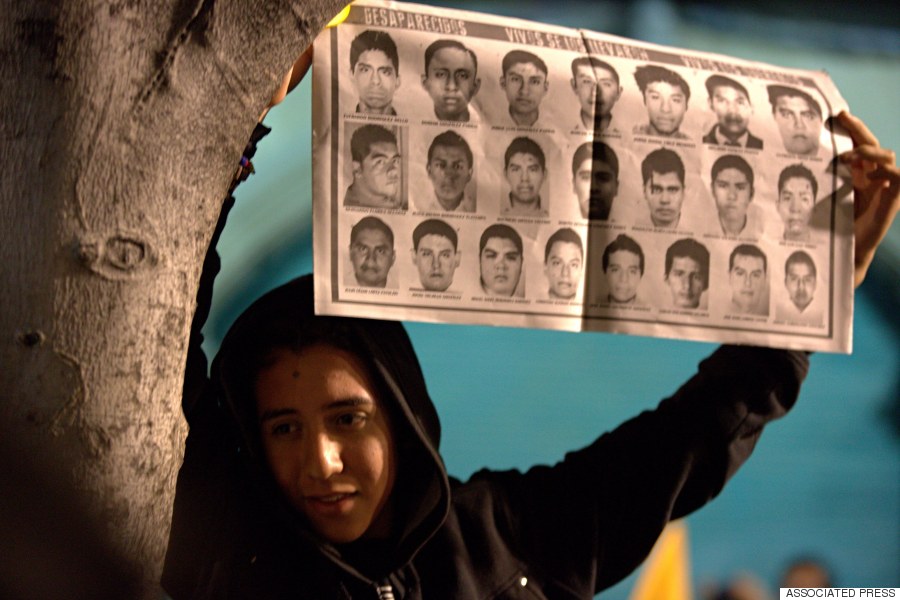 A protesters holds a poster with portraits of some of the 43 missing students during a march in Mexico City, Nov. 20, 2014. (AP Photo/Eduardo Verdugo)
The government's January statement was meant to signal that the case was closed, to the great consternation of the students' families and their supporters around the world. Karam said that the investigation had established "the historical truth" of how the students were killed, and that all other possible leads had been exhausted. Soon after, relatives of the missing 43 tried to storm the army base in Iguala to search for their sons, prompting clashes with troops there. Mexico's government eventually said it would allow families to apply to enter military facilities in the state, although months later they still haven't received access.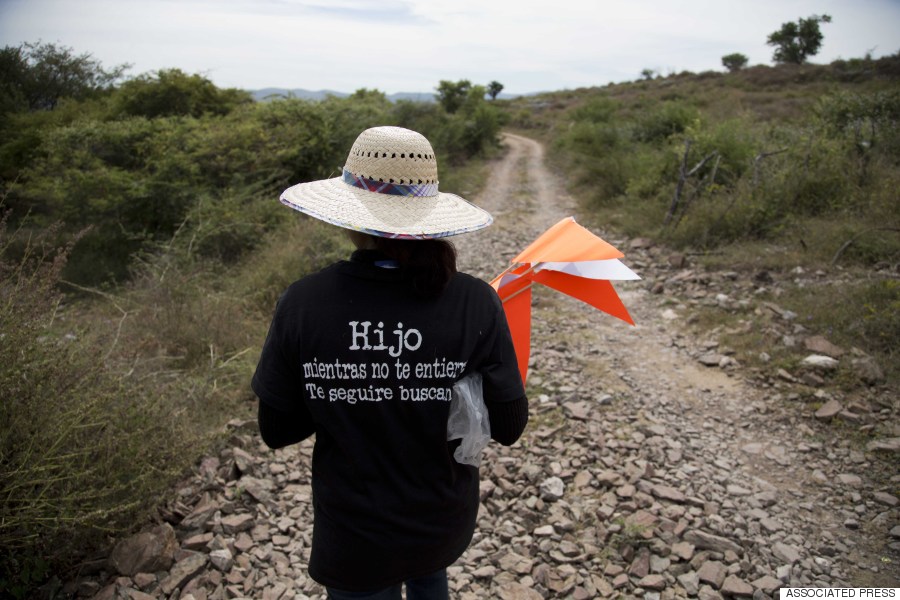 A woman wearing a shirt that reads in Spanish "Son, if I have not buried you, I will keep looking for you" walks on a hill searching for her family on the outskirts of Iguala, Mexico, Nov. 29, 2014. (AP Photo/Eduardo Verdugo)
Throughout their ordeal, the families have kept up a stream of protests and vigils to make sure their sons are not forgotten, and have continued to demand answers from the government. They have been joined by many students and supporters in Mexico and around the world. Earlier this year, relatives of the students spanned out across the United States and Europe in a tour called Caravana 43, speaking about their experience and raising awareness about the epidemic of violence in Mexico and U.S. foreign policy in the country. Ayotzinapa relatives met state legislators in Texas, addressed the United Nations in New York and held a vigil at the memorial for Mike Brown, the black teenager killed by a police officer last summer in Ferguson, Missouri. "We haven't rested since September 26 -- we're always in a fight," Rodriguez Moreno said.
Next Friday, to mark nine months since the students went missing, the families will hold a day-long vigil in Mexico City. "Without resting, every hour the biography of each one of the young students will be read aloud," Felipe de la Cruz Sandoval, a spokesman for the Ayotzinapa families, told The WorldPost by email. "For us, it's a necessity that we find them and reach truth and justice."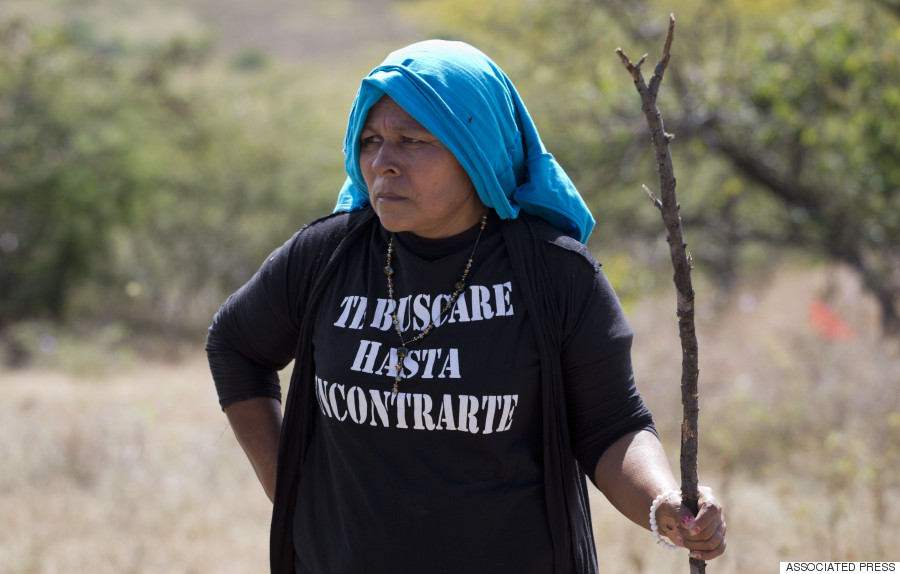 Maria Roman, searching among the mass graves outside Iguala for her 17-year-old son, Marco Antonio Mendez Roman, who disappeared in April 2013, wears a shirt that reads in Spanish "I'll search for you until I find you," Nov. 29, 2014. (AP Photo/Eduardo Verdugo)
The fate of the Ayotzinapa 43 has drawn global attention, but they are just the tip of the iceberg. Over 22,000 people have disappeared in Mexico during the last eight years, according to government figures. Drug-related violence has exploded in Mexico, as a crackdown on the cartels spurred splinter groups into ferocious battles for territory. Human rights experts say the Mexican authorities have not only allowed a culture of impunity to flourish, but also that corrupt officials are themselves implicated in violence and disappearances.
The outpouring of sympathy for the Ayotzinapa families, and outrage at the government's response, has emboldened others to demand answers of their own. As the search for the missing students last year turned up mass grave after mass grave of other bodies, hundreds of families in the area broke their silence about relatives who had disappeared, the BBC reported. Some formed a group for relatives of the "The Other Disappeared" (in Spanish "Los Otros Desaparecidos"), searching the hills around Iguala and digging up clandestine graves.
Mario Vergara, one of the group's founders, said he'd been too afraid to search for his brother who disappeared over two years ago, until now. "I might never find my brother, but all of the bodies that we took out bear his name," he told El Universal. Other local volunteers started encouraging families to file missing persons' reports and give DNA samples in order to build up a database of those who have gone missing.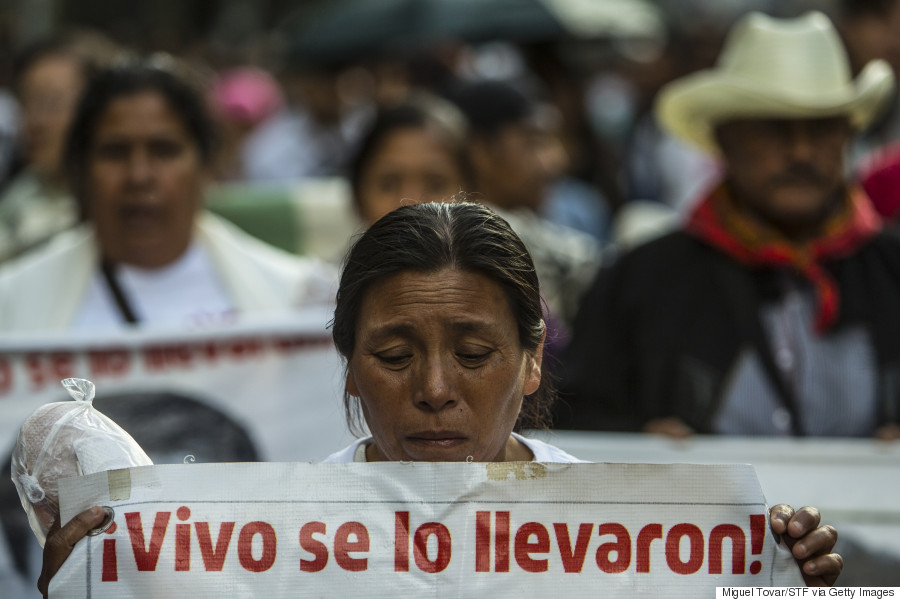 The mother of one of the 43 missing Ayotzinapa students during a rally in Mexico City on March 26, 2015. (Miguel Tovar/LatinContent/Getty Images)
These families all share the unimaginable burden of not knowing what happened to their loved ones. "I've always said that those who are at the top of the hills are dead, and those who are here are the living dead," Vergara told Mexico's Proceso magazine.
Rodriguez Moreno says their battle is far from over. "We're going to keep searching, even without the government's help," he said. "We're going to do the impossible."
Calling all HuffPost superfans!
Sign up for membership to become a founding member and help shape HuffPost's next chapter
BEFORE YOU GO
PHOTO GALLERY
Protests For The Missing Mexican Students