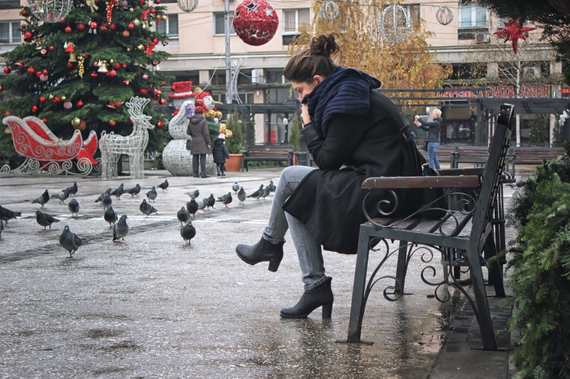 Early morning has always been my favorite time of day. When I was younger, early morning meant the house was quiet, the wood burning stove was crackling and my dad was most certainly awake. He was always the first one to get up. Farmers and bankers never seem to abandon their early morning hours, they just change the way they fill their time.
As I make my way down the stairs, I hear a faint sound of music. I know immediately where it is coming from. So many of my memories at Christmastime start this way. I pause so I can hear which one he is playing. The sound travels up through the furnace registers, and I smile. He is listening to one of his favorites. If I listen close enough, I can hear him singing the words. Often times he would just hum them, but either way, I know what I will see when I round the corner to his office.
My dad loved records. He had stacks of them. My brothers and I would sit and go through the huge stack of vinyl. Holding each record -- studying the pictures on the covers. On this particular morning, he was listening to Frank Sinatra.
The image I have is always the same. Sitting in his chair with a blanket wrapped around his lap and a cat snuggled up tight, is my dad. I pause before I let him know I am there. Watching him was one of the best parts. He had such a kind, strong face. He is humming the words to "Have Yourself A Merry Little Christmas." A single tear escapes his eye. He doesn't brush it away, this man who was built from strength. This man who grew up in the Greatest Generation. From a distance, I study every line in his face. The contours of his body as he sits in his chair. I find comfort in his smile. The smile that always had a way of warming so many hearts.
Recently, I participated in a HuffPost Live panel on Mourning Through The Holiday Season. I was asked to talk about coping with loss; asked to share my story. The night before I was to appear live, I asked myself, what is my story? How do I cope? How do I fill this hole - this space that never seems to be completely filled? How do I cope with missing my dad?
Even as I write this, I cannot hold back the tears. It's no coincidence that I chose the early morning hours to write. Christmas music playing quietly in the background, I find myself curled up on the couch, blanket covering my lap and a cat snuggled next to me. The contours of my body so similar to his. The lines on my face -- my smile. They are my dad's.
He has been gone for almost nine years, and at times, I feel like it won't ever get any easier. It is in those moments that I struggle with how to cope.
I can't find any answers to the tears I cannot control. I miss him so much. I find myself begging God for one more chance to hold his hand, so that I can remember what it felt like. Then it happens. The tears begin to subside and the pain eases up a bit. I find myself smiling.
I finally remember how I cope.
My dad was a storyteller. My childhood is full of stories from the family farm in North Dakota. Countless nights spent huddled around my dad by the wood burning stove. Hanging on his every word as he shared his life with us. He was the author of our book.
It has now been close to a decade since he died, and I find myself gathering memories to write a new chapter in that book. We will never replace his book, never get rid of it. His story will continue to evolve. My dad will still be part of everything that we do.
Every new tradition we form will have my dad's spirit woven into the foundation. He will live on through the stories we tell.
A decade seems like a long time to heal. Enough time and distance to grieve less, yet I still find myself struggling during the holidays. In those moments when I can't find the strength to push through on my own, I find solace in a few tips that have always seemed to help me get through Christmastime.
Remember that there is no timeline for grief. Each person goes through their own process at their own pace.
Accept that you are living a new normal.
Give yourself permission to form new traditions. Find a way to honor the person you lost by weaving some of their traditions into the new ones you are creating.
Try to avoid cancelling the celebration. It might be tempting to skip Christmas and all of the traditions that go with it. Going through the day is part of the healing process. Sometimes facing it head on is the best way to keep moving forward.
It's OK to be happy. Give yourself permission to think and feel something other than sadness. Let go of the guilt that takes over when you feel happy. One of the hardest things we must face after loss is allowing ourselves to feel an emotion other than sadness.
Honor their memory. Tell stories, schedule time to do something they loved, encourage family members to share their favorite memory.
Acknowledge that there will be grief. Do not put added pressure on yourself to be strong. It's ok to show others that you are struggling.
Reach out to others for comfort and support. Share with your support person that you may not be looking for answers; you just need someone to sit with you and listen.
As the years have gone on, I find that the time and distance between my grief is less. I do not have to force myself to cope anymore. The sadness has changed. I have more days when I smile as I remember my dad. Telling stories has allowed me to honor and remember him.
New traditions continue to evolve. Our storytelling and memories bring new life to my dad's spirit as we add more chapters to his book. Chapters that show a new normal. Chapters that talk about life after my dad.
Christmas will continue to be a time of celebration and joy for my family. We will carry on his spirit. The image of my dad sitting in his chair on those early morning hours will be forever stamped in my mind and his smile forever held in my heart.
REAL LIFE. REAL NEWS. REAL VOICES.
Help us tell more of the stories that matter from voices that too often remain unheard.