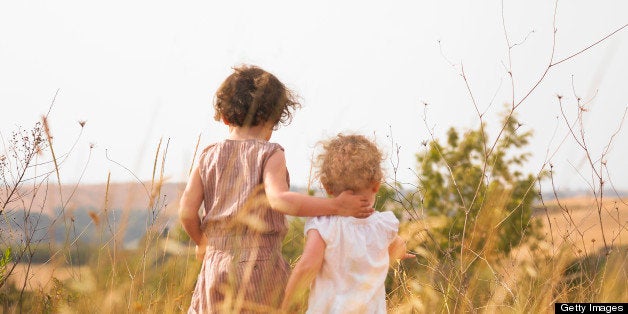 On an overcast, dreary Saturday morning of Memorial Weekend, I was driving to the Hamptons when I got a call saying there had been an accident. My mother found my 30-year-old sister Michelle lifeless in her bed that morning.
But it was no accident. Michelle turned on her clunker of a car in the two-car garage, propped the door open that led to her adjacent bedroom and packed white bath towels under the door that led to the hallway of the house. On the nightstand next to her lay her old glasses on top of a three-page letter and a pile of yellow sticky notes, detailing chores she hadn't finished around the house, like repainting the kitchen. We later learned she had closed her email account the day before.
As the oldest of seven children, with two sets of twins, I grew up in a strict, right wing Catholic household on the Main Line outside of Philadelphia. My dad was a CEO ad exec and former semi-pro baseball player; my mother was a pretty blue-eyed blond who stayed at home to raise her brood. Michelle was one of the pairs; her identical twin Jennifer was spared the mental illness gene that afflicted Michelle from an early age.
Nicknamed by my sports fanatic father 'Mookie' after Mookie Wilson, the former New York Mets center fielder, Michelle had accumulated a mish-mash of diagnoses over the years: Borderline Personality Disorder, Manic Depressive and Schizophrenic. When she committed suicide, I joined the rest of my family on anti-depressants.
Michelle had been living at my parents' second home on the Chesapeake Bay in Maryland for about a year after she decided she no longer wanted to be under their supervision or take the Lithium her latest doctor had prescribed. Two inches shorter than me at 5'4, and considerably smaller in size, Michelle had light brown hair, pale freckled skin, and translucent blue eyes hidden behind coke bottle glasses until she decided during one of her manic periods she wanted turquoise-colored contact lenses.
We were close in age, yet I struggled to feel emotionally close to Michelle. We got along well when she was functioning but I felt helpless and frustrated when she withdrew from contact. As my family struggled to cope with her mood swings over the years, my father coached us to picture her in a wheelchair as a way to comprehend her erratic behavior caused by her mental handicap.
Before her death, I hadn't seen her for six months. I had plans to visit her the weekend before, but the forecast called for rain. I didn't feel like driving four hours to Maryland in that weather. During the previous Christmas holiday, my parents gathered my sisters, brothers and me in her room to plead with Michelle to go back into treatment. She was deteriorating, unable to keep her part-time job at a local vitamin store and rarely left the house. After two decades of doctor shopping, prescription switching and extensive research on bipolar disorder and schizophrenic illness cures, my parents were desperate. In an intervention of sorts, we each took turns begging her to move home. Michelle sat on her precisely made bed, her eyes the only pair dry.
There were several touching moments Michelle and I shared. During one of her 'good' periods, she surprised me by sending a beautiful handwritten note to say how excited she was for me after I shared I had started dating a man I had met in New York City, where I had moved at the age of 27 to jump-start a career in public relations.
She came to visit me a few times in the Big Apple, armed with her Purcell and a giant map of the city. My first weekend there, Michelle and I walked miles, exploring the different neighborhoods, eventually tracing a path from my apartment to my new office so I knew how to find it on my first day. Her favorite thing was New York pizza. When we got slices at Joe's in the West Village, she thought it was the best thing she had ever tasted. We joked how it was a good thing people liked to walk everywhere in the city, given all the great food you could get anytime of the day or night.
After the call from Maryland that day, I felt as I was living in a fog. I went through the motions at work, with friends, just trying to get through each day. I had a hard time controlling my anger. I snapped at people on the subway and in my office when they spoke too loudly, causing me to feel anxious and panicky. I had to start working from home, where I sat on my couch in pajamas all day, unable to leave the apartment. My self-esteem felt gutted. I wanted constant attention and empathy. My neediness caused some friends to flee.
I went through an intense, long mourning process. I couldn't conceive of a day I could function normally again. But after a significant amount of grief counseling sessions, I did begin to believe my sister to be in a better place, and out of the excruciating daily pain she was in. I had figured out who my friends really were when tragedy struck. Running regularly helped even out my moods. The guilt I felt over not being able to save Michelle was no longer crippling. "If I..." was no longer a question I asked myself every thirty seconds.
This Memorial Day Weekend marks ten years since I've seen my little sister. I like to think she'd be proud of the person I have become. I have learned to appreciate life more and not take the little things for granted. I still feel the loss immensely but realize that even though I couldn't save my sister, I don't have to punish myself forever. I choose to remember the good times we shared. Mookie lives on in my heart and in my memory where she remains innocent, smiling and forever 30.
REAL LIFE. REAL NEWS. REAL VOICES.
Help us tell more of the stories that matter from voices that too often remain unheard.