Authorities in suburban Philadelphia aren't saying why 20-year-old Cosmo DiNardo is a person of interest in the recent disappearance of four young men, but they labeled him a "flight risk" and are holding him on $1 million bail on an unrelated four-month-old gun charge. 
"Sometimes the chasm between being a person of interest and being a person that's actually accused or arrested or convicted of a crime is so wide that we never cross it," Bucks County District Attorney Matthew Weintraub said Tuesday at a press conference.
DiNardo was arrested a warrant accusing him of being a former mental patient in possession of a shotgun Monday at his home in Solebury as investigators intensified the hunt for the missing men, focusing on a vast farm owned by DiNardo's parents. Weintraub said he suspects foul play.
The missing men have been identified as Mark Sturgis, 22, of Pennsburg; Tom Meo, 21, of Plumstead Township; Dean Finocchiaro, 19, of Middletown Township; and Jimi Tar Patrick, 19, of Newtown Township. Patrick was last seen Wednesday. Finocchiaro disappeared Friday evening. Meo and Sturgis were last seen together Friday night.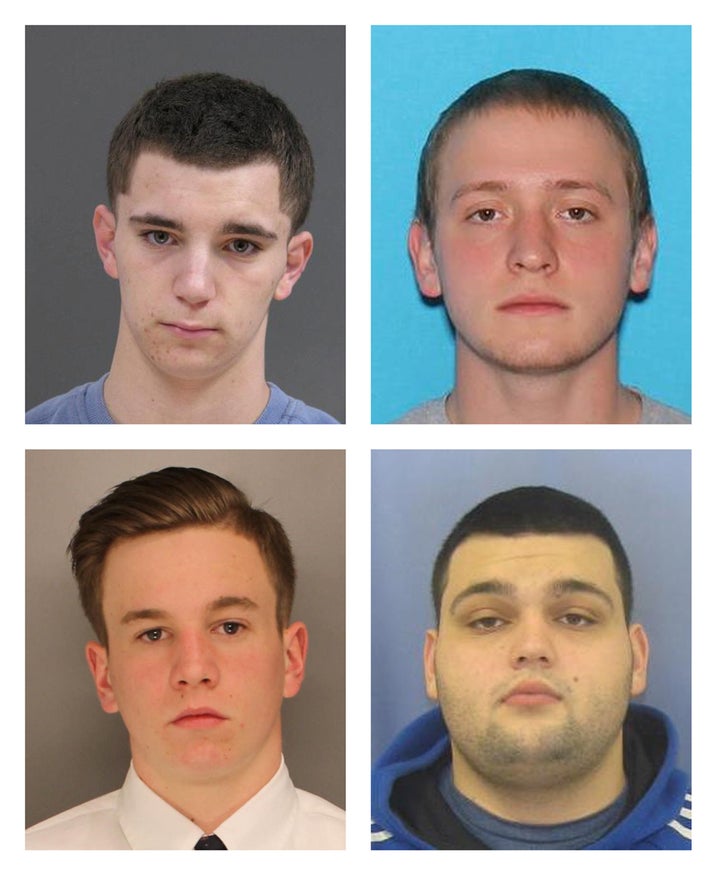 Investigators found Sturgis's car abandoned at a nearby shopping complex, his parents told WPVI-TV on Monday. Meo's car was found inside a garage on property owned by DiNardo's parents, according to the station. 
Police searched that property, along with DiNardo's residence on Monday. Investigators have since focused on the 68-acre farm owned by DiNardo's parents in Solebury Township, located about 30 miles north of Center City Philadelphia. The parents reportedly own a concrete company.
"There are some very obvious links," between the missing men and DiNardo, Weintraub said. "I have to let you draw your own conclusions. … There's information that I am privy to that I can't share with you."
DiNardo appears to be Facebook friends with Patrick, but has no obvious online connections to the three other missing men.
DiNardo is a 2015 graduate of Holy Ghost Preparatory School, a private Catholic school in nearby Bensalem, a friend told HuffPost. In 2015, DiNardo enrolled at Arcadia University in Glenside, another Philadelphia suburb, the friend said.
An August 2015 article on the Arcadia website says DiNardo planned to major in biology. "I'm going to go overseas, hopefully to Italy and the rest of Europe," the article quotes DiNardo as saying.
DiNardo ultimately dropped out of Arcadia and was set to start classes at Bucks County Community College, the friend said. It wasn't clear whether he actually enrolled.
DiNardo recently was involved in a bad dirt bike wreck that left him with a head injury that the friend said appeared to alter his behavior.
"He had frontal lobe damage, and I think that messed up his brain," the friend said.
The wreck, six or seven months ago, stranded the injured DiNardo in the woods for more than a day until help reached him, another friend told Heavy.com.
The gun charge cites a history of mental illness, but authorities haven't elaborated, according to Lehigh Valley Live. DiNardo is "a subject known to be suffering from mental illness and admittedly having been the subject of an involuntary commitment to a mental institution for inpatient care and treatment," an investigator wrote in an affidavit accompanying the gun charge.
Attempts by HuffPost to reach DiNardo's parents and other family members have been unsuccessful.
"We will continue our investigation," Weintraub said. "Mr. DiNardo may or may not be included."
The district attorney added: "We're committed to see this through all the way to the end, regardless of what that may be."
Anyone with information is asked to call 215-297-8201.
David Lohr covers crime and missing persons. Tips? Feedback? Send an email or follow him on Twitter. 
Calling all HuffPost superfans!
Sign up for membership to become a founding member and help shape HuffPost's next chapter
BEFORE YOU GO
PHOTO GALLERY
Missing People