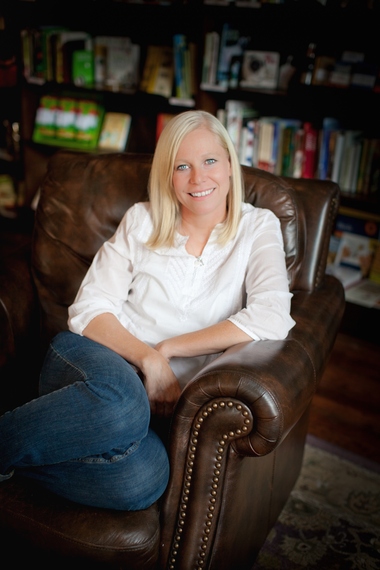 Heather Gudenkauf is the New York Times and USA Today bestselling author of four previous novels. She graduated from the University of Iowa with a degree in elementary education and spent her career working with students of all ages.
Heather's fifth novel, Missing Pieces, a psychological thriller, blends a tense 'whodunit' plot with a portrait of a woman, Sarah Quinlan, uncovering dark, unimaginable secrets about her husband, Jack. When in the wake of a violent killing, Jack's long-concealed past misdeeds surface, Sarah goes on a quest for the truth about her husband and his family's history. Evidence begins pointing toward the possibility Jack may have committed an unspeakable crime.
Having read your earlier novels, I'm struck by what seems a bit of a departure for you. Missing Pieces has more of a 'whodunit' quality than your other works. Is that so?
I completely agree. In my earlier novels, I focused on a family or on everyday people put in unusual situations. I explored the emotional aspects of their trying to wade through their troubles. In Missing Pieces, I still have the family component, but it's more about a woman, her marriage, and her trying to find out who her husband really is. It's a quest to understand what she's gotten herself in to.
As do some of your earlier novels, Missing Pieces deals with secrets, grudges, and family dynamics. Will you talk about what makes these issues so fascinating?
I'm always amazed when I hear news stories about people who have been living with someone for years and didn't know something important about that person. It could be a dark past or something else that's fascinating. There are people who invest years in another person, and only at some point many years later, realize the other person is not whom they thought they were. I wanted to explore how much a person would be willing to unearth and ultimately accept about someone she loves.
You once said, 'I'm intrigued by the idea of taking a fragment of an idea and examining it from all angles in order to see the different directions I can take the story.' Will you talk about that?
That's very true about me. I love to read and watch the news. I often find myself asking 'What would happen if we looked at something from another point of view?' I do that with many aspects of my life and also in my writing. I think it's fascinating to be able to look at something deeply and from a different angle. In Missing Pieces, the investigator is the wife, who just wants to save her marriage. The result is she finds out much more about her husband than she bargained for.
You once talked about writing the first 50 pages of a novel in longhand, and then transferring it to a computer. How come?
I still do that. I find when I first get an idea, things flow much more easily if I begin the story writing in longhand. It's not the most efficient way to write, but it gets me started. If during the course of writing the manuscript I find myself "stuck," I resume writing with pen-in-hand-on-paper and it gets me back on track.
Speaking of pen-in-hand and notebooks, do you carry a notebook with you?
I always have one nearby. I probably have too many. I'll write something down and then forget where I wrote it. (Laughter). I do need to jot down ideas, either in a notebook, or on a scrap of paper; or I'll email myself a note to make sure I capture that thought.
Tell us about your journey to becoming a published novelist.
Like many people who fantasize about wanting to write, I have always loved to read, but thought myself too busy with my career and raising a family to give writing a try.
In the classroom, I would always tell my students to 'Follow your dreams.'
It finally dawned on me that it was about time to start following my own advice.
So, the day after school ended for summer vacation, I began the first draft of The Weight of Silence and finished it before school resumed in the fall. I then stuck the manuscript in a drawer where it remained until winter break, at which time I decided to try to find an agent. I had no connections to anyone in the publishing world, so I bought a copy of The Writer's Market and within it found the name of a literary agent who represented authors whose books I enjoyed.
I sent the first fifty pages to that person and was fortunate enough to be asked to send the rest. Marianne Merola has been a wonderful agent, and I am so lucky she represents me.
What's the most important lesson you've learned about writing?
Although writing is a very solitary activity, the writing experience is all about the people you meet through books. Whether it's the people in the publishing world or readers who feel as passionate out books as I do, the great support system I've built as a writer is the thing I value most.
How do you deal with the nearly universal temptation to procrastinate?
(Laughter) I've been known to do that. I require a very set schedule because I still work in education. I have to set time aside to write every single day. I enjoy writing, and think that helps a great deal. That said, I do have to plan out my writing schedule and set discreet goals for myself.
You're hosting a dinner party and can invite any five guests, from any walk of life, living or dead. Who would they be?
First, I would invite Willa Cather, she's my favorite writer of all time. I would love to meet with my grandparents. That would be fascinating. And I would have to have my own Mom and Dad who are so much fun to be with. Those five would be my guests.
Congratulations on writing Missing Pieces, a novel called 'Intelligent and thought-provoking' by Sandra Brown, and described as 'An action packed thriller' by Mary Kubica.
Mark Rubinstein's latest novel is The Lovers' Tango
Calling all HuffPost superfans!
Sign up for membership to become a founding member and help shape HuffPost's next chapter