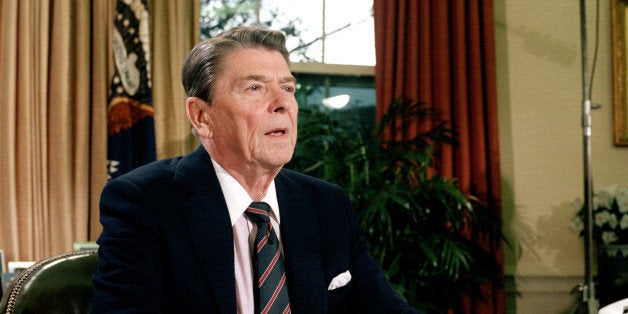 As the Republican presidential campaign proceeds, the leading GOP contenders seem to believe that nastiness can carry them to the White House. Although Ronald Reagan is often invoked as the party's guiding spirit, nowhere in the current GOP rhetoric is to be found the hopefulness that Reagan exuded. Reagan's mostly overlooked speech to the 1992 Republican National Convention was a perfect example of this.
First, some background. That convention (which I attended, as a journalist) was a mess. George H. W. Bush was nominated for a second term in the White House, but only after surviving an insurgency led by Patrick Buchanan. The bitterness of their battles in the primaries lingered in the Houston convention hall, foreshadowing Bush's November defeat. The country was also being distracted by Ross Perot's on-and-off candidacy.
In his speech to the convention, Buchanan reflected the anger that was pulling the party apart: "There is a religious war going on in our country for the soul of America. It is a cultural war, as critical to the kind of nation we will one day be as was the Cold War itself....We must take back our cities, and take back our culture, and take back our country."
That sounds a lot like what we hear today from Donald Trump and Ted Cruz. What we do not hear is anything like Ronald Reagan's remarks to the convention: "Whatever else history may say about me when I'm gone, I hope it will record that I appealed to your best hopes, not your worst fears; to your confidence, rather than your doubts....My fondest hope for each one of you...is that you will love your country, not for her power and wealth, but for her selflessness and her idealism."
I remember standing on the convention floor when Reagan gave that speech. Some of the delegates were just mildly attentive, still wishing that they could unleash Buchanan on the Democrats. I marveled at how, in the four years since Reagan's presidency had ended, the Republican Party had taken itself from the "shining city upon a hill" that Reagan so often invoked, to the "religious war" Buchanan envisioned.
After the political upheavals of the 1970s, Reagan had helped Americans regain their assumption that their politics, whoever was in charge, would remain fundamentally stable, and that during troubled times appropriate leadership would emerge. Reagan was far from perfect as a president, but whatever one might think of his policies, few would dispute the fact that he was never vicious or condescending.
In that Houston convention speech, Reagan told his audience:
I want you to know that I have always had the highest respect for you, for your common sense and intelligence and decency. I have always believed in you and in what you could accomplish for yourselves and others.
I cannot imagine any of today's presidential candidates -- of either party -- saying anything like that. The generosity of spirit that Ronald Reagan embodied is gone, and our politics are the worse for its disappearance.
Calling all HuffPost superfans!
Sign up for membership to become a founding member and help shape HuffPost's next chapter