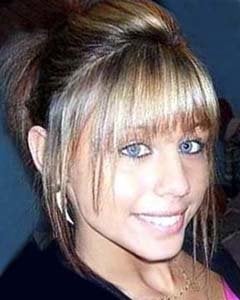 The FBI believes missing teenager Brittanee Drexel was abducted and killed in South Carolina seven years ago.
The agency has not found her body nor witnesses to confirm Drexel's death, and it's offering a $25,000 reward for information in the case.
"What we've come to discover through the course of this investigation now is that Brittanee Drexel did leave the Myrtle Beach area," said David Thomas, special agent in charge of the FBI in South Carolina. "We believe she traveled to this area and we believe she was killed after that."
Thomas made the announcement at a Wednesday news conference in McClellanville, a small fishing town about 60 miles south of Myrtle Beach.
"It is very difficult but the public needs to know, the family needs to know," Thomas said.
Drexel, of Rochester, New York, was 17 years old in April 2009, when she went to Myrtle Beach, S.C., on spring break. The teen was last seen by friends on April 25 of that year, when she left the Bar Harbor Hotel in Myrtle Beach to meet friends at the nearby BlueWater Resort. Surveillance footage shows Drexel arriving at the resort, then leaving roughly 10 minutes later. What happened to her after that remains a mystery.
Her cell phone gave off its last signal the day after she went missing. Investigators narrowed the phone location to an area near the South Santee River, between McClellanville and Georgetown. It's the same area where Thomas now says Drexel was held captive "several days" before she was killed.
"People came in contact with her, saw her, knew that she was here so we know that there is information in the community here," he said.
Thomas declined to elaborate on how the FBI uncovered the information or why they believe she is no longer alive. He said he was unable to "get into the details of this investigation."
Drexel's family was present at the press conference. Her distraught mother read from a brief statement.
"After seven long years of waiting and praying for the return of my daughter we know she isn't coming home alive," said Dawn Drexel. "Brittanee's life was stolen from her in a brutal and senseless fashion."
"It's a hard pill to swallow," Caison told The Huffington Post. "The family is trying to deal the best they can with the new information."
Caison's organization has conducted multiple searches for the missing teen, but she said those efforts have been suspended.
"Law enforcement is aggressively investigating her case," Caison said. "We're waiting to see what happens in the weeks to come."
Dawn Drexel urged anyone who has any information on her daughter's disappearance to help bring her killers to justice.
"Help us to put them in prison where they belong for the rest of their useless lives," she said. "They will never again take one of our children away in such a brutal fashion. We need your help so we can find Brittanee's remains and bring her home to lay her to rest and make sure that monsters like this can no longer victimize this community or kill anyone else's child."
At the time of her disappearance, Brittanee Drexel was 5 feet tall and 103 pounds. She had blue eyes and blond highlights in her hair.
Anyone with information in the case is asked to contact Myrtle Beach Police at 843-918-1382 or the CUE Center for Missing Persons' 24-hour tip line at 910-232-1687.
The CUE Center for Missing Persons aids families and law enforcement in cases of missing persons nationwide. The organization is staffed by volunteers and is funded entirely by donations. CUE has helped more than 9,000 families since its inception in 1994. 
REAL LIFE. REAL NEWS. REAL VOICES.
Help us tell more of the stories that matter from voices that too often remain unheard.
BEFORE YOU GO