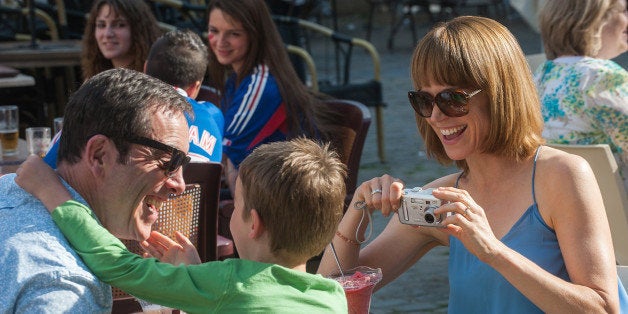 Sam Adams wrote a smart piece recently about why he likes "Jane the Virgin," the best new broadcast network program of the fall. In particular, Adams praised the title character for being a nice, grounded, thoughtful person who tries very hard to tell the truth.
As played by the extraordinary Gina Rodriguez and characterized by the show's deft writers, Jane's a good person, and watching the show (which is available free online) is a very pleasurable experience. What's especially impressive is the fact that "Jane the Virgin," for all its vivid flourishes, takes the significant challenges that its characters face very seriously. The light isn't there to blot out the darkness: The light is there to expose things that can be painful and to help the characters find a way out of tough situations.
When I have some precious free time, I find myself seeking out this kind of fare more and more. Or I turn to intelligent genre fare that allows the characters to have some faith in each other and even crack the occasional joke (i.e., "Supernatural," "Penny Dreadful," "The 100," "Arrow," etc.).
Like most TV critics, I've also praised dozens of dramas that incorporate crime, violence and death into their storytelling. But the fact is, in this line of work, we come across a lot of that kind of thing. The medium is evolving -- especially as it migrates online -- but for many in the industry, ambition still often involves dead bodies and kids in danger. The sheer tonnage of programs that feature these elements makes the existence of a show like "Jane the Virgin" all the more welcome.
All of that is a long way of saying, I watched five hours of the new Starz drama "The Missing," and I liked it enough to want to know how it ends (there are eight hours total). I'll likely watch the whole thing, but it's one of those shows that has elements that are tough to take, and I'd understand if some potential audience members gave it a miss.
James Poniewozik wrote a great defense of both the quality of "The Missing," which tells the story of the abduction of a child, and the decision to opt out of watching it. "Every once in a while, I have to decide that my own nightmares are enough without borrowing someone else's," he noted, and I sympathize deeply with that point of view.
As Poniewozik wrote, the pluses of the drama mainly revolve around its mood of impassioned restraint and excellent lead performances. James Nesbitt is terrific as the father of the boy who goes missing; Nesbitt can shift from disoriented to volcanic without missing a beat, and it's entirely plausible that this driven, even obsessive man would never, ever let go of the case. Frances O'Connor is similarly affecting as the child's mother, whose face offers windows on the waking nightmare that she is living through. O'Connor subtly indicates how hard her character is working to simply get through the day and mimic normal human behavior.
"The Missing" isn't exploitative in how it depicts this particular crime or how it connects that act to other untoward elements and unsavory types in an unremarkable French town. But if you have a kid -- or you're just not able to take another trip to the dark side via your television -- it can be hard to watch at times, in part because the performers make the distress of parents so real.
This recent wave of cable and streaming programs posit that women and children are often systematically targeted and brutalized, and that the structures of authority and governance put into place to allegedly protect members of the public often conspire, through inaction, indifference or the use of influence, to keep powerful and connected wrongdoers from being brought to any kind of true justice. These shows are, as I put it once, the spiritual descendants of "Prime Suspect," and it's a thematic trend that in a way, I'm glad to see all over the place. Even rollicking genre fare like "Orphan Black," when it's not literally losing the plot, attacks similar themes of autonomy, exploitation and oppression with verve and justified anger.
But is "The Missing" on the level of the exceptional "Broadchurch," "Happy Valley" or "Top of the Lake"? Not quite; its somewhat opaque characters never quite moved me on that level. Though it's well made and respectful of its subject matter, something about this show keeps it not at the surface but more or less reliably near it. I truly do respect the drama's crisp pace and sober tone, but did a story that veers into pedophilia, drug addiction, violence and child abduction absolutely need a few scenes set at a dying man's hospice bedside? Maybe not.
"The Missing" does a credible job, as do many of the programs listed above, of investigating how acts of violence and criminality in the past ripple out into the present (the drama alternates between 2006, the year the child goes missing, and the present day). It examines the idea of "moving on" with clear eyes: The two parents of the missing Oliver Hughes take very different paths after that awful day, and the way their choices rebound on them -- and reflect on their mindsets -- is depicted in a calm and thoughtful manner.
You may chose to watch "The Missing," or you may not; after a tough-to-watch first hour, I found myself slowly but surely drawn in to the story. That said, I respect the choice to avoid fare that delves into abusive power dynamics that you can read about on any credible news site. These kinds of stories are, sadly, everywhere.
Either way, given the state the world is generally in, you might still need "Jane the Virgin" as an antidote of sorts. I can recommend that show without any reservations at all.
Popular in the Community