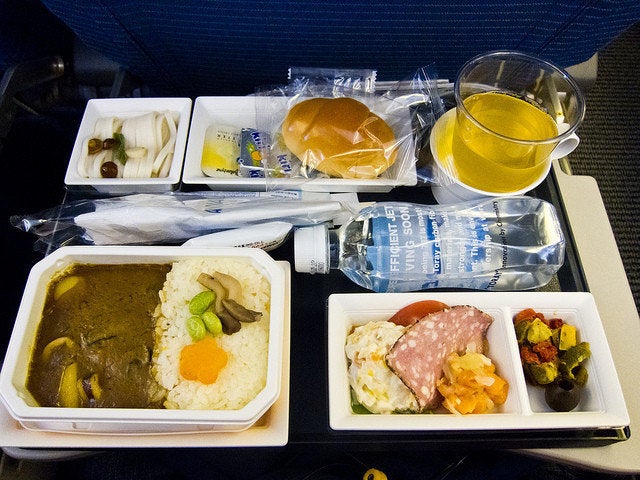 Why is it that airlines think all rich people eat caviar and foie gras and lobster and filet mignon for every meal? Aren't these people human? Don't they crave mac and cheese or meatloaf sometimes like the rest of us?
Don't get me wrong: I love a good fillet. And don't get me wrong again: I'm no Warren Buffett. But I do find myself in the first and business class cabins at 30,000 feet more often than not, and I'm always struck by the peculiar culinary choices we have at the fore of our friendly skies.
Airline food has a bad reputation, but the first- and business-class cabins are supposed to be one place where those cost-cutting measures have yet to reach. In fact, airlines still go to great lengths to land recognizable chefs to headline their premium cabin menus and design elegantly presented dishes for their handsomely paying customers.
But on the transatlantic flight I'm sitting in business class on right now -- which is the most premium cabin on this particular aircraft -- I couldn't help but wonder after finishing my first meal whether airlines might ever consider serving something a little more universally delicious and wholesome instead of something pretty and exotic (i.e., allegedly "upper class").
When was the last time you peeked into a rich person's refrigerator and saw little parsley-draped plates of crab and salmon timbale or tomato leek strata? Yes, those were two of the offerings on the custom-printed menu for my fellow cabin-mates and me on tonight's flight to Europe. (I'll spare the airline the pleasure of being called out individually because they're pretty much all in the same boat.)
A first-class airline doesn't have to necessarily go all celebrity-chef or designer-dish or unpronounceable-French to make their in-flight meals worthy of and appreciated by their first-class passengers. All they really have to do is offer up what someone really wants to chow down on at breakfast or dinner and give enough variety to hit the spot for the majority of their customers.
Most high-end hotels already do an excellent job of satisfying the culinary expectations of their first-class guests by offering a variety of the most common dishes with a flavorful flair in their exclusive executive and club lounges. Granted, airlines don't have the luxury of spacious kitchens and pantries to whip up full buffets, but they certainly can change course philosophically on how they design and plan meals for their premium passengers -- and all their passengers for that matter.
Take my most recent airline meal, for example. Beside me right now is an empty tray that just a few minutes ago held an exotic fresh fruit salad, assorted cold cuts and that tomato leek strata I was raving about earlier. While it was a decent breakfast, and while I learned what a strata was for the first time -- it's like a quiche -- I would have much preferred some traditional scrambled eggs, bacon or ham, strawberries with cream, melon slices and maybe even some more eggs, boiled perhaps. Now serve me that as the sun comes up 30,000 feet over Ireland and you've got one satisfied and satiated elite flyer.
And who knows? It might even be cheaper for airlines to serve up some hearty "real" food as opposed to the designer crap that I never would have thought to eat on my own and never would have felt deprived of had I not been offered it with an aristocratic European accent to begin with. While I concede that perhaps my specific culinary tastes are uniquely American (I left off the grits so as not to go, or get thrown, overboard), I can't concede that the underlying problem I'm addressing still doesn't exist with first- and business-class airline menus.
We premium cabin and elite travelers do very much appreciate all of the attention to detail, service quality and effort that airlines and their hard-working staff put into making our frequent trips more pleasurable. But I don't recall ever being asked or surveyed about what sorts of foods I would most appreciate being served on my next trip. Perhaps if airlines stopped stereotyping all first-class travelers as foie gras- and caviar-eating mutants, then maybe they could squeeze out a few extra approving nods from us "air"-ristocrats and even save a euro or two in the process to put towards those rising fuel bills.