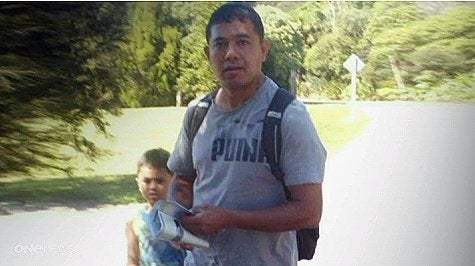 At 3:30 PM Saturday, Fong texted his younger brother:
The mountain ranges are equipped with tramping tracks and other attractions for hikers, while certain parts are only accessible to experienced trampers. "Tramping" is a popular New Zealand pastime that involves hiking the back country. It's also known as "bushwhacking."

Fong, 39, is a bioengineer at Middlemore Hospital who moved to Auckland from Fiji about 18 years ago. His family said he's physically and mentally fit.
He had set out for a four-hour walk from Hunua Falls Saturday morning and was expected to be picked up at 3 p.m.
He faced the coldest night of the year on Saturday night— at one point the temperature dropped below three degrees. Having ventured off in only a light T-shirt, jacket and shorts, his family was concerned in the days leading up to his rescue.
But it turns out Fong was better prepared than rescuers had thought — in more ways than one.
Margaret Fong told The Dominion Post she was worried he might be injured, but said when searchers found part of an energy bar wrapper that Fong was known to carry with him, she grew new hope for his rescue.
Weather conditions improved after the first night. When Fong was finally found at around 7 p.m. Tuesday evening, he was still walking and did not need immediate medical attention.
"He was really tired and cold. We fed him and warmed him up, and sent him home," said Duthie.
BEFORE YOU GO
PHOTO GALLERY
U.S. National Parks With The Worst Smog