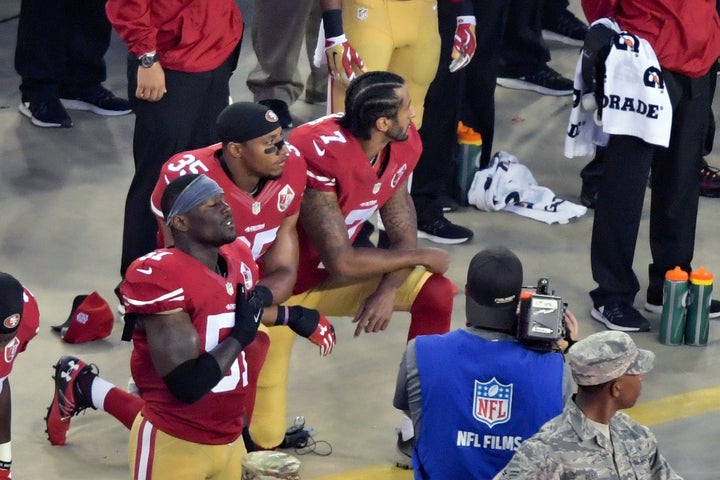 A San Francisco high school football team took a knee during the national anthem on Saturday to protest racial injustice, following in the footsteps of 49ers quarterback Colin Kaepernick.
All players ― Latino, white, Asian and black ― knelt before the game, the San Francisco Chronicle reported Thursday.
"This is for helping everybody else in the world to understand that black people and people of color are going though difficulties and they need help," 17-year-old Mission High School quarterback Niamey Harris reportedly told his teammates prior to kickoff. "It's not going to take care of itself."
Harris said his team would also kneel for a game on Friday.
Though some are trying to dilute and silence the protest Kaepernick started, it's refreshing to see how people across the sports world ― including high schoolers ― have joined him.
On Monday, Rep. Steve King (R-Iowa) accused Kaepernick of "activism sympathetic to ISIS." It's unclear whether the lawmaker also thinks the students at Mission High School are terrorists.
These athletes haven't just started a discussion ― they've inspired action. The 49ers announced plans to donate $1 million to charities focused on racial issues after Kaepernick pledged $1 million of his own money to underserved communities. Denver Broncos linebacker Brandon Marshall pledged $300 for every tackle he makes to local organizations "that benefit the Denver community and others through the services, awareness and funds they provide for these critical social issues."
And their advocacy shows no signs of stopping.
"Throughout the nation, athletes on different levels are finding their voice and recognizing that they have a platform," Jeremi Duru, a professor of sports law at American University's law school in Washington, told the Chronicle. "We haven't seen this level of athlete activism in nearly half a century. This is a movement."
Related
Popular in the Community