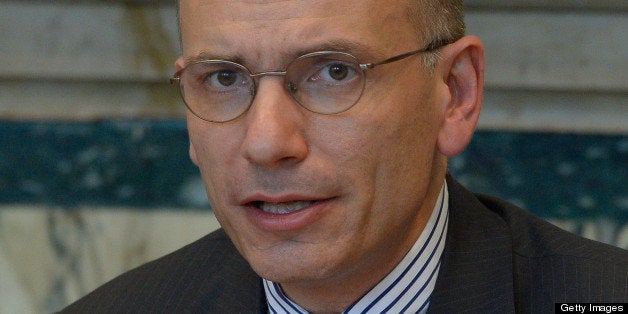 Mission Impossible N. 1: accomplished! After a two-months stall, in only two days Enrico Letta presented Italy with its best government ever. Letta, who will be turning 47 in August, was defined by President Giorgio Napolitano as "a young person of great experience."
The former Christian Democrat began his career as a very young assistant to the late leading economist and politician Beniamino Andreatta, to then become Italy's youngest Minister in 1998, when he was put in charge of European affairs. Letta managed to transform the then "Cinderella" EU Ministry into a success story. It helped that, at least according to Italian standards, he had broad European experience; having attended school in Luxembourg, he is fluent in both English and French and he is a former president of the European Young Christian Democrats.
The good job done gained him a place of prominence in Italian politics. In 2000, he was Minister of Industry and International Trades and he is credited with perfect American credentials, as he is a member of influential communities such as Aspen and the Bilderberg group.
In the fall 2012, many had hoped that Letta would side with the young major of Florence, Matteo Renzi, in the fight over premiership for the forthcoming elections. Instead, he supported the PD's Secretary, Pierluigi Bersani. He has however kept a very low profile over the last few months, a smart move that definitely helped him getting the nomination. Letta and Renzi couldn't possibly be more different people. Despite the common Christian Democrat background, their styles are opposite: as much as Renzi is outspoken, brilliant and ambitious (and not shy about it), Letta is soft-spoken, conciliatory, reserved and discrete.
Enrico Letta has no easy task in front of him, but the brilliant way he quickly passed the first test gives good reasons to hope. The new government gives a straightforward message of change, yet coupled with sound experience.
To begin with, with seven women in top posts, it is the most gender-balanced government ever. The most senior people on the team have personal histories that represent a sharp change with old politics. Foreign Affairs Minister Emma Bonino, a former EU Commissioner and EU Affairs Minister, has a history of staunch defender of human and civil rights: she is for instance the behind the approval of the UN resolution against female genital mutilation last year. Justice Minister Anna Maria Cancellieri is a high civil servant who also served on Mario Monti's government, with unanimous praise. Bank of Italy's General Director Fabrizio Saccomanni is the new Minister of Economy. The team also include two naturalized Italian women: the German Olympic multi-medallist Josepha Idem at Sports and Youth Affairs and Congolese Cecile Kyenge, the first black minister, who will be in charge of Social Integration.
The remaining ministers share Letta's kind of profile: skilled young politicians in their 40s and 50s, known for their competence and soft-negotiation capabilities. Many come from the ranks of the former Young Christian Democrats, before it exploded in the early 1990s to give birth to the current party system. Oddly enough, in Italy the old party affiliations still command solidarity and, as Europa journalist Mario Lavia put it: "this government looks like a class on a school trip." For it to succeed, it will be crucial that this sense of solidarity stays alive.
Indeed, it won't be an easy ride and many would potentially benefit from its failure.
Grillo's MPs' lack of competence and experience has become clear in these two months and in the regional elections just held in Friuli they lost half of their votes. A government succeeding to make the needed changes to the country would be lethal for the movement. Matteo Renzi is somewhat in a similar situation: his best-selling argument -- that of the need for "wrecking" the old political class -- is now voided by the new government and many of his supporters are likely to feel comfortable with Letta. The more left-oriented PD leaders, like the "Young Turks" who wanted to ally with Grillo, are the main losers and some may move to Niki Vendola's SEL party.
It is however in the interest of both Italy and its allies that this government succeeds. Many say it is mission impossible and that it will fail after a few months. On the contrary, knowing Enrico Letta and some of his ministers well, I do believe that there is a good change that Mission Impossible N. 2 will also be accomplished, and that a new post-Berlusconi phase in Italian politics will soon begin.
REAL LIFE. REAL NEWS. REAL VOICES.
Help us tell more of the stories that matter from voices that too often remain unheard.