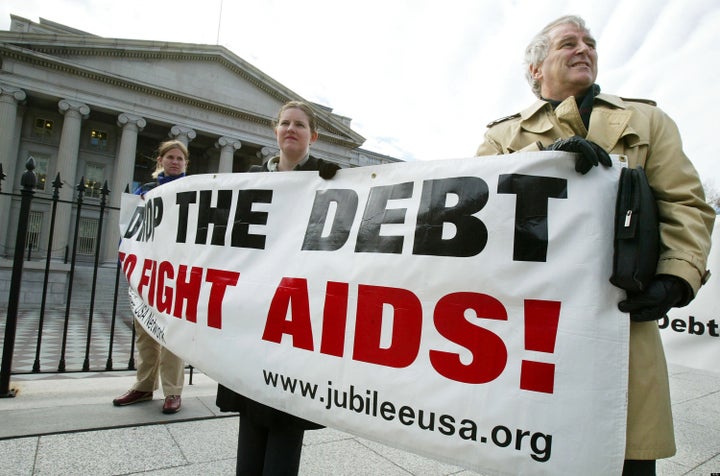 What's a nice Irish American priest like Séamus Finn doing on The Daily Show? The answer is not what you might think: he's squirming to avoid nasty questions and jokes about abuse scandals. The show's producers caught Séamus Finn and some colleagues in New York's Financial District as he pressed a cause that has been his job and passion for over 20 years: banking and financial sector reform and social justice.
The Daily Show episode is slated to run soon, and Father Séamus is a wee bit uncertain about exactly what will come out. Samantha Bee, who led the several hours of interviews with Séamus and his colleagues, was and is full of surprises. But he's hopeful that basically an unlikely alliance of priestly righteousness, good solid facts, and satirical spoof will reinforce the point that both social justice and common sense demand deep reform in the financial system, now.
Séamus Finn has a mouthful of a title: Director of Justice, Peace and the Integrity of Creation for the Missionary Oblates of Mary Immaculate. What it means is that he works the political and corporate halls of power on ethical causes that always seem to come back to the worlds of big business, finance, and politics. He introduces shareholder resolutions at corporate general assembly meetings, presses causes on Capitol Hill that range from Sri Lankan refugees to strip mining and rights of indigenous peoples in Bangladesh, and shuttles around the world trying to solve or at least get a grip on the root problems.
Finn's role has an interesting back story. While Apartheid seemed entrenched and hopeless in South Africa in the early 1970s, a motley group that had responsibilities for managing the finances of various Christian groups came together. They eventually founded the Interfaith Center for Corporate Responsibility (ICCR) that worked to withhold or withdraw investments from companies that did business in South Africa. Now 40 years old, ICCR has over 275 institutional investors who come from a wide range of religious communities. Together they control billions of dollars in assets. ICCR's game plan has changed over the years, and today the idea is to use the power of shares in positive ways, wherever possible, introducing resolutions and defending them on the companies' home turf. Séamus Finn is an ICCR veteran and a passionate spokesman for faith-based, socially and environmentally responsible investment: promoting sustainable development without losing your shirt.
Séamus Finn should be a natural on The Daily Show. His Irish accent is genuine (he was born in Kanturk, County Cork, Ireland and moved to Lowell Massachusetts when he was 14 years old), his humor is sharp and elfish, and he loves Irish songs and a party. But he also knows his facts cold. With a PhD in Theology and Social Justice from Boston University, he has years of dueling with financiers behind him. And he also has a powerful sense of righteous indignation at what's happened to poor people as a result of shoddy financial dealings, starting with irresponsible lending to developing countries, predatory lending and the sub-prime mortgage fiasco.
Séamus told me the story of the rather arduous process of taping the Daily Show appearance, which will be cut down to just a few minutes that will air. Séamus was with three colleagues: Father Joseph La Mar of the Maryknoll Fathers and Brothers; Sister Barbara Aires, a Sister of Charity; and Catherine Rowan, with the Maryknoll sisters. The tale of the taping is itself uproarious, with twists I could barely imagine (why did Samantha Bee, looking as if she would give birth any minute, lie down on Wall Street and dare Séamus and the others to step over her to get to the Goldman Sachs meeting?).
The Daily Show, Séamus thinks, may roast him in various ways, but, he believes, Jon Stewart and his colleagues, in their inimitable fashion, will also want to take the Mickey out of Wall Street. That's why Séamus agreed to what's plainly a risky venture, because with The Daily Show you just never know who or what will be lampooned. They won't be able to resist taking the Catholic Church to task at least to an extent. When Séamus was in the studio they had a photo of him massaged to show him like a game show host emerging from a barrel of cash, the bible, some quotes from scripture, the crucifix, and candles as part of the props and staging. But, he thought, they generally kept their eyes on Wall Street.
Surely the combination of this improbable priest with his improbable portfolio and his unlikely team makes a great story that would be lost if it meanders too far towards the challenges (which, of course, are plenty real) facing the Catholic Church and religion more generally. In all the kerfuffle and reams of talk and words about the financial mess we are living, the ethics of it all are easily submerged. Who's really tackling the tough questions not only about who's responsible but about how to fix it? How are we going to get some ethical compasses back into the process?
Obviously churches have their own ethical quandaries to address, but after all, ethics and justice should be their core competence and core mission. So it's a relief as well as a joy to see Séamus in action. Let The Daily Show go on.

Related
Popular in the Community