The import of making choices is often revealed after the choice has been made. In global health we are often faced with the reality that there is never really a "right choice" or a "wrong choice". It is a series of trade-offs and in low resource environments how one allocates scarce resources takes on a zero-sum persona. Previously I wrote about the complexity and stigma attached to palliative care that Kimbilio Hospice encounters in their mission. In Africa most of the financial resources and health infrastructure is directed at addressing communicable diseases such as HIV/AiDs, TB Malaria as well as child and maternal health. Surgery and tertiary care confront similar challenges where it is not that it's a wrong allocation of resources but there are "more righter" things that can be focused on.
5 billion people do not have access to safe, affordable surgical and anaesthesia care when needed. In LMIC's nine of ten people cannot access basic surgical care.

143 million additional surgical procedures are needed in LMICs each year to save lives and prevent disability.

33 million individuals face catastrophic health expenditure due to payment for surgery and anaesthesia care each year.

Investing in surgical services in LMICs is affordable, saves lives, and promotes economic growth. To meet present and projected population demands, urgent investment in human and physical resources for surgical and anaesthesia care is needed.

Surgery is an "indivisible, indispensable part of health care." Surgical and anaesthesia care should be an integral component of a national health system
Since 2010, Mission:Restore a US non-profit, has been working to address those key messages (above) by building surgical talent and capacity in LMIC's. The founder of Mission: Restore, Dr. Kaveh Alizadeh, is a 2009 Ellis Island Medal of Honor awardee for his humanitarian volunteer work. His previous experiences as a surgical volunteer were often when large organizations delivered high volume surgeries on location but with limited follow-up. To tackle this shortcoming, Dr. Kaveh Alizadeh recruited a group of physicians to would focus on the most cost-effectiveness and sustainable impact in the global health for the LMIC care needs; resulting in the launch of Mission: Restore.

Their three-pronged approach utilizes Surgical Training Missions, Surgical Education Grants and Ongoing Mentoring. They do this through a cadre of volunteer surgeons who travel to LMIC's and train local doctors in their home hospitals. While in-country the surgeons perform trauma care and reconstructive surgery, using local facilities. It is a model of medical education mixing demonstration, consultation and collaboration. The partnership continues post-country departure as the Mission Restore surgeons provide mentoring and support for in-country doctors through telemedicine. Since 2010, Mission: Restore volunteer surgeons have collectively performed over 1500 complex reconstructive surgeries in over 20 countries and 4 continents.
2016 East Africa Regional Training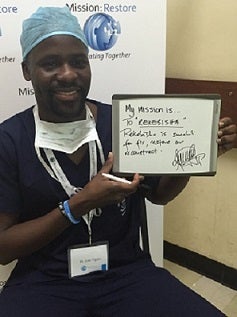 Mission Restore's trajectory is ambitious but commensurate with the chasm between the need for surgical procedures and current surgical capacity. Last year Mission: Restore implemented its first medical and surgical training programs in Myanmar (Burma). The second training program was June 20-22 2016 in Kenya and was hosted by the University of Nairobi Kenyatta National Hospital. The training brought together 40 participants (10 were women) representing 8 countries (Tanzania, Kenya, Uganda, Rwanda, Congo Brazaville, Burundi, Senegal, Zambia). The training was conducted in partnership with COSECSA (College of Surgeons of East, Central, and Southern Africa), SmileTrain, UoN, KSPRAS, Allergan Foundation and Acelity.
Mission:Restore's two Educational Grantees (Paul Itule and Nangandu Amanda Malungo) returned to their countries (Tanzania, Zambia) as the first formally trained reconstructive surgeons born and based in their home countries.
"The one thing we all have in common is that we all want to do surgery and do it well". Dr. Kaveh Alizadeh
Support HuffPost
The Stakes Have Never Been Higher
Related
Popular in the Community