Explorers come in all shapes and flavors. From the Vikings (Erik the Red and his son, Leif Erikson) to the Spanish conquistadors (Francisco Pizarro, Hernán Cortés, Hernando de Soto, Juan Ponce de León); from the Portuguese (Ferdinand Magellan, Vasco da Gama, Tristão da Cunha) to the English (Francis Drake, Walter Raleigh, James Cook), those with restless souls who craved adventure found it difficult to resist a challenge.
Whether one considers the explorers who attempted to reach the North and South Poles (Robert Peary, Roald Amundsen, Ernest Shackleton, Richard E. Byrd), or the brave astronauts who blasted off into outer space, the curiosity and determination which compel people to push the boundaries of human knowledge are best summed up in Joe Darion's lyrics from 1965's hit musical, Man of La Mancha
"To dream the impossible dream
To fight the unbeatable foe
To bear with unbearable sorrow
To run where the brave dare not go

This is my quest, to follow that star
No matter how hopeless, no matter how far
To fight for the right, without question or pause
To be willing to march into hell for that heavenly cause

And the world will be better for this
That one man, scorned and covered with scars
Still strove with his last ounce of courage
To reach the unreachable star."
History and literature are filled with tales of travel and adventure. From Homer's epic poem (Odyssey) to Herman Melville's crazed cetaceous chase (Moby-Dick; or, The Whale); from the adventures of Marco Polo to the fantastical voyages of Sinbad the Sailor; from Jules Verne's 1873 novel (Around The World in Eighty Days) to the quirky time-traveling discoveries of three female explorers in Eric Overmyer's whimsical On the Verge; or, The Geography of Yearning, having a grand adventure is almost as important as documenting the experience.
Depending on the various types of media available, the documentation process changes dramatically over time (no one was taking selfies in Ancient Rome). However, the essence of two seemingly impossible explorations (one fiction, one nonfiction) came to the fore in two recent screen and stage productions.
Although documentaries often lack the kind of dramatic climax associated with narrative film, they can deliver a very different sense of fulfillment to audiences. Bette Midler used to joke that if you cross a donkey with an onion, the odds are that you'll get an onion with long ears -- but if the stars are aligned in your favor, you might just get a piece of ass that's so wonderful it makes you want to cry.
Written and directed by Steve Rivo, Carvalho's Journey (which received its world premiere at a free screening during the 35th Annual San Francisco Jewish Film Festival) is equally impressive for the peculiar moment in art history it explores as well as for the way it captures the contribution of an observant Sephardic Jew to the history of the American West. This documentary is a very rare treat.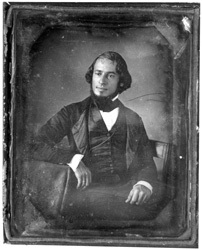 Born of Spanish-Portuguese descent in Charleston, South Carolina on April 27, 1815, Solomon Nunes Carvalho grew up to become a talented portrait painter with a near-photographic memory. After Charleston's original Kahal Kadosh Beth Elohim Synagogue burned down (shortly before the Carvalho family moved to Philadelphia), the 23-year-old artist painted a stunning picture of the temple's beautiful interior in remarkable detail. Child With Rabbits (painted when he was 25) later appeared on the paper currencies of the United States, Canada, and traveled as far as Argentina.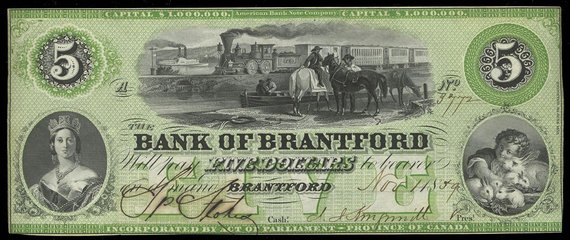 Carvalho's Child With Rabbits can be seen in the lower right-hand
corner of this five dollar bill from Canada's Bank of Brantfod
Although his father was one of the founders of the first Reformed Jewish Congregation in the United States (Charleston's Reformed Society of Israelites), like many immigrants, Solomon Carvalho saw himself as an "American Jew." After learning about a French invention by Louis-Jacque-Mandé Daguerre, he opened up studios in Charleston, Philadelphia, Baltimore and New York where he could work as a portrait painter as well as a daguerrotypist.
In 1853, Colonel John C. Fremont, a noted American explorer known as "The Pathfinder," was about to launch his fifth expedition (with the goal of finding a path through the Rocky Mountains for the proposed construction of the First Transcontinental Railroad). After hearing about Carvalho's artistic skills, he invited the young man to join him on his expedition and document the adventure. For Carvalho, it was the opportunity of a lifetime.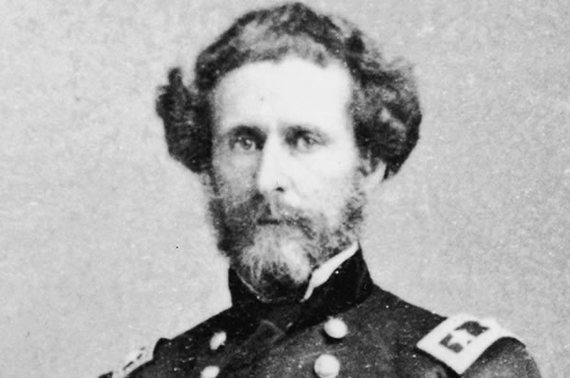 At the time, Carvalho had no idea how to create daguerrotypes outdoors; nor did he know how to take care of a horse. Recollecting the numerous trials and tribulations he experienced after setting out from Westport, Kansas on Fremont's Fifth Westward Expedition, Carvalho's diary (Incidents of Travel and Adventure in the Far West with Colonel Frémont's Last Expedition) included many descriptions like the following:
"The Cheyenne village, on Big Timber, consists of about two hundred and fifty lodges, containing, probably, one thousand persons, including men, women and children. I went into the village to take daguerreotype views of their lodges, and succeeded in obtaining likenesses of an Indian princess, a very aged woman, with a papoose, in a cradle or basket, and several of the chiefs, I had great difficulty in getting them to sit still, or even to submit to have themselves daguerreotyped. I made a picture, first, of their lodges, which I showed them. I then made one of the old woman and papoose. When they saw it, they thought I was a "supernatural being;" and, before I left camp, they were satisfied I was more than human."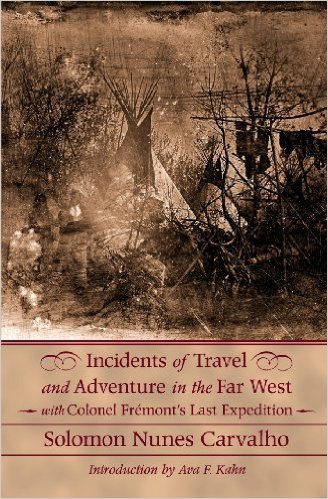 The cover of Carvalho's published diary
"After three hours' hard toil we reached the summit and beheld a panorama of unspeakable sublimity spread out before us; continuous chains of mountains reared their snowy peaks far away in the distance, while the Grand River plunging along in awful sublimity through its rocky bed, was seen for the first time. Above us the cerulean heaven, without a single cloud to mar its beauty, was sublime in its calmness. Standing as it were in this vestibule of God's holy Temple, I forgot I was of this mundane sphere; the divine part of man elevated itself, undisturbed by the influences of the world. I looked from nature, up to nature's God, more chastened and purified than I ever felt before. Plunged up to my middle in snow, I made a panorama of the continuous ranges of mountains around us."
Narrated by Michael Stuhlbarg, Carvalho's Journey is based on the artist's book-length account of his participation in Fremont's expedition. Produced for national broadcast on PBS, the film documents a great story while offering stunning visuals as well as recreations of the daguerrotype process (which was soon replaced by photography).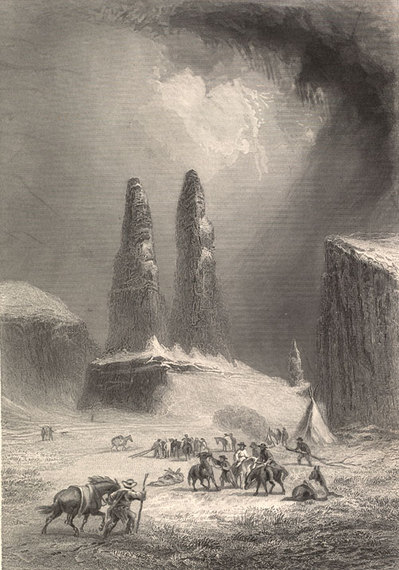 A steel engraving of two "Natural Obelisks" in Utah,
based on a daguerrotype by Solomon Nunes Carvalho
Because all of the daguerrotye's from Carvalho's expedition with Colonel Fremont were lost in a warehouse fire, the narrative path of the film is led by Robert Schlaer (the author of Sights Once Seen: Daguerreotyping Frémont's Last Expedition Through the Rockies), who tracked down the locations where Carvalho originally created his daguerrotypes and recreated the process for posterity. A 19th-century American Jew who developed a deep affinity for the Mormons who took him in and nursed him back to health in Parowan, Utah (when he was close to death from the hardships of Fremont's expedition), Carvalho's Journey documents the life and times of a little-known American artist who became friends with Brigham Young during his stay in Salt Lake City and painted Abraham Lincoln's portrait in 1865. The following 11-minute "teaser" should whet your appetite to see the full-length feature.
I wish I could be as enthusiastic about Zero Hour: The Mars Experiment, which was presented by Wily West Productions down at the EXIT Theatre. As the company's artistic director, Morgan Ludlow, writes in his program note:
"This year, playwrights spent six weeks together in a virtual summer camp (Basecamp) starting with themes and ideas that blossomed into two full-blown plays. With the hard work of key writers Bridgette Dutta-Portman, Laylah Muran de Assereto, Morgan Ludlow and head writer Jennifer Lynne Roberts, writers received prompts each week to create a foundation, and then worked out more complex challenges, eventually melding the voices of eight writers into one voice. The plays were then handed over to director Ariel Craft, whose input further sharpened the plays."
If too many cooks can spoil the broth, can too many playwrights spoil the fantasy? Zero Hour: The Mars Experiment focuses on six space travelers in crisis six months after they have left their friends, families and jobs on Earth to travel to Mars. Needless to say, by the 68th day of their expedition (when a nasty rumor predicts that they will all die of suffocation), things are not going well.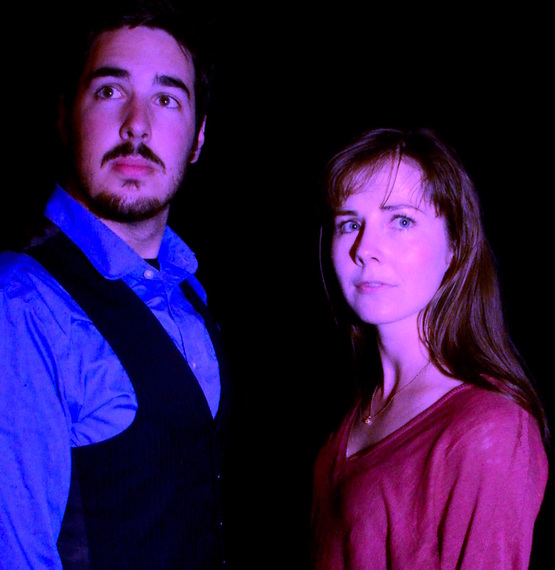 Justin (Kyle McReddie) is starting to feel emotional about
Freya (Samantha Behr) in Zero Hour: The Mars Experiment
(Photo by: Colin Hussey)
Freya (Samantha Behr) is in charge of the spaceship's crew. Her goal is to start a human colony on Mars and manage the crew. However, beneath her tense exterior lurks a real woman with needs and urges.
Marlene (Susannah Wood) is the team's doctor who informs Freya that she is pregnant and must tell the others about the change in her physical condition.
Justin (Kyle McReddie) is the studly team member who may have knocked up Freya and is acting very clingy (as opposed to Klingon-y).
Una (Katrina Kroetch) is the team's mechanic who must find a way to fix the spaceship's broken "oxygenator" within the next 24 hours or else the crew will perish, thus fulfilling the prophecy of doom.
Burrhus (Richard Wenzel) is the team's resident psychologist who has tried his best to refrain from giving advice to his fellow space travelers but has a nasty habit of calling Justin "son."
Cosimo (Jason Jeremy) is the team's resident nerd who is prone to panic attacks.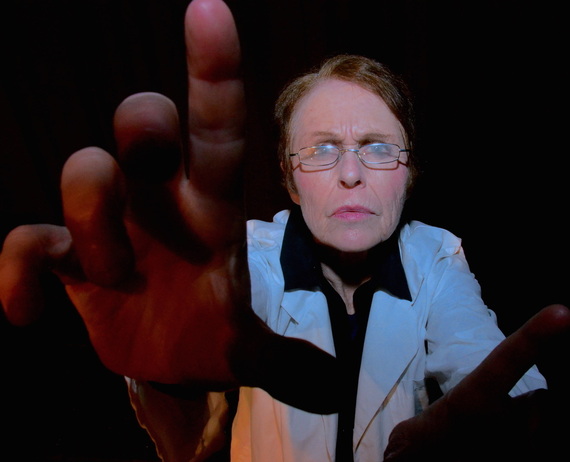 Marlene (Susannah Wood) tries to adjust some equipment
for the space colony in Zero Hour: The Mars Experiment
(Photo by: Colin Hussey)
One of the biggest problems with the script for Zero Hour: The Mars Experiment is the inability of the creative team to let the audience know whether this 70-minute play should be taken seriously or treated as a spoof of space exploration movies. The tiny performing space in the EXIT Studio (combined with a lot of angry screaming) didn't help matters much.
The result was a sorry mishmash of the genre's familiar tropes undermined by moments of painfully amateurish acting. A more appropriate title for this play might have been Star Drek -- The Next Generation or Six Characters In Search of An Alien.
Calling all HuffPost superfans!
Sign up for membership to become a founding member and help shape HuffPost's next chapter