 WASHINGTON -- Tuesday's Republican primaries in Alabama and Mississippi may be the most suspenseful so far, because the few public polls available have produced inconsistent results that collectively point to close finishes in both states.
In Alabama, three late polls show Mitt Romney, Newt Gingrich and Rick Santorum running in a three-way dead heat. In Mississippi, the final polls can't agree on a leader, though their one common finding is that Santorum appears headed for a third place finish behind Romney and Gingrich.
The PPP survey in Alabama shows Romney, Gingrich and Santorum receiving 31, 30 and 29 percent of the vote respectively, followed by Rep. Ron Paul (R-Texas) with 8 percent. That finding amounts to a three-way photo finish given the poll's 4 percentage point margin of error for each candidate.
PPP's Alabama results were nearly identical to a Rasmussen Reports automated survey conducted on Thursday. That poll also found Romney, Santorum and Gingrich within two percentage points of each other, winning 28, 29 and 30 percent of the vote respectively.
However, two more Alabama surveys fielded over a wider time period last week found different results. A Capitol Research poll had former Massachusetts Gov. Romney leading former House Speaker Gingrich (R-Ga.) by five points, while a poll conducted by Alabama State University showed former Sen. Santorum (R-Pa.) fading to third place (but inexplicably failed to include Paul as a choice, used the smallest sample size and found a much larger undecided percentage).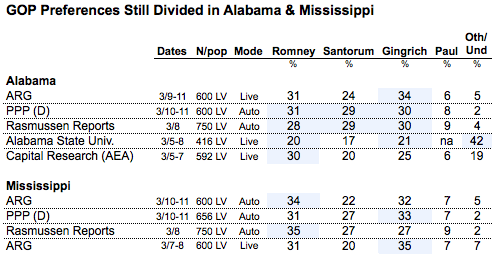 The final polls in Mississippi have been more varied. PPP's weekend poll showed Gingrich running just two percentage points ahead of Romney (33 to 31 percent) followed by Santorum (27 percent), with Paul running a distant fourth (at 7 percent).
The PPP result in Mississippi comes very close to the results of a live interviewer survey conducted in the state by the American Research Group (ARG) on March 7-8, which showed Gingrich up by a similar margin over Romney (35 to 31 percent) but with Santorum running further behind (at 20 percent).
However, a Rasmussen automated poll conducted on Thursday in Mississippi produced a very different result, showing Romney with a clear lead (at 35 percent) followed by both Santorum and Gingrich (at 27 percent).
The contradictory findings in Mississippi and Alabama highlight a lack of precision and stability and suggest that, collectively, pollsters are having trouble identifying the likely electorate. These two states have given pollsters trouble before. Nate Silver notes via Twitter that his compilation of past primary polls shows that pollster error in Alabama and Mississippi "has been about 50% higher than in other states."
Given the close and inconsistent findings of the final polls in Alabama and Mississippi and the poor track record of past horserace polling there, the potential for a Tuesday night surprise is significant.
UPDATE: The American Research Group released two new polls on Monday conducted over the weekend in Alabama and Mississippi that confirm the close race for first and second in both races that has been measured by other polls.
In Alabama, ARG finds Gingrich running three percentage points ahead of Romney (34 to 31 percent), followed by Santorum (24 percent) in third and Paul a distant fourth (at 6 percent).
In Mississippi, ARG has Romney edging Gingrich (34 to 32 percent) with Santorum in third (at 22 percent) and Paul again a distant fourth (8 percent).
Neither poll shows a statistically significant difference between the top two candidates. When viewed against the other surveys, neither Gingrich nor Romney appears to have a consistent advantage in either state.
ARG's results in both states differ in giving Santorum a smaller percentage of the vote than most of the other recent surveys, particularly the automated polls from Rasmussen and PPP. For Santorum, whose campaign strategy reportedly hoped to "knock out" Gingrich with a sweep of Alabama and Mississippi, that news is not good.