WASHINGTON -- If Rick Santorum's presidential campaign aims to "knock out" Newt Gingrich by sweeping the upcoming Republican contests in Kansas, Alabama and Mississippi, recent polling suggests he may hit resistance in the two southern primaries. Although the polls in Alabama and Mississippi have been sparse and contradictory, they collectively show close contests, with Santorum trailing in the latter.
In Mississippi, two new polls yield contradictory results. An American Research Group (ARG) poll shows Gingrich leading Mitt Romney narrowly (35 to 31 percent), with Santorum in third place (with 20 percent). The ARG survey used live interviewers and was conducted from March 6 to 7.
Meanwhile, a Rasmussen Reports automated survey conducted in Mississippi on March 7 shows Romney leading (with 35 percent) followed by Santorum and Gingrich tied (with 27 percent each) and Paul running a distant fourth (at 6 percent).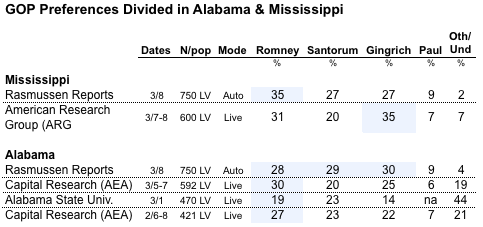 In Alabama, another Rasmussen survey, conducted on March 8, shows Gingrich, Santorum and Romney essentially deadlocked, winning 30, 29 and 28 percent of the vote respectively, followed by Paul at 9 percent.
Two previous Alabama polls conducted in February and March by the firm Capital Survey Research gave Romney single-digit leads over Gingrich and Santorum. Most of the interviews for their most recent survey, conducted March 5 to 7, were conducted before results of this week's Super Tuesday primaries were reported.
Finally, a fourth Alabama poll conducted on March 1 by Alabama State University stands out as something of an outlier. It showed Santorum running four percentage points ahead of Romney in that state (23 to 19 percent) followed by Gingrich (14 percent). However, the poll was conducted before Super Tuesday and, oddly, failed to include Paul among the candidate choices. The poll shows 15 percent supporting "other" candidates and another 19 percent undecided.
Caution is in order given the small number of polls and their various contradictions. The conflicting results underscore the potential for the sort of late shifts in support that have been a hallmark of the 2012 nomination battle. Moreover, the two Rasmussen surveys find vote preferences as unsettled as ever: More than a third of the Republican primary voters -- exactly 36 percent in each state -- say they could still change their minds about whom they will support.
While still hazy about who may prevail, the latest polls do help clarify that both states will likely allocate their delegates on a mostly proportional basis. The two states would allow for winner-take-all allotments of their at-large delegates or within individual congressional districts, but only if one candidate wins more than 50 percent of the vote, either statewide or within districts. If the winner receives less than a majority of the vote, as now appears highly likely in both states, delegates will be allocated proportionately among the candidates surpassing a minimum threshold of support (20 percent in Alabama and 15 percent in Mississippi).
As such, the polling indicates that delegates up for grabs on Tuesday (47 in Alabama and 37 in Mississippi) are likely to be distributed proportionately among the three leading candidates. Even if Romney loses both states but still runs a reasonably strong second or third place -- as appears likely given the polling -- his delegate lead will not narrow significantly.
There have been no publicly released surveys testing the preferences of likely participants in Saturday's Republican caucuses in Kansas. Most observers expect Santorum to prevail, as he did in the caucuses in nearby Iowa and Colorado as well as in the very low-turnout, non-binding primary in neighboring Missouri.
Kansas will award 12 congressional district delegates on a winner-take-all basis within each district, but will divide its 25 at-large delegates proportionately among the candidate who receives more than 20 percent of the votes cast at the precinct caucuses statewide.
Calling all HuffPost superfans!
Sign up for membership to become a founding member and help shape HuffPost's next chapter