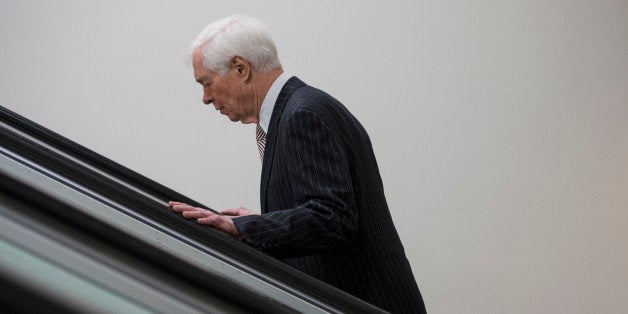 WASHINGTON -- A casual observer may be forgiven for wondering how Sen. Thad Cochran (R-Miss.), a man known for cordiality and manners almost more than anything else, has held onto his Senate seat for 35 years, and why he is subjecting himself to a brutal reelection campaign for yet another term.
Anyone asking this question should start with this: In the last 70 years, Mississippi has had only five U.S. senators. That remarkable fact helps explain why Cochran decided in December, a day before his 76th birthday, to seek a seventh term in the U.S. Senate.
"Traditionally, Mississippi -- because of us being one of the poorest states in the union -- the one thing we've always done right is we would elect people to Congress and leave them there and allow them to get seniority and get things for our state," Brad White, a former state GOP chairman, told The Huffington Post. " We did that for James Eastland and John Stennis."
Sen. Eastland and Sen. Stennis were, for a time, the longest-serving pair of senators from the same state in U.S. history, until their record for longevity was eclipsed by South Carolina's Strom Thurmond and Ernest Hollings. Eastland, an outspoken segregationist, was elected to the Senate in 1943 and retired in 1978, 35 years later. Stennis entered the Senate in 1947 and served even longer than Eastland, retiring in 1989 after 42 years.
If Cochran wins the Mississippi primary on Tuesday, is reelected this fall and serves a full term, he would be the fifth-longest serving senator in the nation's history. He is currently 25th on the list.
Cochran was elected in 1978 to replace Eastland, and has made his mark securing federal funding for infrastructure projects, disaster relief, universities and research centers, and preserving federal contracts for state shipyards and air bases.
Cochran and his campaign are emphasizing his ability to bring home the bacon in the closing days of a nasty, bruising primary fight with a 41-year old Republican challenger, state Sen. Chris McDaniel. On Thursday, Cochran was in Pascagoula on the Gulf Coast to play up his role in maintaining the health of Ingalls Shipbuilding, which builds ships for the U.S. Navy and employs 11,000 people.
The Cochran campaign is also hammering home the senator's role in increasing the amount of federal relief funding for Mississippi after Hurricane Katrina in 2005.
"He was there for the state in our darkest hours," Austin Barbour, a senior adviser to the senator's campaign, wrote in an email.
But for all that, Cochran is in real danger of losing his seat to McDaniel, a feisty, flashy attorney from Jones County in the state's southeast corner, which was a haven for Confederate deserters during the Civil War. That's despite a scandal that has rocked the race, in which a 28-year old McDaniel supporter was arrested for breaking in to a nursing home to take pictures of Cochran's wife, Rose, who has lived in the home for 14 years with dementia.
Cochran finds himself in political peril for two reasons. While Mississippi tradition may justify another term, Cochran has chosen to ignore or disregard a few details from his own rise to power that may have given him pause about seeking reelection. And second, he misapplied one of his favorite principles about the wisdom of waiting to make political decisions, causing him to wait too long to form a reelection campaign, in stark contrast to the way that other vulnerable incumbents have gone about protecting their seats.
In 1978, Sen. Eastland was 73 -- three years younger than Cochran is now -- when former Gov. Bill Waller, who was 52 at the time, announced he would challenge Eastland in the Democratic primary.
"There are so many problems in our country. I happen to believe that a young man who has some stamina and vigor is needed," Waller said, according to the authoritative book by Jere Nash and Andy Taggart, Mississippi Politics: The Struggle for Power, 1976-2008. "[Mississippi needs] a fighter who can represent our state in a dynamic manner ... We don't need to relate to tradition."
McDaniel is now making the same argument against Cochran.
"After 42 years, he's become silent," McDaniel recently said on a local news show, figuring in Cochran's six years in the House for good measure. "He's not fighting for conservatism. He's not willing to fight."
"No one in the state can name a single charge that Senator Cochran has led against Barack Obama. What good is seniority if he's not willing to fight?" McDaniel told The Wall Street Journal.
Surprisingly, when Waller leveled his age-based charge against Eastland, the powerful senator agreed. Even more intriguing, Cochran had known for two years that he would. In 1976, Cochran had told Eastland he would run for the Senate, but only if the senator retired. Eastland told Cochran, in confidence, that he would in fact be leaving. "I'll be too old," he told Cochran.
Furthermore, Cochran's key supporters have also made age the centerpiece of past campaigns. In 1982, Haley Barbour challenged Stennis, who at the time was 80 years old and had served 35 years. Barbour's highlighting of Stennis' age was more subtle than Waller had been, but no less obvious. Barbour's campaign theme, "A Senator for the 80s," was a clever play on Stennis' age. And when Stennis attended a local fair to speak, Barbour supporters covered the fairgrounds with signs congratulating the senator on his recent 81st birthday, and presented him "with a birthday cake that looked like a raging forest fire -- their paid cameras rolling without pause," according to the book by Nash and Taggart.
Barbour lost that race, but went on to become Mississippi's governor in 2004. He explored running for president in 2012, and is one of the most formidable Republican political operatives and fundraisers in the nation. He has been a driving force behind raising the money for Cochran's campaign and for the super PAC supporting Cochran, which is being run by his nephew, Republican National Committee member Henry Barbour.
Barbour was quoted in the Nash and Taggart book as repeating a maxim he had first heard from Cochran: "Never make a political decision until you have to, for things could always change."
That logic has backfired on Cochran in his current campaign. He needed an early start on this campaign, in part because he has never had an overwhelmingly muscular political organization. He gained power in 1978 only with the help of a third candidate. He won a plurality of voters in an election where the Democratic vote was split between an establishment candidate and Charles Evers, brother of slain civil rights leader Medgar Evers, who siphoned off a large number of black voters.
And Cochran has never been the dominant power broker in the state. He has always played the part of congenial gentleman who has gone to Washington to look out for the state's interests, while former Sen. Trent Lott (R-Miss.) inherited the Eastland political organization that ran things in the state.
Cochran refused, despite entreaties from Republican campaign operatives in Washington as early as last June, to begin setting up a campaign apparatus. He said it would be dishonorable to do so until he was officially a candidate, one source with knowledge of the conversations told HuffPost. As a result, he is now in a position of needing to drive up turnout to counter the intensity of McDaniel's hard-right activist base, but without the benefit of a ground game or campaign apparatus that has been working to identify and turn out likely voters.
"Cochran has focused on being a legislator for the last however long, and he hasn't had an active political operation," Henry Barbour told HuffPost. "They're trying to ramp something up, but you can't just get to 30,000 feet over night. It takes time."
It's a stark contrast to the way that other vulnerable incumbents have prepared for a primary challenge this cycle. Senate Minority Leader Mitch McConnell (R-Ky.), who is 72, was in full campaign mode before the 2012 presidential campaign even concluded. In September of that year, more than two years before the 2014 elections, he hired a former top aide to then-Rep. Ron Paul (R-Texas) as his campaign manager, a major first move toward winning over conservatives and supporters of Kentucky's junior senator, Paul's son, Sen. Rand Paul (R-Ky.). McConnell, who faces a serious general election challenge in November from Alison Lundergan Grimes, easily dispatched primary challenger Matt Bevin.
Sen. Mike Enzi (R-Wyo.), 70, also had a major challenge when Elizabeth Cheney, the daughter of former Vice President Dick Cheney, announced she would run against him last year. He was not as prepared as McConnell, but Cheney's candidacy lit a fire under Enzi and he responded in a way that Cochran never did, one Washington Republican operative said. Enzi went through several media training sessions and dove in to the process of making fundraising calls. In the end, Cheney's own gaffes and personal issues led to her bow out of the race in early January.
Cochran has not been defenseless. While Haley Barbour's brother, Jeppie, endorsed McDaniel, his sons Austin and Henry have brought significant political experience to the Cochran campaign. The super PAC working for Cochran has bombarded McDaniel with attack ads, countering the millions of dollars being poured into the state by conservative and tea party outside groups on the challenger's behalf. And one Democratic operative who did not want to publicly praise the Cochran campaign said it had "done a masterful job of utilizing the earned media and the court system here and [Cochran's] allies to tie the earned media and the indignation associated with the arrests and the disclosure of this effort to McDaniel."
The Cochran campaign is hoping the outrage over the nursing home break-in and exploitation of Rose Cochran will do for them what they cannot do on their own because of a lack of ground game: Drive enough Cochran supporters to the polls for him to survive what has become perhaps the most dramatic election of this cycle.
REAL LIFE. REAL NEWS. REAL VOICES.
Help us tell more of the stories that matter from voices that too often remain unheard.
BEFORE YOU GO
PHOTO GALLERY
Senate Seats Up For Grabs In 2014