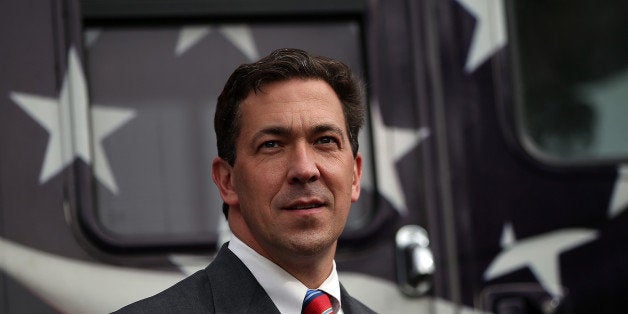 The first Hispanic chairman of the Mississippi Federation of College Republicans resigned Monday because of his concerns about the far right's influence over the party. He said he will become a Democrat.
"When I ran for Chairman in the spring, I ran to be Chairman of the Mississippi Federation of College REPUBLICANS, not the Mississippi Federation of College 'Tea Partiers,'" Evan Alvarez said in his resignation letter, which he provided to the Clarion Ledger in Jackson.
He said he had already spoken to some Democrats about changing his party affiliation, something he said he hoped to do "in the next few days."
His resignation comes almost a week after Sen. Thad Cochran (R-Miss.) fended off a challenge from state Sen. Chris McDaniel (R) in a race that laid bare tensions within the Republican Party. McDaniel, who was supported by national tea party groups, has yet to concede.
In his resignation letter, Alvarez offered a critique of the tea party's hard-line positions.
"For example, the drastic cuts on needed federal funding that these groups of Republican extremists support would leave society weak and crippled," he wrote. "Secondly, their far right stance on immigration is not only ignorant, but it is cruel."
His views on immigration, he said, were influenced by his own family's history. Alvarez's father fled the Castro regime in Cuba -- an experience that he has said led him to pursue Republican politics.
"I believe the Republican Party to be the only party that values freedom and the choice to pursue your own destiny, without government coming in and taking what you earned," he said earlier this year.
Alvarez was involved in state and local campaigns and was a campus representative for Mitt Romney's 2012 presidential campaign at Mississippi State University. He became the chairman of the federation in March.
But his tenure was not without infighting tied to the brutal Senate primary. The federation's executive director, Kolby Busby, faced impeachment proceedings after he appeared on a robocall endorsing McDaniel. Traditionally, the group waits to offer its endorsements until a primary has concluded.
Busby ardently defended himself and accused Alvarez of supporting Cochran.
"Not[h]ing that I have done is any different than the actions that have been taken by other MFCR officers that support Thad Cochran," Busby said on Facebook. "This includes Chairman Alvarez."
REAL LIFE. REAL NEWS. REAL VOICES.
Help us tell more of the stories that matter from voices that too often remain unheard.