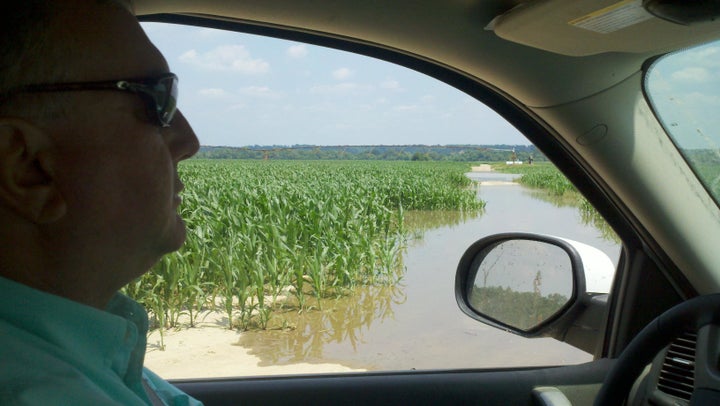 CARTER, Miss. -- Where the rolling green hills of Mississippi give way to the fertile flatlands of the Delta, Bernie Jordan bounced down a dirt road in his white pickup truck, surveying thousands of acres of farmland that, until recently, looked to be a bumper crop.
But thoughts of a bountiful September harvest are all but erased from his mind. Now he focuses on saving anything he can, as a historic plume of Mississippi River water courses through some of America's most productive natural farmland.
In just the past day, Jordan's soybean fields have transformed into lakes; his cornfields have been swallowed by nearby streams; weeds begin to choke his cotton fields, but he sees no reason to spend money to kill them.
"I haven't hardly gotten any sleep in the past week," said Jordan, 53, a fourth-generation Delta farmer. "And when I do, I wake up and say, 'Is this bad dream over?'"
Ironically, many of the Delta farmers most at risk are like Jordan, with land at least 30 miles from the Mississippi River. The backwater streams and tributaries are causing the biggest problems so far, particularly the Yazoo River, which snakes through many of the farmlands in the area.
As the crest of the river makes its way farther south, its sheer force puts pressure on major tributaries, causing those rivers and streams to back up and overflow where no levees exist to hem in the waters.
Jordan, like many in the flat lowland plains along the river, is fighting a battle on two fronts: work and home.
He oversees a tractor planting cotton on the highest ground he has, a last-ditch effort to salvage a portion of this season's crop. At the same time, he and his neighbors are building massive, makeshift dirt levees around their homes.
"Once this is over and the water is gone, I hope I get to take a bulldozer and push 'em down, and they don't get a drop of water," Jordan reflected. "I don't want to be the fourth generation, only to lose it to something I can't control."
Like many who have lived in the historic floodplain of the Mississippi River, Jordan knows well the complicated relationship between man and nature. The river is the lifeblood of the region, depositing rich soils over the plains for thousands of years.
But over time, settlers and eventually the federal government constructed more and more sophisticated levees to allow settlement and modern-day agriculture in the region.
The 1927 flood devastated the Mississippi Delta and led to a major overhaul of the federal flood control system along the river. Yet this year's flooding threatens to be worse.
In Vicksburg, Miss., one of the closest river towns to Jordan's farm, the historic height was 56.2 feet, in 1927. He remembers the 1973 flood from when he was in high school, when his father lost nearly half his annual yield. The height then was 51.6 feet.
The river at Vicksburg on Thursday already reached higher than that, at 54.8 feet, and next week's crest is estimated to be 57.5 feet, an all-time recorded high.
"I've been working 32 years trying to acquire things and accumulate something, and now it's all in jeopardy," Jordan said.
In a cruel twist of fate, Jordan decided not to take out much in crop insurance this year for his cotton, because in previous years, after droughts he hadn't been deemed worthy of getting a claim. He hopes there may be some kind of amnesty.
Just down the road from Jordan, third-generation farmer Rob Coker, 48, busily harvested winter wheat a full two weeks ahead of time. He wasn't actually sure if anyone would buy it.
Typically, wheat needs to grow tall enough to dry out in the open air and winds. If it's sold too young or too wet, it can easily rot and ruin.
This season, Coker said he had no choice but to harvest what he could, when he could.
"This will all be under water next week," Coker said over the rumble of his John Deere combine, a massive mower that separates the grain from the chaff. "It's either that, or give up."
Calling all HuffPost superfans!
Sign up for membership to become a founding member and help shape HuffPost's next chapter