WASHINGTON -- The candidates competing in Tuesday's primaries have certainly had colorful paths to Election Day. There's been talk of castrating pigs, a bizarre scandal involving a woman with dementia and comparisons of food stamp recipients to wild animals.
Eight states have elections Tuesday: Alabama, California, Iowa, Mississippi, Montana, New Jersey, New Mexico and South Dakota. The most-watched Senate primary is in Mississippi, where the tea party had hoped to unseat Sen. Thad Cochran (R). The race, however, has become dominated by a scandal involving the exploitation of the senator's bedridden wife.
Voters going to the polls there should be sure to take identification: Tuesday's elections will mark the first time Mississippi will have its new voter ID law in place.
In another first, California will put its new top-two primary system to the test for its gubernatorial race. Under this electoral system, the top two vote-getters in the primary advance to the November ballot, regardless of party affiliation.
Here's a look at the key races The Huffington Post is watching:
MISSISSIPPI SENATE: The Mississippi GOP Senate primary was thought to be the tea party's best chance to pick off a veteran Republican incumbent. But that quest may be derailed by a bizarre scandal involving supporters of state Sen. Chris McDaniel (R), Cochran's tea party-backed challenger. Several of McDaniel's supporters were recently arrested in a scheme to exploit Cochran's wife, who has dementia. A blogger allegedly broke into her nursing home and photographed her, with the intent of using the pictures in a hit piece about the senator. Authorities also arrested Mark Mayfield, vice chairman of the Mississippi Tea Party, in connection with the case. McDaniel has denied any knowledge of the scheme, but the controversy has become a focus of the race. McDaniel has garnered heavy support from the tea party, while the establishment continues to back Cochran, who has not had a competitive race since 1984 and who some activists believe is not conservative enough. Former Alaska Gov. Sarah Palin (R) and former Sen. Rick Santorum (R-Pa.) both went down and stumped for McDaniel last week.
IOWA SENATE: In recent weeks, state Sen. Joni Ernst has taken the lead in the polls in the crowded GOP primary to replace Sen. Tom Harkin (D-Iowa). She gained national prominence after an ad entitled "Squeal," in which she talked about castrating pigs. Both Sen. Marco Rubio (R-Fla.) and former GOP presidential nominee Mitt Romney have backed Ernst, while Texas Gov. Rick Perry (R) is backing former District Attorney Matt Whitaker (R). Santorum, who ran against Perry and Romney in 2012, is backing radio host Sam Clovis. But Ernst's closest rival, according to recent polling, is businessman Mark Jacobs, the former CEO of Houston-based energy company Reliant Energy. As The Huffington Post has reported, Jacobs made more than $34 million there while the company suffered major losses and at times avoided paying federal income taxes. The winner of the GOP primary will face Rep. Bruce Braley (D-Iowa), who was criticized in April for making comments that were seen as insulting to farmers.
CALIFORNIA GOVERNOR: The nonpartisan primary, in which the top two vote-getters advance regardless of their party affiliation, may have ramifications beyond determining which candidate faces Gov. Jerry Brown (D) in November. Republicans reportedly fear that if conservative state Assemblyman Tim Donnelly (R) makes it past the primary, his anti-immigration stance could drive Democratic voters to the polls, upending competitive down-ballot races across the state. Former Assistant Treasury Department Secretary Neel Kashkari (R) has put more than $2 million of his own cash into his campaign and been endorsed by Romney, former Florida Gov. Jeb Bush (R) and former Secretary of State Condoleezza Rice. That may not be enough to beat Donnelly, a former head of the state's anti-immigration Minutemen border patrol group. The state assemblyman, who has called himself a "threat to the country-club Republicans," was arrested in 2012 for bringing a loaded gun into an airport and has compared the Minutemen's fight against illegal immigration to a "war." He also accused Kashkari, who is Hindu, of supporting Sharia law. Recent polling shows Kashkari and Donnelly in a dead heat, though many of the state's Republican voters remain undecided.
CALIFORNIA-17: The top-two House primary in this Silicon Valley area, Asian-American majority district has it all: an infusion of campaign contributions from tech industry leaders, ethics complaints, lawsuits and heavy spending by outside groups hoping to prevent an upstart Democrat from knocking off a seven-term incumbent. Rep. Mike Honda (D-Calif.) is trying to beat back a strong challenge from attorney and former Obama administration official Ro Khanna. Honda has the backing of President Barack Obama and California's Democratic establishment, as well as support from groups like the local AFL-CIO, Sierra Club and Planned Parenthood's Action Fund. Yahoo CEO Marissa Mayer, Google Chairman Eric Schmidt, Facebook Chief Operating Officer Sheryl Sandberg, PayPal co-founder Peter Thiel and Napster co-founder Sean Parker have all donated to Khanna's campaign. Political observers expect both Honda and Khanna to advance to November's general election, though two Republicans -- Stanford physician Dr. Vanila Singh and tech recruiter Joel Vanlandingham -- could act as spoilers.
CALIFORNIA-31: Democrats fear that three of their candidates could split the vote in this heavily Latino and Democratic-leaning district, in a repeat of what happened in 2012. The outspoken former Rep. Joe Baca (D-Calif.), Redlands Mayor Pete Aguilar and attorney Eloise Gomez-Reyes are vying for the opportunity to represent the seat being vacated by retiring Rep. Gary Miller (D). On the GOP side, retired Navy officer and businessman Paul Chabot is favored to advance from the primary over former Miller aide Lesli Gooch. The primary has caused a rare split in both the national Democratic establishment and among progressive women's groups: Reyes has been endorsed by both Rep. Xavier Becerra (D-Calif.) and EMILY's List, while Aguilar has the backing of the Democratic Congressional Campaign Committee and NARAL Pro-Choice America.
CALIFORNIA-33: In this Hollywood, Malibu and Beverly Hills-area Democratic stronghold, a crowded field of candidates are running to succeed retiring Rep. Henry Waxman (D-Calif.). State Sen. Ted Lieu (D) has the backing of Los Angeles Mayor Eric Garcetti (D), the local Democratic establishment and labor groups, while former Los Angeles Controller Wendy Greuel (D) has been endorsed by EMILY's List. Attorney Elan Carr is running as a Republican, while numerous celebrities have donated to spiritual teacher Marianne Williamson, who is running as an independent.
MONTANA HOUSE: Five candidates are competing in the GOP primary for Montana's sole House seat. Much of the attention has been focused on former state senator and Navy SEAL Ryan Zinke, who has taken barbs from some Montana Republicans who are unsure whether he's conservative enough. Before declaring his candidacy for Congress, Zinke started an anti-Obama super PAC called Special Operations for America. Zinke has been reaping the benefits of his former group, which has run ads touting his candidacy and even encouraged people to back him before he officially jumped into the race, an arrangement that has raised concerns among campaign finance experts and other Republicans. Zinke, state Sen. Matt Rosendale (R) and former state Sen. Corey Stapleton (R) are believed to be the frontrunners in the contest.
SOUTH DAKOTA SENATE: Former Gov. Mike Rounds (R) has been the GOP frontrunner in the race to replace retiring Sen. Tim Johnson (D-S.D.), although state Rep. Annette Bosworth (R) has been getting a fair amount of attention in the five-person Republican primary. In April, she likened food stamp recipients to wild animals. Still, Bosworth has lagged in the polls and her campaign has been in debt. Rounds, meanwhile, has focused on the failings of Washington and said Congress needs to focus more on debt reduction. A candidate must get at least 35 percent of the vote in order to receive the nomination, otherwise a run-off between the top two finishers will be scheduled. The winner will face Democratic businessman Rick Weiland, who was once a staffer for former Sen. Tom Daschle (D-S.D.).
NEW JERSEY-3: Even a former NFL offensive tackle thinks this Republican primary is a nasty one. The impending retirement of Rep. Jon Runyan (R-N.J.), a former Eagles player, initiated what he called an "ugly as hell" Republican primary between two ex-mayors -- insurance executive and former Randolph Mayor Tom MacArthur and former Bogota Mayor Steve Lonegan. Neither MacArthur, who has kicked in $2 million of his own money, nor Lonegan, a tea party favorite, hail from the bellwether district, which Obama won in both of the last presidential elections. Each campaign is accusing the other of bullying and dishonesty, and MacArthur has filed a defamation suit in response to Lonegan's accusations that he defrauded insurance claimants. Runyan has endorsed MacArthur, in a signal that the state's Republican establishment fears Democrats could pick up the seat if Lonegan, who lost to Sen. Cory Booker (D-N.J.) last year, is the nominee. Burlington County freeholder and attorney Aimee Belgard is expected to clinch the Democratic nomination.
IOWA-3: Six GOP candidates are facing off for the seat being vacated by Rep. Tom Latham (R). But a recent poll found that none of the candidates appeared close to getting 35 percent of the vote. If that threshold is not reached in Tuesday's primary, the GOP nominee will be chosen at a convention of GOP activists. In a Loras College Poll, state Sen. Brad Zaun (R) had 17.4 percent of the vote, followed by businessman Robert Cramer at 8.3 percent and David Young, a former staffer for Sen. Chuck Grassley (R-Iowa), at 8 percent. Zaun recently attracted attention for saying he sometimes carries a gun to the Iowa statehouse because of the 2011 attack on former Rep. Gabby Giffords (D-Ariz.). During a recent debate, all of the candidates said they opposed Obamacare and a few also said they would like to abolish the Environmental Protection Agency. The winner of the GOP primary will face former state Sen. Staci Appel (D).
CORRECTION: An earlier version of this article incorrectly stated that the Alaska GOP Senate primary would be held on Tuesday.
Before You Go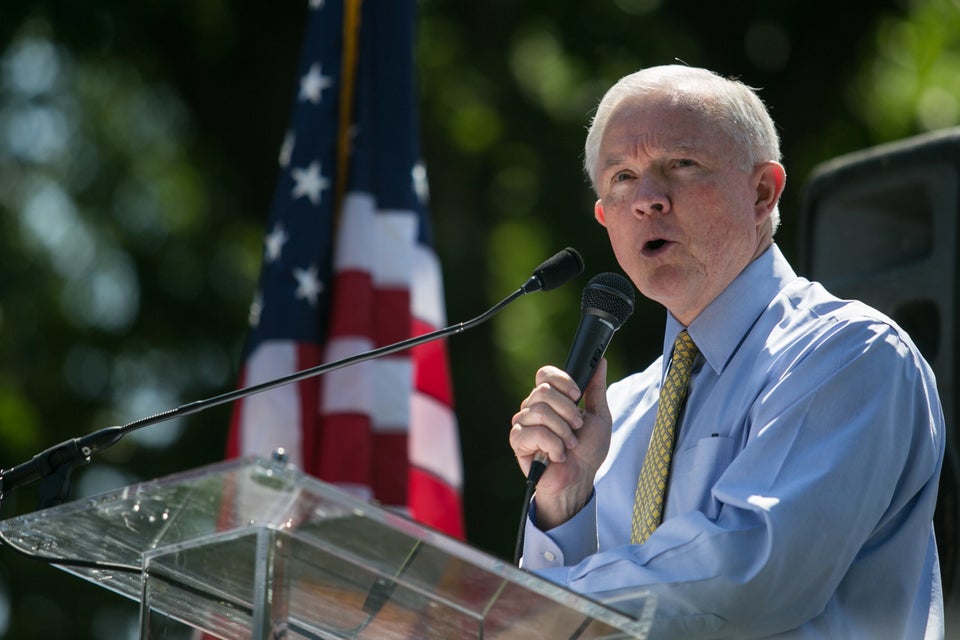 Senate Seats Up For Grabs In 2014
Popular in the Community